Early Warning Signs of Politically Motivated Viole
Early Warning Signs of Politically Motivated Violence Across America: A MIIPS Brown Bag Event
---
04/14/2023
| David Hackett
As part of its Public Service Brown Bags series, the McCormack Institutes of International and Public Service (MIIPS) hosted a panel titled "Addressing Politically Motivated Hate and Political Violence through Conflict Early Warning" in February. Responding to trends that highlight an increases in the frequency and intensity of political violence and hate crimes across the United States, this event showcased the work of McCormack faculty and students who facilitated the development of early-warning systems. These systems are designed to detect trends that precede political violence and comprise "a three-pronged strategy that considers prediction, preparation and prevention" of political violence and hate crimes.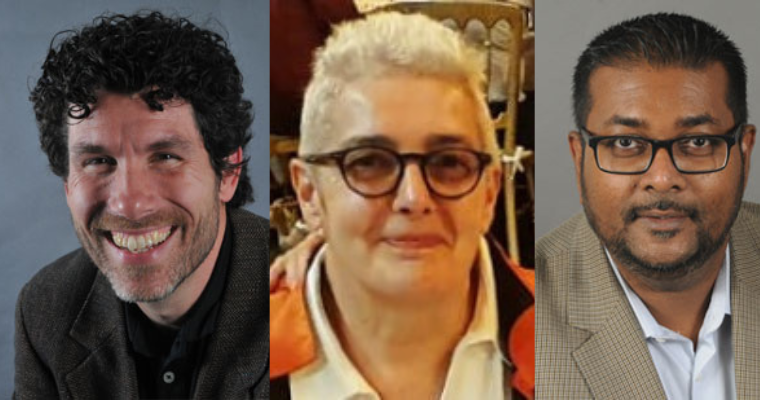 Serving to coordinate the research of McCormack's centers and institutes, the MIIPS event highlighted the Conflict Early-Warning Analytics Program (CEWAP), which is housed within McCormack's Center for Peace, Democracy and Development (CPDD). The event was co-chaired by the program's director, Madhawa Palihapitiya, who is also Associate Director of the Massachusetts Office of Public Collaboration (MOPC). Palihapitiya was joined by Dr. Reyes Coll-Tellechia, Chairwoman of the Boston Human Rights Commission and Professor of Liberal Arts, Latin American & Iberian Studies, as well as Dr. Darren Kew, Director of the CPDD and Associate Professor of Conflict Resolution. Several CEWAP analysts joined as panelists: Public Policy PhD candidate Kelsey Edmond; UMass Boston graduate and New Media writer Jack T. Sherman; MOPC Research Associate Karina Zeferino; Fulbright Scholar Kristina Angelevska; Global Governance & Human Security PhD student Mahdi Hasan; and Katherine Yarusso, a graduate student at Montclair University.

Context
Opening the conversation, Interim Dean Rita Kiki Edozie remark on the "timely, compelling and impactful" nature of the work. She noted the "surge of harassment, attacks and violent threats targeting civil and public officials and their communities" across the United States. Dr. Kew concurred, explaining that the United States political climate faced a profound shift leading up to and following the January 6th insurrection of the United States Capitol by extremists in 2021. Kew proposed the need to "engage with the people that are likely to join these movements, to try to pull them away—and people who are already part of these organizations need to be wooed away and brought back into peaceful engagement of concerns" that affect them and their communities. To introduce the panelists' work within CEWAP, Palihapitiya highlighted the presentation's four focal points: data monitoring, data modeling, the relationships of political violence and social cohesion, and the ultimate costs of ignoring collected data.
As the analytical hub of the TRUST Network, CEWAP is unique. The first complete early-warning conflict detection system of its kind, it records data that may precede and highlight potential outbreaks of hate-motivated political violence across the United States. To provide an example of this work, analyst Kelsey Edmond demonstrated the importance of monitoring "trace data" compiled from social interactions across a variety of digital networks. Noting that these traces "can provide breadcrumbs about where the next politically violent event may occur," Edmond discussed the importance of indexing databases of "culturally relevant materials" to track trends related to future outbreaks of political violence. Katherine Yarusso then discussed the tentative relationship between internet searches and digital engagement intensifying and preceding a violent event displayed in a "power-law curve." Yarusso presented a data set centered on internet "chatter" in Oregon and noted how the use of such a method could indicate stronger predictive capacity.
Diving into CEWAP's analysis of the ideological landscape surrounding outbreaks of political violence, Mahdi Hasan noted that while individual explosions of violence may not always have an identifiable cause, CEWAP treats acts of violence and hate crimes as "chained together" in cycles of action and reaction. Citing data recorded from hate group activity in Massachusetts from 2005 through 2015, Hasan presented evidence of randomly organized attacks and hate crimes gradually evolving into full-fledged organized events by 2015. Jack T. Sherman elaborated on the motivations and methods that hate groups and organizers of political violence possess to pursue their goals—noting that conspiracy theories and extremist ideology often "justify" the actions of the group, which may range from organized rallies and physical confrontations with political opponents to digital means of spreading hate (e.g., doxxing web resources). The digital footprint and grassroots organization of these groups facilitate both the illicit funding of local hate groups through crowdfunding and the spread of "copycat" outbreaks of violence. For instance, Sherman linked the attempted coup of the Brazilian government by supporters of Jair Bolsonaro in 2023 to the insurrection of the U.S. Capitol in 2022.
The panel then turned its attention to one key issue that has characterized outbreaks of political violence: police brutality. Kristina Angelevska discussed how "reshaping the approaches of law enforcement... [and] modern policing" could address public distrust in law enforcement amid "growing political polarization" and more frequent incidents of police brutality (e.g., the January 2023 death of Tyre Nichols in Memphis, Tennessee). Angelevska recommended the adoption of two models: Barry Johnson's "Polarity Map"—which involves "seeing the differences in society, assessing the[se] differences, learning and leveraging" the insights gleaned from chronicling political polarization among groups listed in the model—and Bobbie Harro's "Cycle of Socialization," an "analytical tool that is designed to provide understanding about the implicit biases that each and every one of us holds." Angelevska recommended using insights from these models to enact law enforcement and criminal justice reform while enhancing "police-community relations" and adjusting approaches to local interventions in communities.

Turning to the costs of ignoring these warnings, analyst Karina Zeferino cited the millions of dollars in damages stemming from the Boston Marathon bombings of 2013: the damage to the impact zone of the bombing alone exceeded $10 million, and the costs of artificial limbs for the fourteen victims who lost limbs in the bombing totaled $9 million, not to mention damage to public transit, the costs of the criminal justice system, and impacts on local businesses. Zeferino compounded this with a discussion of the costs of the Buffalo shooting of 2022, ranging from emergency medical services and healthcare for survivors to the costs of police investigation and procedure of the criminal justice system.
Consequences & Relevance
Echoing Professor Kew's sentiments that U.S. society has collectively "not been shaken enough" by the frequency and intensity of politically violent acts and hate crimes, this Brown Bag event ultimately discussed the Greater Boston area. Dr. Coll-Tellechia noted that the City of Boston was targeted by white supremacy groups 32 times in 2022, following 37 incidents in 2021. These numbers reflect a sharp contrast from preceding years. From 2005 to 2014, for instance, no acts of collectively-organized political violence occurred. 2016 to 2020 saw an "explo[sion] [of political violence] in Boston," indicating the need to "sound the alarm" on an alarming trend within McCormack's "backyard."
Addressing political violence also encompasses ethical concerns, including law enforcement response. Coll-Tellechia supposed that reliance on punitive measures could harm marginalized populations. Such a response pattern may prevent reporting and perpetuate distrust if the relationship between communities and local law enforcement is not reconceived to reflect a need for trust in, as Angelevska claims, "reform[ed] police-community relations."
The difficulty in addressing these trends in an inclusive manner is further compounded by the challenges of relying on reporting data to craft public policy; despite government, as Kew noted, "having an obligation to collect this data," instances of hate crimes and political violence commonly go unreported in contexts where it's voluntary to do so, such as in Massachusetts. Palihapitiya and Kew both noted that the creation of institutions that facilitate reporting through government and civil society-focused initiatives is key to combatting this issue. In fact, a failure to foster accessible, inclusive ways for reporting violence may further exclude marginalized communities and perpetuate a sense of "abandonment" by government officials. At the state and national level, Edmond discussed the potential for underreported data to be exploited in political contests that run on platforms of disinformation or misinterpretation of conclusions drawn from incomplete data—making claims that "hate crime is not increasing" and citing incomplete data to pursue exclusionary policy.
Program Manager for the MIIPS Series and McCormack's Student Success Manager, Dr. Christopher Graham, emphasized the importance of the theme of this event. He says, "I am thrilled that we have been able to bring such a timely topic to our students, UMass Boston community, and the general public. This topic on better understanding and eventually stemming the uptick in politically motivated hate and political violence through conflict early warning, contributes to bigger picture discourses on preserving democracy and building lasting societal peace."
In consideration of the above issues, this MIIPS Event is a clear demonstration of the collaborative potential that emerges when thorough, rigorous research is connected to practical application in conversation with stakeholders across sectoral and professional affiliations—and its relevance cannot be understated. As an institution dedicated to promoting public service and housing initiatives to inform innovative policy crafting within the City of Boston and beyond, the McCormack School is honored to promote the work of these talented research analysts and scholars who participate in and contribute to the Conflict Early-Warning Analytics Program.