Former Conflict Resolution Student Becomes Executi
Former Conflict Resolution Student Becomes Executive Director of a National NGO in South Sudan
---
Panther Alier is a UMass Boston alumnus with a BA in political science who took a class on Democracy and Conflict in Africa in McCormack's Conflict Resolution Program in 2005 with Professor Darren Kew. Today, Alier is the new Executive Director at Smile Again Africa Development Organization (SAADO), a national non-governmental organization in South Sudan, after serving as the organization's Country Director since 2017. As Executive Director, Alier is responsible for managing the organization's policies as it commits to eradicating poverty in partnership with communities.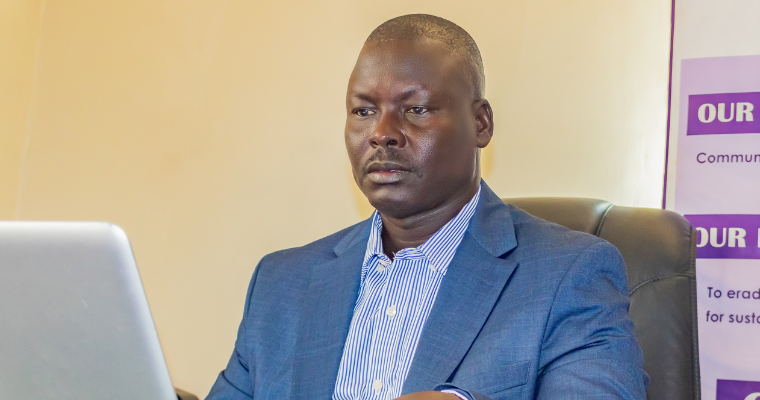 Image By: Panther Alier
A national non-governmental organization founded in 2011 in South Sudan "with a vision of seeing communities that are free from poverty and destitution with dignity," Alier and his organization "partner with communities and make sure that poverty is reduced and that some of their conditions are improved. That is our mandate," he said.
A refugee from South Sudan himself who fled the country as a teenager amid war and poverty in 1987, Alier's work is defined by his life experiences and educational opportunities. Coming from a background without any formal education, he attributes his current professional successes to his time spent studying in the United States. Alier explained, "I went through a lot of turmoil and violence. At the same time, my livelihood was supported through refugee services." After spending years in refugee camps in Kenya and Ethiopia, Alier came to the United States as a refugee in 2001 and enrolled at UMass Boston in 2002, where he completed an undergraduate degree in political science with a certificate in international relations and a minor in economics. He said, "I began to be more interested in knowing what forms the world's architecture. What is the issue? Why are some of these events happening? Why did I have to go through the situation that I went through?"
Questions such as these drove Alier to take courses in political science, economics, conflict resolution, and international relations during his time at UMass Boston. According to Alier, the course that he took at the McCormack School "gave me a chance to think around global setup and the architecture of the world. That helped me really formulate what I wanted to become as a person."
After graduating from UMass Boston, Alier went on to complete a master's degree in Sustainable International Development at Brandeis University's Heller School for Social Policy and Management. "My instinct was that I needed to be a people person, and doing political science would open those doors to working with communities. I felt I could bring those skills to my home country and contribute by supporting sustainability," he said. Alier's education gave him the skills and the knowledge base to give back to his community in a development-oriented, humanitarian way: "It was because of that support that I am able to now support the people of South Sudan."
This educational foundation paved the way for him to return to his country equipped with a stronger understanding of why he had to leave in the first place. As he explained, "When I decided to come back to South Sudan, it was not because I come from here. It was because I felt South Sudan needed the most." A practicum through his Heller School master's program landed him in South Sudan working with Winrock International, which was implementing a USAID-funded project called the Building Responsibility for the Delivery of Government Services (BRIDGE) Program to deliver basic needs for people in South Sudan in partnership with the local government. Following the internship, Alier formally joined as a Community Development Specialist. Later, Alier transitioned to another USAID project called the Project on Good Governance in the Republic of South Sudan (PROGRESS) with the Kaizen Company and Deloitte, securing state and local government support for the project's cause. He then worked with the Local Governance and Service Delivery Project (LOGOSEED) to engage the community and empower state and county authorities to support the provision of basic services like clean water and education.
When the South Sudanese Civil War interrupted Alier's capacity to safely engage in fieldwork, he joined Smile Again Africa Development Organization in 2017 as a Country Director, before becoming the Executive Director this year. In this new role, Alier is challenged with securing resources and funds in a moment where many funding opportunities from the West are centered around the war in Ukraine. "In the current situation, resources are quite limited, so to continue our mission and be able to deliver for the people of South Sudan is a great challenge," Alier said. Despite this challenge, he knows well that any successes of the organization—and any failures—will now reflect his involvement more directly.
Drawing from such an expansive commitment to working with communities to improve their livelihood, Alier wants current students and alumni of UMass Boston and the McCormack School to know that "The world will always have areas where we can contribute individually." His advice: "Whatever career you are studying, know your calling and pursue what is inside of you that you want to deliver to contribute to the world you are in."
As a graduate of UMass Boston, Alier is grateful for his continued connections here, including with Professor Darren Kew, under whom Alier studied and with whom he maintains some correspondence. "I have come to South Sudan to support communities, but I'm still a family member of UMass Boston and the McCormack School," Alier said. "When there is need from me, I will always reach out, and I would ask that we all as human beings can contribute in our own ways. In partnerships," he concluded, "we can always find a way to deliver, contribute, and support."