GGHS PhD Student Nkasi Wodu on the State Departmen
GGHS PhD Student Nkasi Wodu on the State Department's African Electoral Reform Project
---
A hallmark of a McCormack School education is its integration of academic work with real-life practice. As an institution, McCormack seeks solutions through the practical and the tangible as much as the academic and theoretical. It is not rare for McCormack students to bridge their classroom learning with applied learning experiences, though such experiences are not always accompanied by a $500,000 U.S. Department of State grant to build an Africa-wide Democracy Network of activists committed to electoral reform across the continent.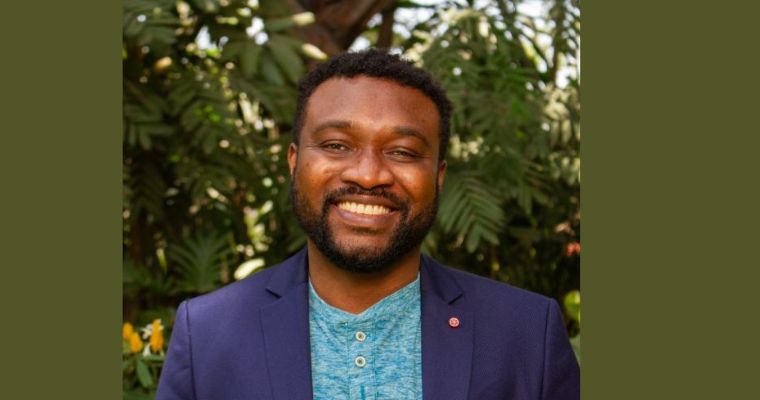 For Nkasi Wodu, a PhD student in Global Governance and Human Security who was a key player in the project's implementation as part of his work with the Center for Peace, Democracy, and Development, it was a long-term dream of his to bridge his academic studies with his on-the-ground work in Africa. Having been a practitioner himself for over 10 years, Wodu selected this PhD program because the faculty members are both academics and practitioners, representing, for Wodu, "the best of both worlds, both in terms of contributing to new change on the ground but also in terms of using my intellect to advance the course of literature."
It just so happened that these long-term goals for a career post-PhD fell into his lap amid his doctoral studies, only months before he is due to defend his dissertation proposal this summer. As he said, "It's not an easy task to do a PhD program and implement this project at the same time." But he takes this opportunity with stride and with deep appreciation. "It's been really good moving from the classroom to working with real people in real-life situations," Wodu commented. "I appreciate the department and McCormack Graduate School itself for this huge and immense opportunity."
Since last year, Wodu has been working with Professor Darren Kew and the Center for Peace, Democracy, and Development to organize a Democracy Network of civil society organizations attempting to improve election quality across the African continent. The project combines a conference and a series of workshops, alongside mini-grants for participants from 10 countries in Africa. In its earliest phases, Wodu helped in the project's grant-writing process. Now that the project has gotten on its feet, his responsibilities have shifted from project planning to project implementation. This meant a great deal to Wodu, who provided senior-level expertise in program management, monitoring and evaluation, research, and planning for more than eight years in Nigeria. It also meant a great deal of new work as he juggled his studies and this project.
For the project's three-day conference in Nairobi, Kenya from January 19 to January 21, Wodu was responsible for making sure things ran smoothly. "The conference was truly a huge part of the project for us. That was the first time we were bringing everybody together, so it was going to set the tone for the rest of the project," he said. His role included navigating the logistical operations of the conference, like selecting the 50 participants from the 10 countries and ensuring that they all submitted their relevant documentation on time to secure visas, travel arrangements, and hotel accommodations. From the selection of participants to the start of the conference, Wodu had just about three weeks total, over the holidays, to make sure that the conference was successful. "It was quite a heavy task," Wodu confessed.
He also worked with the program's partners, the West African-based Center for Democracy and Development and Nextier SPD, to develop the agenda of the conference. Planning the conference, Wodu and his team learned from the participants through an initial orientation in early January to determine what they wanted to achieve and gain insight into what they saw as the major issues in their countries. Based on that feedback, they then designed the conference's program. For Wodu and his partners, it was important to create a learning environment that both showcased expert thinking on the topic of electoral reform and tapped into the participants' own expertise and lived experience in their respective countries.
Resisting the academic urge to lecture at the participants, Wodu and his team crafted a workshop model not unlike McCormack's own educational model. This included guest speakers who would discuss a topic of interest, such as threats to and opportunities for democratic elections, followed by group interactions where participants would take the information they gained and apply it in a tangible manner so that they left the conference with a strategic plan for the second phase of the project.
As the project moves into its next stage, the team at UMass Boston and its two partners will host a series of workshops with each country team to take the foundation they developed at the conference and think about how to put it into action. Wodu explained, "We need skill-building in this particular area to help us in identifying and working on this particular context in our countries. That's where the small group workshops at the country level would come in."
Considering how working on the ground is informed by his academic studies, Wodu admits that such a position requires humility. For Wodu, it is important to embrace that the project participants can teach him, as well. After all, they are the experts on their own countries. As he explained, "They are the ones most affected by the problem. It's remarkable how much we can learn from them."
Ultimately, the project aims to give the participants a platform and the means to begin election reform work in their individual countries. In fact, considering projections that indicate the youth population in Africa will double by 2030, it is essential to dedicate this moment in time to protecting democracy across the continent. "All of that opportunity can be wasted without good leadership if young people do not have a say in the democratic electoral system," Wodu explained. "What we're trying to do here is to bring in new leaders so that young people and citizens in general are going to see that they have a voice and a stake in how their country is run."
This project captures what Wodu sees as McCormack's overall mission. "At the heart of this all is leadership," he said. "The democratic system is one of the most tested and trusted ways by which action can be achieved and from which people can have a say in how they are governed." He is grateful for the McCormack School for fostering such an opportunity and for its commitment to both academics and applied learning experiences. "The provost, the dean of the McCormack School, the department chair, and Professor Darren Kew did not just put implicit faith in me but also implicit faith in all of the grad students that are working on the project," Wodu said. "For us, it's not just about academic excellence. It's also about how we are able to contribute to real-life solutions."