Graduate Commencement Speaker Noor Tahirkheli Advo
Graduate Commencement Speaker Noor Tahirkheli Advocates for Mental Health in Marginalized Communities
---
05/18/2023
| DeWayne Lehman
Clinical Psychology PhD Reaches Milestone in Long Journey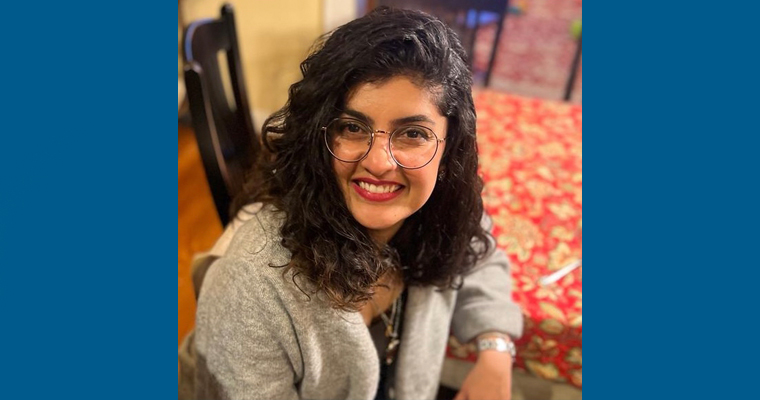 " Noor Tahirkheli embodies UMass Boston's anti-racist, health-promoting mission... "
Noor Tahirkheli has seen a lot of the American Midwest, immigrating from Pakistan with her family at age 2 to live in Minnesota then Wisconsin before her family settled in Oklahoma, where her father could get a visa for working as a doctor in an underserved area.
"It was hard," she says. "I was like the only brown girl…. I was always the only one."
Next week, Tahirkheli will graduate from UMass Boston with a doctorate degree in clinical psychology and will address her fellow PhD and master's degree graduates as the student speaker for the Class of 2023 graduate commencement.
Tahirkheli's dissertation is titled "Negotiating Acculturation: A Qualitative Study of Muslim American Immigrant Women," a focus she says was driven in part by her own immigration experience and story.
"It was mostly me trying to understand how it is for other women like me to negotiate multiple cultures, having an ethnic culture, an American culture, and then being Muslim, because Islam is its own thing," Tahirkheli says.
Tahirkheli's journey to UMass Boston included attending New York University for her undergraduate studies and then searching for a clinical psychology doctoral program that was rooted in social justice and had research focusing on the impacts of racism in marginalized communities, both on mental health but also more broadly, and a program that emphasized diversity and inclusion. She found UMass Boston during a second round of graduate school searches.
"It was really Dr. [Tahirah] Abdullah and the program itself that brought me here," she says. "And it has 100 percent pulled through to be everything I hoped it would be.
"I couldn't have selected a program that more effectively trained me to be a social justice ally and given me the training I needed," she says.
Associate Professor of Psychology Tahirah Abdullah, who served as Tahirkheli's faculty advisor, and Professor of Psychology Lizabeth Roemer nominated her to be this year's graduate commencement speaker, an honor reserved for an exceptional graduate. They referred to her as a "dedicated, wise, compassionate student in the Clinical Psychology Doctoral Program who has been an engaged, active member and natural leader in our program throughout her time with us.
"Noor Tahirkheli embodies UMass Boston's anti-racist, health-promoting mission in her commitment to culturally responsive, accessible, and just mental health promotion for people from marginalized communities," the professors wrote.
Professors Abdullah and Roemer also highlighted Tahirkheli's chairing of the department's Psychology Connections Committee, mentoring of students, and providing clinical services at University Health Services Counseling Center following the 2016 election to expand its reach, particularly for students who were being targeted by federal policies and rhetoric, among other activities on campus and in the surrounding communities.
Tahirkheli says she was "shocked" to be named the graduate commencement speaker. But she says she will have some advice for her fellow graduates.
"We have this privilege, we have this degree, we have this capacity to use some kind of expertise to somehow impact the world," she says. "But I think—I may be assuming something—but I think so many of us are struggling with impostor syndrome, with self-doubt—am I doing this good enough, am I doing this well enough, have I achieved what I am supposed to have achieved—all of these concepts.
"I think what I want to do is kind of a call to action that's not specifically about serving anyone but actually believing that we are good enough, taking our power, having this degree, having this expertise we have developed here at UMass Boston and believing we are worth it…. We are inherently worthy and good enough.
"It's like in many ways a speech to myself," she says.
Following graduation, Tahirkheli is planning to enter a post-doctoral fellowship at a private practice as she works toward earning her licensure. In addition, she hopes to continue her relationship with her alma mater by teaching courses at UMass Boston.