In Biggest Fiscal Year Yet, McCormack's Office of
In Biggest Fiscal Year Yet, McCormack's Office of Public Collaboration (MOPC) Tightens Core Programming and Emphasizes Research Output
---
After joining UMass Boston in 2005 and the McCormack School in 2014, the Massachusetts Office of Public Collaboration (MOPC) has come a long way since its establishment as a free-standing state agency in 1990. This coming year, its biggest year yet, the MOPC is poised to bring in $3.6 million of funding, compared to approximately $200,000 in its first year at the university. On the funding front, which is achieved through a sizeable state investment, grants, and donated services, the MOPC has steadily grown.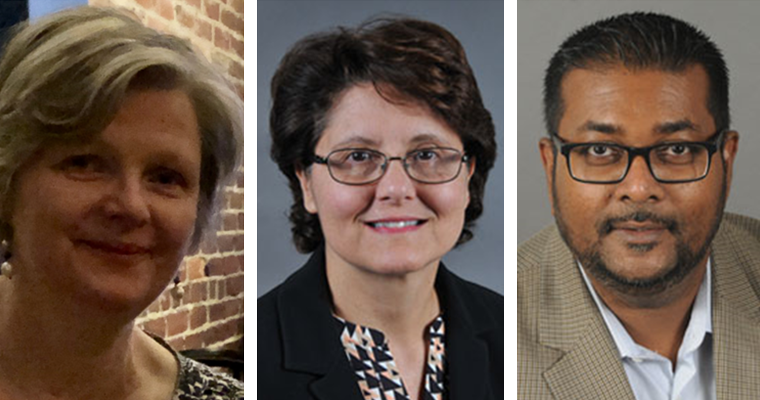 MOPC Staff (left to right): Rosalind Cresswell, Susan Jeghelian, and Madhawa Palihapitiya
In terms of its services, the MOPC's long list of projects grows longer, too, as it focuses on expanding its response to pressing issues across the Commonwealth. According to executive director Susan Jeghelian, who has worked with the MOPC since 1993, the MOPC's mission is "to serve all branches of government and to help build dispute resolution infrastructure and public programming." She explained, "We research and develop evidence-based program designs, and then we evaluate, document, and confirm the most effective implementation and impacts."
Through a mix of programming—including affordable housing development, community mediation, housing mediation, incarcerated individuals' reentry mediation, and youth conflict resolution, among others—the MOPC serves as a neutral forum that provides conflict assessment, mediation, consensus-building, deliberative dialogue, capacity-building, systems design, and monitoring and evaluation. Jeghelian explained, "Our office provides state-level resources for conflict resolution and public collaboration. We also give local community mediation centers their operational funding, and they do their own services and programming in communities and in the courts."
In recent years, Jeghelian explains, the MOPC has worked to focus its widespread involvement in many programs on a few more stable, ongoing programs. Doing so is an opportunity to secure more reliable funding rather than smaller grant-funded projects here and there. The MOPC still works "here and there" on other special projects, but as it prepares to support itself long-term, its work centers around key areas of growth. As Jeghelian remarked, "By building sustainable public programming, we can have a deeper impact. Instead of things changing with the blowing of the winds, we institutionalized this work so that we can cultivate best practices and learn, study, and expand."
This fiscal year, the MOPC's requested expansion of funding aims to cover three areas, including the ability to cover growing costs for the MOPC itself and for its twelve affiliated centers, the development of a cloud-based central database system, and the addition of up to two more community mediation centers to be funded officially through the MOPC to add to the twelve current state-funded centers.
Expanded funding will also help the office to maintain operations on its ongoing projects. Perhaps most pressing for the MOPC, and for Boston and Massachusetts more broadly, is housing instability and the current housing market. In 2020, amid the eviction crisis associated with the COVID-19 pandemic, MOPC found a niche as part of the Governor's mitigation efforts with support from the Massachusetts Legislature: tenant and landlord relations. Drawing from its fundamental basis in conflict assessment mediation, the MOPC team developed a housing mediation program to foster conversations between landlords and tenants to prevent evictions and homelessness.
Now, as the status of the pandemic evolves and the Eviction Diversion Initiative has come to a close, the MOPC has since broadened its housing mediation program to maintain relevance and funding to include any type of conflict that impacts housing stability, such as poor tenant-to-tenant relations, housing conditions, or inability to maintain tenancy rules.
These expanded offerings fit well within growing attention at the state level to housing stabilization, as even Governor Maura Healey has declared housing stability as one of her top priorities. "When we can align what we're doing with a top priority of the state and in communities, I think that's wonderful," Jeghelian said.
The MOPC's transition from a free-standing agency to a university-affiliated one was explained in a recent interview with three key leaders at the MOPC: Jeghelian, director of community mediation programs Rosalind Cresswell, and associate director Madhawa Palihapitiya. Jeghelian, the most tenured of staff members at the MOPC, with her director role dating back to 2000, accompanied the MOPC in its move to UMass Boston in 2005.
Two years later, in 2007, Madhawa Palihapitiya came along to bolster the MOPC's research agenda. As Palihapitiya explained, the work the MOPC was doing on environmental, transportation, and local economic development issues at the time presented itself as more and more multi-dimensional—becoming, as he called them, "wicked problems." To better respond to such problems, in a "No one sector owns the problem and hence no one sector owns the solution" approach, the MOPC aimed to become a more effective neutral forum that could provide expert facilitation and support that facilitation with research and evaluation, Palihapitiya explained. He said, "We felt that we had to offer an evidence-based program with merit-based funding, so we created a set of values that define community mediation and a centralized case management database."
Then, gradually, the MOPC increased the amount of public investment in its programs. In 2014, Rosalind Cresswell joined the office as the grant program manager. Now the director of community mediation programs, she supports the affiliated centers in grant-making and outreach and helps the MOPC to bring in more programmatic funding opportunities.
Operating for several years at $750,000 in funding, the MOPC realized that it needed to offset growing cost of operations for its own team and for its twelve affiliated centers, which together make up the Resolution Massachusetts network. As Cresswell explained, three major advances in the time since it joined with McCormack helped bolster the MOPC's offerings to where they are today.
The first was its cultivation of conflict resolution and restorative justice aimed at empowering youth. Second was MOPC's expanded reentry program, which provides pre-release services to currently incarcerated people to bring them together with support systems in the community that will be helpful to them during their reentry, such as family members, religious figures, and employers. Initially funded through small pilots, the reentry program became state-funded in 2020. Third, as mentioned above, the MOPC was approached by the Department of Housing Community Development to work on the Governor's Eviction Diversion Initiative in 2020 amid the COVID-19 pandemic. In all three instances, Cresswell emphasized, "The focus has been on upstream mediation, a general principle of conflict that the sooner you deal with it, the better."
Together, the MOPC worked to stabilize its funding and expand its impact through research and new collaborations with the McCormack School. "Once we moved under McCormack," Jeghelian explained, "we were able to establish more direct partnerships with faculty and have more access to students in the academic units." Such a partnership has helped the MOPC to build out a stronger research unit, led by Palihapitiya.
Through the MOPC's expanded research vision, Palihapitiya and the team have centered a mixed methods approach to data that legislators, sponsors, and funders have preferred. As Cresswell explained, "We serve people, and conflict is a very human disease." Palihapitiya concurred, saying that "We want to understand the nuances of lived experiences—the human side of the problems."
The MOPC's research unit has involved many master's and doctoral graduate student researchers at McCormack, funded by the MOPC, who have interviewed tenants about their experiences with housing stabilization, for example. The MOPC has published its qualitative findings in reports over the past several years.
All the while, with a home in the McCormack School, the MOPC is also able to offer courses for students, increasing its teaching platform, and it has partnered with faculty members in McCormack to expand its research output to different avenues, such as partnerships with the Center for Peace, Democracy, and Development. Through the MOPC's collaboration with McCormack, "We are able to provide a lot more depth to what is going on," Palihapitiya explained. As Jeghelian concluded, "It's a mutually beneficial relationship."