Institute for Community Inclusion Fights Subminimu
Institute for Community Inclusion Fights Subminimum Wage
---
02/14/2023
| Quinn Barbour
The Institute for Community Inclusion at UMass Boston is working with more than 26 state public vocational rehabilitation (VR) and state developmental disability agencies to improve employment opportunities for people with disabilities.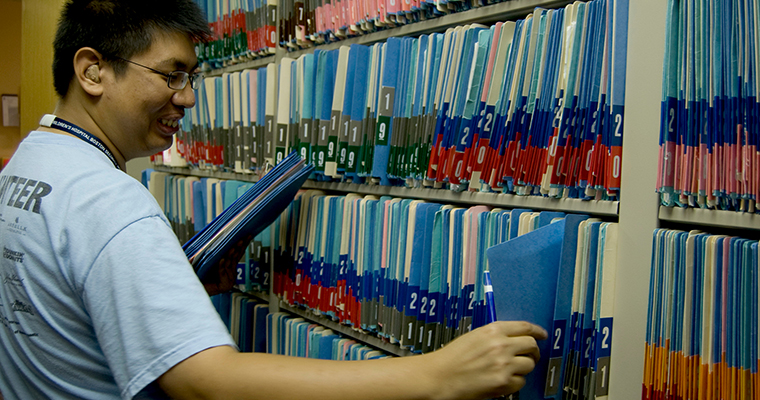 Jimmy, a client of the ICI's Employment Services Team, is a long-term employee at Boston Children's Hospital in their human resources department.
Since the establishment of the federal minimum wage in 1938, section 14(c) of the Fair Labor Standards Act (FLSA) has made it legal for employers holding a 14(c) certificate to pay workers with disabilities less than the federal or state minimum wage mandated for all other workers.
Wages under 14(c) can be less than $1 per hour for employees with disabilities, compared with minimum wages between $7.25 and $16.50 per hour for coworkers without disabilities. While the use of 14(c) and subminimum wage decreased by almost 60 percent from 2013 to July 2022, people with disabilities can still be paid less than minimum wage in 41 states, including Massachusetts.
For people with disabilities, this is both a civil rights and social justice issue.
"We want real jobs and meaningful ways to spend our days," said Max Barrows, a project advisor and disability rights advocate in the Administration for Community Living's 30 Years of Community Living report. "We are human beings and we deserve what people without disabilities have. For those of us who work, we should receive fair pay. We want the opportunity to move up a career ladder. More should be done to make this a reality on the federal level."
Many states throughout the country, including Massachusetts, have been gradually increasing minimum wage to move towards a livable wage for all workers, and the ICI continues to work at the federal, state, and local level to support the elimination of subminimum wage. This requires not just eliminating 14(c), but also building the capacity to support people with disabilities as they get jobs paying the same wages as others in the general workforce.
The ICI is on the forefront of efforts both in Massachusetts and across the country to support access to competitive integrated employment for people with disabilities. In Massachusetts, the use of subminimum wage will be phased out by the Department of Developmental Services by October 2024.
Similar efforts are underway in at least nine other states. The ICI was recently awarded contracts totaling $4.4 million over the next five years to work with Minnesota and Florida VR agencies to support people with disabilities currently receiving subminimum wage to access better jobs. In addition to these new initiatives, the ICI has contracts in Massachusetts, Maryland, and Hawaii to help community organizations currently offering subminimum wage employment change their business model so their clients obtain competitive integrated employment.
Working in settings that pay subminimum wages has often been seen as the only choice for people with more significant disabilities. However, new approaches to services, changes in legislation and policy, improved expectations for people with disabilities, and advocacy by and on behalf of people with disabilities are shifting expectations. The ICI has a singular focus on full inclusion of people with disabilities into all aspects of their communities.
"We can no longer support services that limit people with disabilities to employment situations that perpetuate stereotypes and relegate them to a life in poverty," said ICI director Cindy Thomas. "Employment provides a pathway to financial well-being and brings people into the fabric of their communities. ICI is excited to be working with partners in Massachusetts and across the country to address this critical civil rights issue."
About the ICI
The Institute for Community Inclusion (ICI) at UMass Boston supports the rights of children and adults with disabilities to participate in all aspects of society. As practitioners, researchers, and teachers, we form partnerships with individuals, families, and service agencies. Together we advocate for personal choice, self-determination, and social and economic justice. Learn more about the ICI: www.communityinclusion.org.