International Relations Graduate Forges New Partne
International Relations Graduate Forges New Partnership Between McCormack School and Discovering Justice
---
Hassan Chehab graduated from the McCormack School's Master's in International Relations program last May but discovered a way to stay in touch. The vehicle: a proposed partnership between McCormack and Discovering Justice, a nonprofit organization based at the John Joseph Moakley Federal Courthouse where he now works.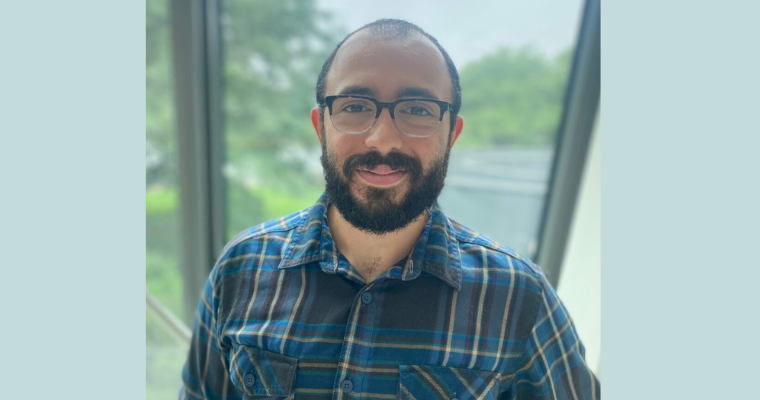 As Discovering Justice's Development and Administrative Associate, Chehab's responsibilities include bolstering outreach. Part of that means working with McCormack to recruit more fellows. "Discovering Justice always is on the lookout for them," he said, referring to the paid fellowship program, now in its fourth year. "I reached out to McCormack to get involved because we were looking to increase our team. "I had done fellowships through UMass Boston. McCormack sends emails about fellowships to its students regularly, and people sign up for them. That was the case for me and many of my colleagues, so I decided to get both institutions involved with one another."
This collaborative recruitment effort enables Chehab to bring his Discovering Justice advocacy to the School. A first step, Chehab took up the invitation of McCormack's student success manager, Dr. Christopher Graham, to join the latest Dean's Office of Student Success (DOSS) Town Hall event as a speaker- pitching fellowship opportunities to students. Prior to the start of his studies at McCormack in 2020, Chehab completed his undergraduate degree at Clark University, majoring in history and economics. He says that experience provided him with a solid grasp of "the functioning of societies, the functioning of social infrastructure, and the history of economies, which is very vital to understanding the world." He decided to build on that foundation by studying international relations. Adding to his calculus: the COVID-19 pandemic was just underway, and he was finding his professional work unfulfilling.
Chehab held several student employee assignments during his time at McCormack. He served as a research assistant for Professor Leila Farsakh on vaccine access in Palestine and Israel. He also held a Civic Action Project fellowship with the Alliance for Business Leadership. Chehab says he found these experiences both rewarding and nourishing. Plus, he felt no burnout from his student employee work or the broader demands of his academic program. To the contrary: Thanks to their real-world impact on communities, a clear path was opened to take after graduation. "Any research that I was doing was being put out somewhere," Chehab recalled. "It was being shown somewhere and presented in a way to try to convince someone to accept things like renewable energy and transportation infrastructure."
Chehab believes that serving one's local communities is the basis of "doing good," a mission to which he continues to strive. "The primary way you can consider yourself doing something good is by going out and looking into your communities and seeing what people actually need," he said. Discovering Justice helps Chehab continue to live this belief and investment. "I felt like I wanted to do something that was very impactful," Chehab said. "I wanted to feel that the work I was doing and the actions I was taking were improving the world in some way."
He is not alone in his desire to make the world a better place. Discovering Justice was founded in 1998 to help fulfill the mission of the Moakley Courthouse: bring students and communities from throughout the Commonwealth together "to examine the workings of the justice system, explore the ideals of justice, and prepare them to engage in American democracy."Back then, the expressed desire of the Judges of the U.S. Court of Appeals for the First Circuit and the U.S. District Court for the District of Massachusetts was that "the Moakley U.S. Courthouse be a community center as well as a locus for the resolution of legal disputes." Initial funding support for Discovering Justice came from both the District Court and First Circuit Court as well as the Boston Bar Foundation. When the Moakley Courthouse opened in 2001, Discovering Justice was organized as a nonprofit.
More than two decades later, it continues to evolve but its core commitment to steward American democracy through civic education and engagement remains the same. It offers teaching and mentoring about the justice system to K–12 students in Massachusetts schools. Discovering Justice is a fulfilling placement for Chehab, who recognizes that a lot of "doing good" in communities comes through just such activities. He finds the this work particularly important because "American democracy is constantly facing challenges to deliver on its promises, and the cracks are getting bigger," he said. "One of the things we can do to combat that is be actively engaged in trying to steward what is ultimately a fragile democracy."
Chehab thinks the K–12 population is especially vulnerable because it both misunderstands and is unfamiliar with the justice system. "This generation of people who graduate from school could find themselves in a courtroom, and that might be their first experience with the justice system ever," he said. "We are educating children from kindergarten all the way through high school on how to advocate both for themselves and for others."
In addition to recruiting fellows, his responsibilities as Development and Administrative Assistant include managing fundraising and finances. Although not immediately policy related, he believes these responsibilities contribute to his mission of doing good. "Ultimately, the concept of doing good also means that there is work that needs to be done with two hands," he noted. "I consider this part of my desire to do good and to help our community." Being housed in the Moakley Courthouse also enables him to meet courthouse staff and learn the ins and outs. Most importantly, Chehab has been able to maintain a healthy work-life balance.
Last December, he deepened his relationship with his alma mater by pitching Discovering Justice's fellowship program to McCormack students attending the DOSS Town Hall. "I never really considered myself a hardcore UMass alum because I was in Worcester and attended McCormack mostly virtually," Chehab said. The emerging partnership he is forging between McCormack and Discovering Justice "has elevated me away from the academic and towards the professional, while making me feel more tied to McCormack. "I graduated, but I'm still involved with the people I studied with, and I think that's really great. It feels like if I wanted to go back in the future to get involved professionally or even academically, I would probably look to UMass first."