Jamie Tull, McCormack's College Business Coordinat
Jamie Tull, McCormack's College Business Coordinator, Is the School's Go-to Problem Solver
---
Like a traffic guard at a busy intersection, as cars pile up from multiple directions, each with a tight schedule and destination in mind, Jamie Tull tries to direct the flow of the McCormack School's business operations. In addition to keeping things moving, Tull often generates creative work-arounds to thorny situations. She serves in McCormack's Dean's Office as the College Business Coordinator, a plain title that belies the complex range of knowledge, experience, and capabilities the job demands. "Most people will say my position is like a clerk," Tull said, "but I really am a coordinator. I'm always in the middle, negotiating between two departments or two people who can't come to a solution. I work with the staff and the students and try to resolve issues and problems."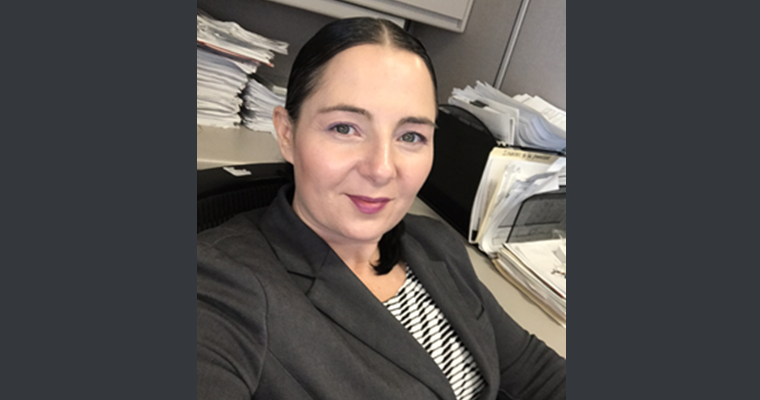 Working out of the Dean's Office on the third floor of McCormack Hall, Tull tries to manage the many moving parts that make up the McCormack School's operations. This puts her in contact with nearly all the School's members in some way or another, from students to staff to faculty across its centers, institutes, and academic programs.
If she were to describe her job simply, it would be to ensure that everyone gets paid—though things rarely are that straightforward. Having worked in the Dean's Office for three years, and employed at UMass Boston even longer, Tull marvels at the fact that she has never had a monotonous day. On the contrary, each day calls upon her to work at new situations and new challenges productively. She explained, "My role really involves moving with the ebbs and flows that seem to be very fast-paced and having an open mind and the ability to be creative, open, and eager to resolve whatever problems that come."
As McCormack's Business Coordinator, she navigates the ripples that arise when making sure operations run smoothly, from last-minute contract negotiations to assuring that international work-study students get paid to making sure the right person at the right time has ink or water. Tull has done all that and more and is driven by finding innovative solutions to dilemmas that would give other people headaches. "I live in the weeds," she commented. "I'm looking with a magnifying glass and picking it apart to get to the solution to a problem. Since everybody else has their own goals, I have to somehow bring them all together to meet in a common place."
Being immersed in the thick of the school's day-to-day business operations sometimes means that Tull sometimes goes beyond her job description in finding resolutions. Her success is grounded partly in her many years of experience and accrued UMass Boston institutional knowledge, although some of that knowledge has become is obselete in many ways . Other sources of professional experience include her private sector background in finance at a local credit union and with the former Continuing and Professional Studies program at UMass Boston.
She also is a holistic collaborator with faculty, staff, and students. For example, when a student comes into the McCormack Dean's Office with a question, Tull jumps to help. "I'm always looking out for the best interests of our students, our staff, the faculty, and, of course, the university," she said, "whether it's fiscal responsibility or all the other things that come along with giving to the students."
In that sense, Tull knows well what drives the McCormack School and what keeps it on track. But it is more than just her quick-thinking adaptability, expertise, and calm, steady nature that make her suitable for McCormack and McCormack's inner workings suitable for her. What drives Jamie Tull to keep things moving? She says it's the personally precieved family-like atmosphere that she has found here. McCormack has given her what she was seemingly looking for in a workplace environment: a commitment to family, advocacy, and giving back to the community.
Before joining UMass Boston, Tull worked at a local credit union, which she enjoyed because of its service to the community. However, her job came with an inflexible schedule that made it incompatible with raising her family. Her background experience also includes a stint at AmeriCorps, working with state representatives in communities from Boston to Fall River. Coming to UMass Boston was a natural extension of her path to working with a community-engaged institution.
She decided to apply here because she grew up locally, in Dorchester, and appreciated the university's diversity and community engagement. Moreover, UMass Boston is more supportive of working families. This includes offering employees the chance to donate one day of their working time a month to volunteering in schools, which allows Tull to help her children's schools with chaperoning field trips. That commitment to inclusion and flexibility for employees with family made it a suitable fit. "I wanted to give back to my community and be in a place where I thought that I would find my home," she said. Working with McCormack allows her to maintain an uninterrupted commitment to her own family as well as find family in her workplace. "All the staff and the faculty that we have here will go above and beyond to fight for their students and to fight to retain programming that helps the students," she explained, adding that her commitment to the McCormack community is not uncommon among the School's faculty and staff. "This is an extension of my family," she said. "We're a team. Because they're so open and engaging to support me, I have to do my service to reciprocate." In honesty though, Tull would be remiss not to express that there are some interactions that are quite tough to deal with, resulting in frustrations at times.
Tull ideally is proud to support an institution that tries to care so deeply for its community and commit to advocacy. Noting the widespread reach that McCormack has across the university, state, nation, and globe, Tull concluded, "We are solution seekers, and we do that very well. We're constantly looking out for the community and the students, and with the resources we have, we do a really good job at that." She views her work as helping to advance the McCormack School's mission of following in John W. McCormack's footsteps. "We're fighting for the people," she said, "and it's a very comfortable and engaging place for our students."