JFK Award Winner Lee-Daniel Tran 'Exemplifies' Cal
JFK Award Winner Lee-Daniel Tran 'Exemplifies' Call to Community, Public Service
---
05/16/2023
| DeWayne Lehman
School for the Environment Community Development Major to Address Class of 2023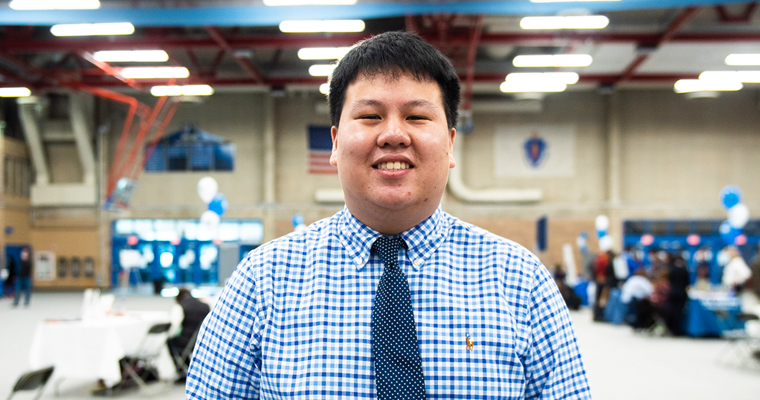 " Asian American Studies really empowered me to consider what my role could be in community development. "
For Lee-Daniel Tran it's all about connections—connecting his academic work with community advocacy, connecting communities with each other, and connecting with the people around him. It is this frequently cited focus in his nomination papers that has led to his selection as the Class of 2023 John F. Kennedy Award winner.
"I extend my heart-felt congratulations to Lee-Daniel on being named the 2023 JFK Award winner," said Chancellor Marcelo Suárez-Orozco. "I thank him for his considerable contributions to the UMass Boston and neighboring communities, and I look forward to his many contributions to come."
Tran, a 22-year-old Dorchester resident who majored in Urban Planning and Community Development in the School for the Environment and completed a program-of-study in Asian American Studies, is noted for routinely connecting his academic work, his engagement on many issues of concern in the Asian American community, and his lived experience as a Boston Public Schools-educated son of a working-class Vietnamese refugee and immigrant family. His extensive community work includes advocacy around gentrification, housing, and community place-making with several Asian American community organizations and using his photography skills to document community mobilization initiatives.
"I was always interested in helping. When I was young I thought volunteering was always kind of fun, and people thought I was weird," he said. "There's something nice about being engaged."
In some ways, Tran has followed in the footsteps of his father, a Vietnam refugee and UMass Boston graduate who for a period returned annually to his home country to document his experience through photography. Tran's sister also graduated from UMass Boston.
"I thought [UMass Boston] would be a great place to start learning about Asian American and Vietnamese identities," said Tran, the only member of his family to be born in the U.S. "Asian American Studies really empowered me to consider what my role could be in community development and how higher education can play a role in that."
Tran also served UMass Boston in a variety of ways, interning in the Asian American Resource Office, serving as an Orientation Leader through the Office of New Student Programs, and volunteering on behalf of the Bachelor of Arts Community Development Program.
"What makes him stand out is tirelessly working in the trenches to assist local grassroots organizations to serve individuals and communities day after day," Urban Planning and Community Development Associate Professor Chi-Kan Richard Hung wrote in his nomination letter. "Lee-Daniel Tran's outstanding service to the community inside and outside of UMass Boston very much exemplifies the call for public and community service in the JFK Award. His accomplishment is even more amazing in light of his side jobs of freelance photography and bike repair, and completing his undergraduate degree in four years in the pandemic era."
The JFK Award for Academic Excellence, first awarded in 1977, is the highest honor a UMass Boston undergraduate student can receive.
"I don't think any recipient of the JFK Award in the past 20 years has had academic training in Asian American Studies with as much depth, rigor, or range as that of LD [Lee-Daniel]," wrote Peter Nien-chu Kiang, professor and director of the Asian American Studies Program. "Given the intensity of anti-Asian hate nationally as well as locally, with recent incidents at Red Line T stations used by so many UMB students and family/community members, the selection of LD would certainly signal the university's commitment as an Asian American and Native American Pacific Islander Serving Institution (AANAPISI)."
Tran, who calls being named the JFK Award recipient "surreal," is planning to use his commencement address to speak to the importance of building connections.
"It sounds super simple, but I'm going to elaborate on the idea of connections with people, real human connections," he said. "It's not enough to know your story and know your success and what you achieved. I think that something we should really strive for is knowing we are much more connected to each other….
"We very much have a role to play with each other, and we really need to hold each other's stories and really reflect on them. We need to realize that our movements and stories are much more connected than we think.
As a Beacon, Lee-Daniel nurtured his commitment to community service. After graduation, he plans to focus his work on community development, education, and photography.