John McCormack Dean's Public Service Award 2023 Re
John McCormack Dean's Public Service Award 2023 Recognizes Michael Baker (Public Policy) and Taylor Jansen (Gerontology)
---
At the John W. McCormack School of Policy and Global Studies, programs are led by a team of faculty and staff who make significant contributions to their fields as academics and have real impacts in our local and global communities. Celebrating the real-world impacts of the next generation of policymakers and academics who are current students at McCormack, the Dean's Office awards the John W. McCormack Public Service Award.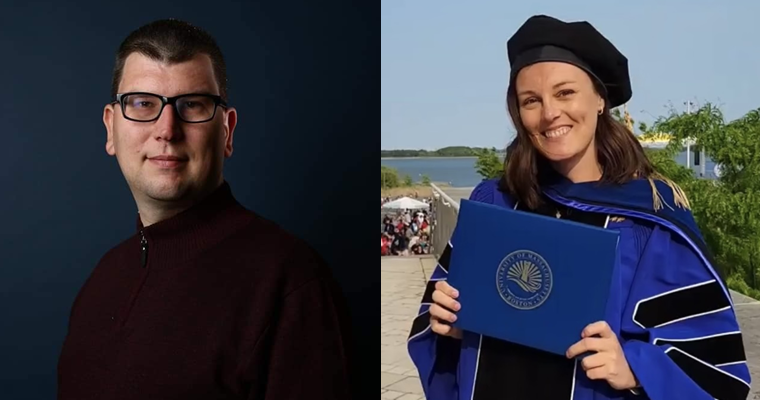 Michael Baker (left), a PhD candidate in public policy, and Taylor Jansen (right), a PhD in gerontology, were recognized for their significant contributions to public service, in addition to their current coursework, both on and off campus.
The award, which honors the legacy of the McCormack School's namesake, was given to two students at this year's graduation awards ceremony in May. Taylor Jansen, a PhD in gerontology, and Michael Baker, a PhD candidate in public policy, were recognized for their significant contributions to public service, in addition to their current coursework, both on and off campus.
For Taylor Jansen, who graduated from her doctoral program in May, committing to a path of public service meant drawing upon the lessons she learned from her professors and mentors throughout her academic career. Upon receiving the Public Service Award, Jansen commented, "It's nice to know that I am serving academia the way my professors and mentors do. The service they gave to me personally and to the department and institution inspired me to do the same type of public service," she said.
When giving back, Jansen channels that mentorship from her professors internally toward other students at UMass Boston. Approaching her public service alongside her doctoral studies, Jansen remained inquisitive about how she could be helpful. She said, "If I saw that there was a need that could be filled, I would ask questions about it to approach that kind of public service."
Her work with students enrolled in UMass Boston's Osher Lifelong Learning Institute (OLLI), which promotes lifelong learning by organizing educational opportunities for adults over the age of 50, is one example. Early in her program as a doctoral student in gerontology, Jansen found herself talking with members of her cohort about the work that they were doing inside their classes and how that sometimes didn't align with their daily lives outside of their classes in a very literal way. "We study older adults, but we realized we weren't actually interacting with older adults," Jansen commented. While wondering about opportunities for intergenerational connection, veteran students in the program told Jansen about the Intergenerational Book Chat Group, a book club that previous doctoral students began to connect with OLLI students on campus.
Learning that the book club had dissolved over the years, Jansen sought to revive it. She worked with other members of her cohort and connected with leaders at OLLI to organize meetings with older adults in the OLLI program every month or so. Now, the Intergenerational Book Chat Group discusses a wide range of literature, "from presidential biographies to comedy books to chick lit," Jansen said. During the club meetings, a younger graduate student and an older adult typically pair off to pick a book and lead the discussion for the next session. "It's a way for us to talk about books, but it's also a way to foster intergenerational relationships," she explained. "And it's really fun."
Another need that Jansen sought to fill, in the footsteps of her mentors, related to helping students navigate housing in Boston. Coming to UMass Boston from Illinois, Jansen knew firsthand how tricky it can be to find housing in the city and to know where to look, especially when coming from out of state. When she received an email from the gerontology doctoral program director Kathrin Boerner asking current PhD students to speak to prospective students about finding housing in the city, Jansen recognized that incoming students would benefit from more dedicated support around finding housing.
She took it upon herself to create a housing guide to share with new students. Jansen reached out to former and current students to interview them about their housing during the program, including what neighborhoods they lived in and their honest experience living there to provide feedback for prospective students. "It was a way for me to create something that I wish I had when I was in their shoes," Jansen commented.
Wrapping up her time as a student at UMass Boston with this award, Jansen also won the Department of Gerontology's annual Book Award for her outstanding dissertation on town-level risk factors for the development of lung cancer in adults aged 65 or older throughout New England. In addition to her teaching in the undergraduate gerontology programs at UMass Boston, Jansen served as the data visualization team lead for the Healthy Aging Data Report team in the Gerontology Institute. She will go on to complete a post-doctoral fellowship with the Healthy Aging Data Report team and teach a PhD-level course on the social aspects of aging this fall at UMass Boston.
Michael Baker, who has completed his coursework and is entering his fourth year as a PhD student in public policy in the fall, reaches outside of the campus walls with his public service. Like Jansen, Baker is a big supporter of his institution, regularly showing support and dedication internally to the McCormack School. One example: He attended the awards ceremony not because he was getting an award—in fact, his Public Service Award was a complete surprise to him since the announcement email landed in his spam folder—but to support other students in the program. Baker regularly shows up for McCormack, but when reflecting on his own public service, he considers his work off campus as particularly significant.
Far from UMass Boston's campus, in Puerto Rico—where Baker is currently working with the Federal Motor Carrier Safety Administration through a Washington Center fellowship—his public service work relates to his research on transit policy in the public policy program. There, he works with a team to investigate the high rate of fatal automobile accidents in Puerto Rico. As Baker explained, "It's an island roughly the size of Connecticut, with about the same population, but it has nearly twice the fatal accidents." As a data analyst, Baker and his team advocate for solutions to help mitigate the high fatal crash rates, such as seeking federal funding for drones to inspect bridges that have been damaged by Hurricane Maria as well as economic solutions to promote a safety culture. Baker's time in Puerto Rico has informed his doctoral work as he prepares his dissertation proposal, which will investigate automobile safety in Puerto Rico with attention to drivers' behaviors behind the wheel. Once finished, Baker intends to share his research with any local and state municipal employees for free. "I'm planning to continue that work and contribute to policy even after I'm done with the research," Baker said.
Much closer to home, Baker is involved with the Wah Lum Kung Fu and Tai Chi Academy of Quincy on their demo team and traditional lion dancing team. In recent years, as a response to increased violence against Asians, particularly Asian women and older Asians, across the country during the COVID-19 pandemic, the Wah Lum Kung Fu and Tai Chi Academy has increased its offerings of self-defense programs for greater Boston residents. Baker assists the head instructor of that program to offer free-of-charge self-defense lessons to vulnerable populations, increasing awareness of self-defense and strategies for self-defense. "We've taught a number of marginalized groups how to defend themselves and get away from an attack, and we also help them to build self-confidence so that they can protect themselves," Baker said.
In addition to offering free self-defense lessons, Baker works with Wah Lum to promote programs for the community celebrating traditional arts and Chinese culture. This includes public demos in spots around the city, such as outside Fenway Park and Chinatown, as well as presentations for children at Boston Children's Hospital.
While not directly related to his policy studies, Baker finds meaning in this work. He cites Mister Rogers' advice to "always look for the helpers," commenting, "I always try to be helpful." As he explained, there is joy in service, and it is an essential part of citizenship. Baker noted, "We are a social species, and community is the natural organization of things. Public service—being part of the community and promoting the social contract—is a big part of what makes us human."
Both Jansen and Baker see their service as a natural output of their time spent at UMass Boston, a public-facing institution that inspires people like them to do service. As Baker explained, "A number of people I've worked with and under are very inspirational and inspire you to go out and do good service." For both recipients of the John W. McCormack Public Service Award, recognition of their service work by the Dean's Office also recognizes the mentorship they've received from people within and outside of UMass Boston who continually inspire them to be helpful, good citizens through public service.