Making a Splash - UMass Boston
Making a Splash
---
05/09/2023
| Vanessa Chatterley
SOFYA GRAY '16 has long been an advocate of environmental sustain- ability. It's something she can trace all the way back to one of her first economics classes at UMass Boston with Nurul Aman, PhD.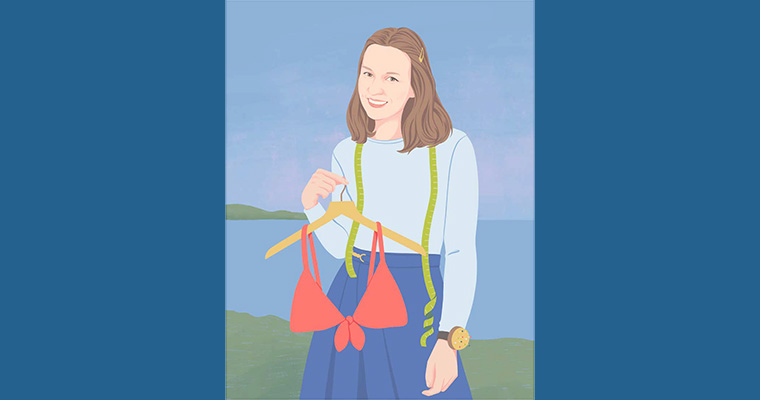 "He was talking about issues like pollution and recycling. And he guid- ed me into thinking about plastic waste. That was my first encounter with the issue," said Gray, who graduated cum laude with a bachelor's degree in economics. "He made me think about the importance of recycling and the danger of waste pollution overall."
That lesson came rushing back to Gray a few years later when she and her husband set sail along the New England coast, from Long Island Sound to Rockport, Massachusetts. It was Gray's first time being aboard a sailboat, and she was excited to take up a new hobby with her husband. But what should have been a fun afternoon quickly turned into a horri- fying reality once she noticed all the plastic waste floating in the ocean.
Gray's first time sailing was an unforgettable experience—for all the wrong reasons.
"I started spotting birthday balloons at sea. Later, when we sailed more in Massachusetts Bay, I noticed grocery store plastic bags, cans, ziplock bags, plastic water bottles, candy wrappers. Any time I saw trash, I tried to pick it up. I was thinking about the marine animals who could potentially consume plastic products, even micro parts, and hurt themselves. I re- member thinking, 'Oh, it all makes sense now. It's not just in a textbook.'"
A SEA OF PLASTIC
According to the National Geographic Society, more than 5.25 trillion pieces of plastic debris litter the ocean today. That number is even more staggering when you consider the ongoing—and still somewhat unknown—effects that plastic waste has on marine life and on ocean ecosystems as a whole.
For Gray, this was more than just a wakeup call. It was time to take action.
"I decided maybe it's my turn to start making a difference and address waste issues through a unique and creative way," she said.
Gray spent six consecutive months living aboard a 32-foot Ericson sailboat—named Annamay after her late mother-in-law—with her husband and two dogs. During that time, she immersed herself in research, learning everything she could about sustainability issues and challenges that plague and threaten the environment. She returned to Rockport with an idea for a business startup, one that could reduce the amount of plastic waste floating in our oceans.
COMING FULL CIRCLE
That idea came to fruition in December 2019. After months of scrupulous research and planning, Gray launched her sustainable swimsuit line, aptly named Annamay, after the vessel that served as her home for half a year. The company produces reversible and seamless beachwear made from recycled materials, all handmade by Gray on Cape Ann.
Annamay incorporates the circular economy model that Gray learned about in Aman's class, which advocates for sharing, leasing, reusing, repairing, refurbishing, and recycling existing materials and products for as long as possible.
The company is focused on the ethical production of sustainable swimwear and uses 100 percent carbon neutral and vegan production techniques. Additionally, she works with volunteers from all over the world to spread awareness about plastic pollution and responsible waste disposal.
"We take serious actions to educate people about the danger of microplastic pollution at sea and proper disposal techniques of our products with respect to the environment," said Gray.
Annamay's overall mission is to empower women by creating comfortable swimwear from eco-friendly fabrics while simultaneously making the planet a cleaner place. To date, the swimwear has been promoted by popular YouTube channels Tula's Endless Summer and Sailing Nandji; Sports Illustrated model Christie Valdiserri; and contestants from the 2019 Miss Massachusetts and Miss Hawaii pageants.
"I love seeing strong and powerful women supporting Annamay's goal and liking what I am creating," Gray said.
A ONE-PERSON START-UP
Despite its success over the last few years, Annamay remains a one- person operation. Gray manages all the arduous tasks that come with owning a clothing business, including designing, fabric sourcing, and outreach and marketing to promote brand awareness. She also takes on all of the seamstress and tailoring duties as well.
"Before starting Annamay, I was doing intensive upholstery work on our sailboat," Gray said. "Everything needed to be redone, including the sails. I decided to do it myself and I absolutely loved the process. When I started Annamay, I only had this heavy-duty sewing machine for sail-making purposes. I came up with some creative techniques and was able to make quality clothes on it."
FROM SIBERIA TO THE NORTH SHORE—AND THE WORLD
Gray has always been adventurous.
She hails from Yurga, a small town in Siberia, Russia, and immigrated to the United States to attend Quincy College before transferring to UMass Boston in 2015. After attending a job fair on campus, she landed a post-grad internship with the Boston City Council, working alongside politicians like City Councilor Tito Jackson, Boston Mayor Michelle Wu, and State Attorney General Andrea Campbell.
In 2021, Gray was named to the Boston Business Journal's 40 Under 40, an award that celebrates young professionals who have made an impact in their industries. Last year she was invited to serve as a mentor at Bizwomen Mentoring Monday, a national event sponsored by American City Business Journals.
Gray is currently a board member on the Rockport Cultural Council, which is funded and managed by the Massachusetts Cultural Council. It provides state grants and program- ming to promote excellence, access, education, and diversity in the arts, humanities, and interpretive sciences in every Massachusetts community.
"Joining Rockport Cultural Council is my way to enrich the Cape Ann community while promoting arts among the young population," said Gray, who is also a classically trained pianist.
She also works for the Secretary of the Commonwealth of Massachusetts William Francis Galvin. In this role, Gray works with companies like The Kraft Group, fashion brand Rag & Bone, and other entities from all over the world.
"I take a special pride in being an essential state government employee working for a constitutional branch specializing in corporations, limited liability companies, partnerships, and trusts," said Gray. "My priority is to make sure that all businesses in our state are in good standing and operating smoothly."
SETTING SIGHT ON THE FUTURE
Gray's next plan for Annamay is to upcycle old sails to make quality grocery totes. Additionally, she hopes to expand on her mission of educating others about the dangers of plastic waste and spreading awareness of how people can practice sustainability in their own lives.
"They don't really understand that it's an issue right now. People think it's going to affect us 50 years from now," said Gray. "It's really important to realize that it's actually affecting us right now. We have to take action right now. Not 10 years from now, not 25 years from now. Right now."