Massachusetts Appeals Court Brings Judicial System
Massachusetts Appeals Court Brings Judicial System to UMass Boston
---
04/11/2023
| Danielle Bilotta
The Campus Center Ballroom was transformed into a courtroom last week, as UMass Boston partnered with the Massachusetts Appeals Court (MAC) to conduct a court session on campus.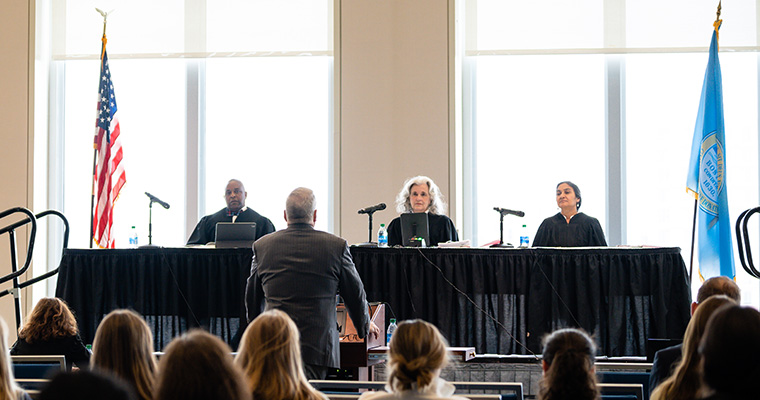 From left to right: Associate Justices Kenneth V. Desmond, Mary Thomas Sullivan, and Sabita Singh
Image By: Javier Rivas
As part of its own educational mission, the MAC holds a handful of sessions outside of the John Adams Courthouse in Boston each year. This is the fifth time that the court has visited UMass Boston.
The campus community as well as teachers and students from local high schools including BC High, Jeremiah Burke, Boston Collegiate, and Cristo Rey, were invited to witness the hearings and network with members of the court, staff, and UMass Boston alumni who work in the court system.
"As an educational institution, we believe that this event provides a valuable learning opportunity for your students to witness firsthand the workings of the Massachusetts legal system and we are excited to serve as host," said Director of Community Relations Philip Carver, who helped organize the event on campus.
Associate Justices Mary Thomas Sullivan, Kenneth V. Desmond, Jr., and Sabita Singh presided over two criminal cases and two civil cases. Oral arguments for each case lasted about 30 minutes and ranged from assault to environmental conservation issues.
Following oral arguments for each case, the associate justices, courthouse staff, and UMass Boston alumni in the court system spent more than an hour engaging the audience, starting by sharing their experience within the legal system. Court officer Ronnie Newton explained how he joined the Massachusetts Appeals Court after he left the military and his appreciation for being in a work environment where he's encouraged to ask questions and learn from the judges.
"The judges are not just good managers, but they're good teachers. If I go and ask them questions like, 'I don't understand this, can you explain this to me?' they always make a point to stop and explain it to me," Newton said. "It's so important these days to have a work environment where they encourage and teach you things, even things that don't pertain to the job."
Judicial law clerk Agnes Kolbeck spoke about what motivated her to apply to law school, joining the appeals court, and her role as a law clerk. She acknowledged how pursuing a career in law is often described as challenging but told students not to "close the door on themselves" even if it takes a lot of hard work to reach their goals.
"At the appeals court there are 26 law clerks, and you can look at that on one hand and say, oh my god, there's only 26 spots, how could I possibly end up in that position? Or you could look at it as there's 26 spots, and each of those spots needs to be filled, why shouldn't I be one of them?" Kolbeck said. "There's no reason why none of you here couldn't be in the seats that we're in right now."
While the associate justices couldn't answer specific questions about the cases, the audience was able to ask clarifying questions about courtroom procedures, definitions, and their experience working in the justice system. Students were fascinated about specific phrases used in oral arguments, such as consciousness of guilt, and asked the associate justices questions such as how to distinguish between speculation and logic.
"That's a hearty subject of debate everywhere," Singh said. "It's funny because you have to have common understanding of what's reasonable and sometimes because of our different backgrounds and experiences, we really differ on what's reasonable."
Trial courts only have one judge in the courtroom, whereas appeals courts usually have three judges. Sullivan emphasized the importance of having a larger panel with more diverse views that can work together to come to a decision. "It's a collaboration, so three heads are better than one," she said.
The associate justices talked about the difference between working as a lawyer and as an associate justice in the appeals court, why lawyers refer to each other as "brother" and "sister," and shared the advice they'd give to someone at the beginning of their career.
"Don't be afraid to fail," Desmond said. "Don't be afraid to be courageous enough to step out and try something."
Singh shared that the secret to being happy in every job she's had is by taking advantage of every opportunity a position offers and finding out what else is available, which gave her eye-opening experiences such as working alongside law enforcement and on new legislation.
"Do what you love; nothing else is going to work," Sullivan said.