McMillan-Stewart Foundation Launches $900K Scholar
McMillan-Stewart Foundation Launches $900K Scholarship at UMass Boston for Boston Public School Grads
---
01/05/2023
| Andrea Kennedy
The Geneviève McMillan-Reba Stewart Foundation has partnered with UMass Boston to create a $900,000 endowed fund dedicated to supporting Boston Public School (BPS) students seeking university degrees. The McMillan-Stewart Endowed Scholarship at UMass Boston will help generations of BPS graduates achieve their goals in higher education and beyond. The scholarship was funded by a $600,000 grant from the Cambridge, Massachusetts–based foundation, with a $300,000 match through the state-funded Public Higher Education Endowment Incentive Program.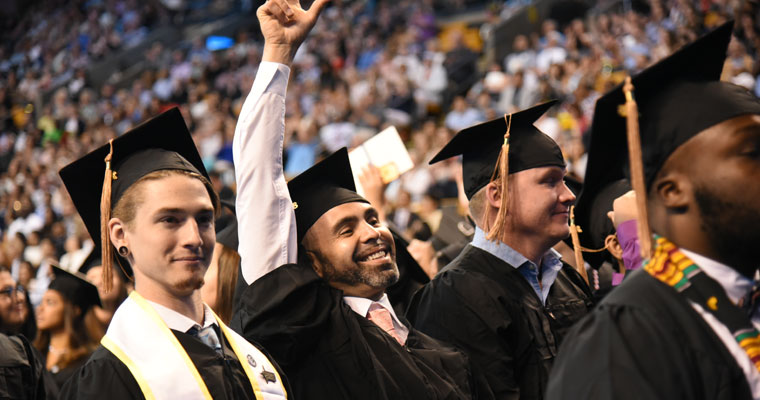 "The purpose of public education is to nurture science and logic (truth), ethics and justice (goodness), and aesthetic (the creation and appreciation of beauty)," said UMass Boston Chancellor Marcelo Suárez-Orozco. "Education must provide equitable access to knowledge, to the professions, and economic mobility for the current and future generations. With this magnificent grant, the McMillan-Stewart Foundation is providing public school students access to an engaged and prosperous future that might otherwise be out of reach. Boston's only public research university is excited to partner with the McMillan-Stewart Foundation on behalf of the students of Boston, and deeply grateful to the foundation for its generosity."
The McMillan-Stewart Endowed Scholarship at UMass Boston will provide tuition support to full-time undergraduate students who graduated from a Boston public high school and who have financial need as determined by the university. Once selected, the recipients, who will be known as McMillan-Stewart Scholars, can receive the support each year they maintain a GPA of at least 3.0 and full-time enrollment—an incentive to keep working toward their degrees. The first cohort of McMillan-Stewart Scholarships will be awarded during the 2023–24 academic year.
Endowed scholarship funds generate awards every year in perpetuity, becoming a permanent part of UMass Boston's financial aid offerings. The McMillan-Stewart Endowed Scholarship "will always benefit Boston public school students who are pursuing an undergraduate degree at University of Massachusetts Boston," said Kibebe Gizaw, president of the McMillan-Stewart Foundation and an alumnus of Boston State College, which merged with UMass Boston in 1982.
The McMillan-Stewart Foundation is dedicated in part to sponsoring educational and leadership opportunities for African-American youth. The Foundation has been a long-standing supporter of both UMass Boston and BPS students through grants to the university's Urban Scholars Program. The after-school/summer program, launched at the university in 1983, helps more than 60 students from non-exam BPS high schools prepare for college each year, with the ultimate goal of ending cycles of poverty in Boston. Ninety-seven percent of Urban Scholars participants were students of color in 2021, and 98 percent were from low-income households (based on annual federal guidelines of 150% of the poverty level).
Thirty-two graduates of the Urban Scholars Program have enrolled as freshmen at UMass Boston over the past five years, along with approximately 2,200 of their BPS peers.
"The McMillan-Stewart Scholarship is a tremendous opportunity for Urban Scholars participants and all BPS students for whom cost is a barrier to higher education," said Terri Morgan, senior director of programs and initiatives in UMass Boston's Division of Student Equity, Access, and Success (SEAS). "For many public school students, financial aid awards are the factor that decides whether they can go to college and access the life-altering benefits that higher education brings."
According to the 2020 Kids Today report by Boston Indicators, the percentage of Boston Public School students from low-income families has been steadily increasing for decades, to 77 percent in 2014 from 61 percent in 1995. Accessing higher education boosts their potential future income significantly: The Georgetown University Center on Education and the Workforce reported in 2021 that the median lifetime earnings of an adult with a bachelor's degree is $2.8 million, $1.2 million more than for those with only a high school diploma.
"This generous gift will allow our promising students to realize their college dreams, close to home at a world-renowned university, by removing the financial barrier that exists for far too many of our students and families," said Boston Public Schools Superintendent Mary Skipper. "We are incredibly grateful to the McMillan-Stewart Foundation and to UMass Boston for their continued partnership."
"The McMillan-Stewart Foundation's latest act of generosity is a sizable stepping block in keeping the pathway from Boston Public Schools to UMass Boston open and accessible," said Boston School Committee Chairperson Jeri Robinson. "The City will benefit greatly when these young people receive the support they need to develop their talent and potential and, in turn, give back to the Boston community."
The McMillan-Stewart Endowed Scholarship at UMass Boston is invested as part of the University of Massachusetts endowment. Valued at $1.16 billion in assets under management, the UMass endowment generated $37 million in income for the five campuses this academic year. UMass Boston's share of this portfolio is $126 million and provided $4.3 million in resources this year. To date, 249 scholarship funds, ranging in size from $25,000 to $1.48 million, have been endowed by alumni and other philanthropic supporters of UMass Boston.
About the McMillan-Stewart Foundation
The Geneviève McMillan-Reba Stewart Foundation was established in 2001 to realize the vision of its founder, Geneviève McMillan (1922–2008), and to commemorate the life and work of her friend, the artist Reba Stewart (1930–1971). During her life, McMillan supported the arts as a vehicle for understanding the diversity of human experience and believed that we should work for equality and justice for all. Today, the foundation's goals include contributing to the elimination of racism in American society by funding projects that develop the leadership capacity of African-American youth and that promote African and African-American culture, and promoting civil and human rights and civil liberties as guaranteed to all under the US Constitution.
About UMass Boston
The University of Massachusetts Boston is deeply rooted in the city's history, yet poised to address the challenges of the future. Recognized for innovative research, metropolitan Boston's public university offers its diverse student population both an intimate learning environment and the rich experience of a great American city. UMass Boston's colleges and graduate schools serve 16,000 students while engaging local and global constituents through academic programs, research centers, and public service. To learn more, visit www.umb.edu.