Muna Killingback Helps Keep Gender, Leadership, an
Muna Killingback Helps Keep Gender, Leadership, and Public Policy (GLPP) Program on Course
---
As the assistant program director of the Gender, Leadership, and Public Policy graduate certificate program, the Center for Women in Politics and Public Policy's (CWPPP) Muna Killingback seems to do it all—and then some. On top of her work in the CWPPP, Killingback is a PhD student in Global Governance and Human Security at the McCormack School. Having completed her coursework in the program, she is currently in the process of writing her dissertation proposal, which is shaping up to be on the dimensions of feminist peacebuilding, particularly the impact of the United Nations Security Council Resolution 1325 from 2000, which called for greater inclusion of women in all aspects of peacemaking, peacebuilding, and peacekeeping. Her dissertation will investigate the impact of that resolution on the advocacy work of feminist and women's NGOs.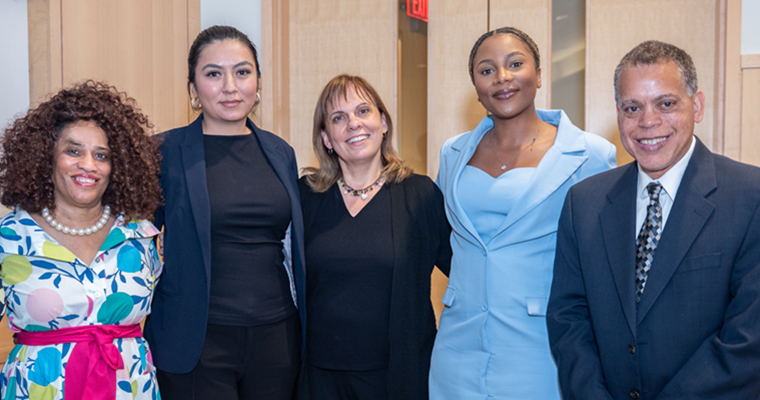 In her role as Assistant Program Director, Muna Killingback (center) helps ensure that the program's priorities are met and that students are given the attention and assistance they deserve.
Killingback joined UMass Boston as a staff member in 2011 in the Center for Rebuilding Sustainable Communities after Disasters before transitioning to her current role at the CWPPP. She felt this was a good fit because of her background and interest in women and politics. Prior to joining UMass Boston full-time, Killingback held several positions with women's organizations. She explained, "I was attracted to the position at the Center for Women in Politics and Public Policy because of my long background working for women's organizations." She worked for fourteen years at the YWCA—four years at the regional level in New Jersey and ten years at the international level in the World YWCA headquarters in Geneva, Switzerland. For her last seven years at that organization, she was the director of communications. Additionally, Killingback served as executive director of a women's nonprofit organization based in Cambridge, Massachusetts called WomenExplore.
With a background in public relations and journalism, Killingback was also a communications specialist, first becoming associated with UMass Boston as a freelance writer covering conferences. She recalls a gerontology conference about older workers, which she found fascinating, and multiple conferences with the Center for Rebuilding Sustainable Communities after Disasters. This provided her with an initial exposure to UMass Boston that later served her well in her professional career. "I got to know people here," she said. "I got to see the kind of work that was happening, and I got to meet some students who were participating in these conferences." When a position opened with the CWPPP, Killingback "thought it was really well-aligned with my background working for the YWCA and WomenExplore. The theme of my career has been working for women's empowerment and women's rights."
While not working on her doctoral work, Killingback's days consist of managing the Gender, Leadership, and Public Policy (GLPP) graduate certificate program. "I make sure it moves and runs," she explained. This involves working very closely with Dr. Laurie Nsiah-Jefferson, director of the CWPPP and graduate program director of the GLPP graduate certificate program. As assistant program director, Killingback has her hands in the full arc of the program, from recruiting students through admissions to orientation to the annual year-end graduation ceremony.
She is also an advisor for students, especially those who are interested in international careers or nonprofit careers. She makes sure that classes are scheduled properly and works with the Office of the Registrar and graduate admissions on problems students may face while in the program. Additionally, she works on communications from the CWPPP, including email blasts, newsletters, its website, and its four social media channels, as well as media advisories and press releases. Finally, she is involved with organizing some of the Center's major events, helping out with the overall life of the Center. "I make sure that the nuts and bolts of the program run," Killingback summarized. All the while, she serves on UMass Boston's Restorative Justice Project, McCormack's own McCormack Racial Equity Taskforce, and the Committee on Racial Equity for the Professional Staff Union.
What keeps her going through all of this? Interactions with students, she said: "The thing I love the most is getting to know the students—their interests and backgrounds—and then seeing what they do after they graduate." As she commented, "People who are interested in working on gender and public policy are very cool people. They bring a lot of energy and enthusiasm for making a positive difference in the world, and they often come with their own burning passion."
In her role as assistant program director, Killingback helps ensure that the program's priorities are met and that students are given the attention and assistance they deserve. She works hard to ensure that students have good opportunities here, especially those who are struggling, whether it is due to finances or juggling multiple roles as caregivers and graduate students. As a mother, full-time staff member, and three-time graduate student (having also completed a master's in international relations and a graduate certificate in human rights at UMass Boston), Killingback often finds herself sharing "life hacks" with current graduate students about how to manage life, caregiving, study, and work all at once. "Sometimes one of them will thank me for working with them and helping them through a difficult time, and that's really gratifying," she said.
Through all this work, Killingback centers her own understanding of the intersectionality of gender with other social identity markers, tasks, and responsibilities. As she explained, the GLPP certificate is rather unique in the country for its combination of gender and public policy. Its intersectional lens brings gender to the forefront in conversations that often overlook it entirely. "We address gender in a very conscious way and bring it to the surface," she said. "Our program makes sure that the students understand that depending on people's social identity, policies will impact them differently."
The program teaches students that effective policy needs to consider race, ethnicity, socioeconomic status, gender identity, sexual orientation, ability, and religion, some of which, Killingback argues, get left out of the conversation all too easily. "To not pay attention to those things means that sometimes policies are made that really don't address the problems across the board for all of our population," she explained. "The goal of our program is to make sure that our students are inclusive policymakers."
For Killingback, the alumni of the program themselves are an indication of the program's success. She shared that alumni consistently contact her to tell her that the program gave them a much more inclusive vision and approach to their work in government offices, nonprofits, and the private sector. "It's very rewarding knowing that I'm helping students and putting people out into the world who are going to be prepared and conscious of those dimensions of policy," Killingback shared. As she sees it, the program's work fits naturally into the mission of UMass Boston and McCormack as anti-racist, health-promoting institutions.
She recalls one recent graduate of the program who, despite considering dropping out due to stress about incurring student debt, went on to be the first Black woman ever elected in her city council. Another, a first-generation child to immigrant parents, had long dreamed to become a lawyer. Through Killingback's assistance and the structure of the graduate certificate program, the student was guided through the application process and is now working in the field of immigration while taking evening classes at a local law school. "We see our students succeeding and the impacts that the program is making, and that's very gratifying," Killingback said. "That's what has kept me here all these years."