New $6M Gift Endows First-Ever Distinguished Profe
New $6M Gift Endows First-Ever Distinguished Professorship in Asian American Studies
---
03/01/2023
| DeWayne Lehman
Professor Shirley Tang First to Hold New Position to Support Excellence in Research, Teaching in Asian American Experience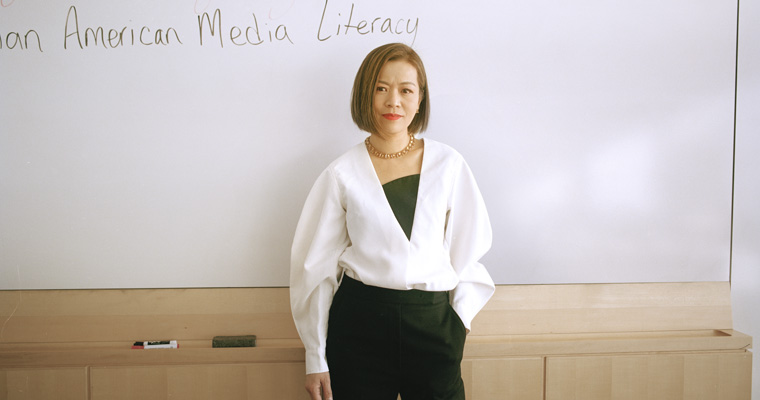 Professor Shirley Tang has been appointed the Inaugural Endowed Distinguished Professor for Asian American Studies, a newly created professorship funded by a recent $6 million anonymous gift to UMass Boston intended to advance the university's focus in this area in perpetuity.
"This endowment recognizes UMass Boston's role as a leader among AANAPISI research universities and builds upon our strengths as a transformational force in Asian American Studies curriculum, pedagogy, programming, and scholarship," said UMass Boston Chancellor Marcelo Suárez-Orozco. "Dr. Tang has demonstrated clear, sustained leadership in Asian American Studies programmatic initiatives with a deeply held sense of mission and long-term purpose. We believe that Professor Tang is uniquely qualified to be the inaugural holder of the Distinguished Professorship for Asian American Studies at UMass Boston. I congratulate Professor Tang wholeheartedly for this extraordinary meritorious achievement."
The new funding is intended to attract and retain outstanding faculty members who make significant contributions to key areas in the UMass Boston Asian American Studies Program and to help support, enhance, and drive strategic initiatives related to Asian American Studies.
"This $6 million investment provides a springboard for a leading academic program to further establish UMass Boston as the pre-eminent home to the very best scholars and students by highlighting the work of Professor Tang and her colleagues while expanding the visibility, reach and impact of Asian American Studies," said Provost and Vice Chancellor for Academic Affairs Joseph Berger. "Her leadership in this area is an ongoing, long-term commitment to student- and community-centered knowledge coproduction, research and documentation."
According to Tang, the explosion of anti-Asian hate during the COVID-19 pandemic and the profound lack of public awareness regarding Asian American history make the creation of the new professorship even more important. It will help to strengthen UMass Boston's role as a minority-serving AANAPISI institution and invest in the future and power of storytelling through the Asian American Studies curriculum and pedagogy.
"I'm very proud of the work we do in Asian American Studies and honored to be named as the first holder of our program's Endowed Distinguished Professorship. I love teaching at UMass Boston because of the students—first-generation, working-class, from immigrant and refugee families and local communities of color," said Professor Tang. "Their stories are deep, but too often buried, hidden, or disrespected. When you peel the layers of their stories, you learn just how powerful they are."
The department has developed an archive holding over 400 examples of student and community narratives addressing critical issues from education, health, mental health, and migration to intergenerational learning, linguistic justice, realities of COVID-19 anti-Asian hate, and more. Productions through the platform contribute to ongoing training, community capacity building, and public policy advocacy.
"The layered, textured, purposeful storytelling work we do and share through our platform weaves together historical and cultural contexts, interdisciplinary research, and personal narrative," said Tang. "I believe history, social science, literature, policy, and narrative all work together. The story data knowledge we co-produce, especially with our students and their real-life family and community contexts, represent unique and valuable alternatives to the stereotypes and mis/disinformation we so often need to deal with."
Dr. Tang started teaching at UMass Boston in 2001. She received the Chancellor's Award for Distinguished Teaching in 2016.
Dr. Tang said her mission to make a difference is still guided by lessons from her parents. As she takes on her new role this year, she plans to convene a targeted conference with thought leaders and community partners to help the university explore how the platform for storytelling and narrative in Asian American Studies can effectively address social inequities and racial injustices in coming years.
"On the personal side, I come from a modest, hardworking Hong Kong/Chinese family," Tang said. "My father was an educator. My mother led a program for community youth and families. I came to the U.S. alone, in my twenties. Those years were tough. But I tried to remember what my parents taught me. My mother always stressed the importance of being self-reliant, especially for women. And my father, he is the one who taught me to turn pain into purpose. He told me, as his oldest child: Whatever you do, make a difference, leave an impact."