New BEST Boston Engages Students with Small Busine
New BEST Boston Engages Students with Small Business
---
04/24/2023
| DeWayne Lehman
College of Management Program Aims to Develop New Career Pipeline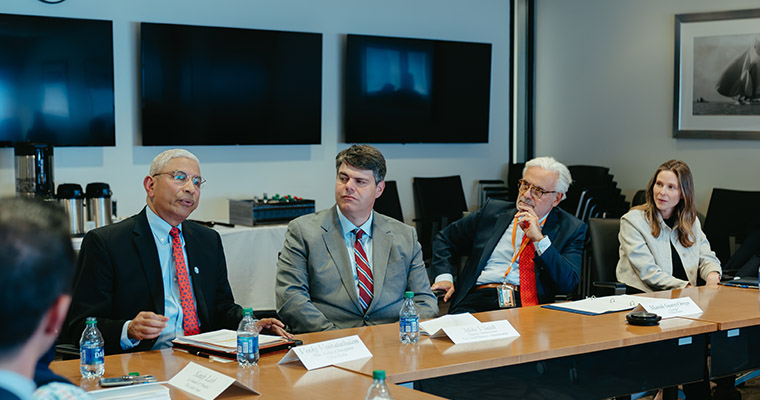 Dean Venky Venkatachalam, Mike Vlacish, of the U.S. Small Business Administration, Chancellor Marcelo Suárez-Orozco, and Undersecretary Ashley Stolba of the Massachusetts Executive Office of Housing and Economic Development discuss BEST Boston.
Image By: Javier Rivas
" It is a win-win for both the businesses and students participating. "
UMass Boston's College of Management is launching a new program to connect small, Boston-area employers with business students through paid consulting engagements designed to develop a pipeline of talented and diverse business professionals for careers in Greater Boston.
Named BEST (Business Engagement for Students) Boston, the program is aimed at providing business students in the College of Management with experience in solving real-world business problems. Students will follow a rigorous curriculum, have access to cutting-edge technology, and be mentored by faculty as they participate in the program and prepare to pursue careers in business.
"When UMass Boston embarked on a planning process that produced For the Times, our 10-year strategic plan, we did so with an understanding of the vital role universities play in advancing knowledge, creating wealth, and anchoring communities," said Chancellor Marcelo Suárez-Orozco. "We recognize that UMass Boston can be a powerful catalyst for workforce development and economic growth. This is the BEST Boston approach: a sensible, collaborative effort to extend the university's reach in ways that align with the strategic priorities of the city and strengthen the small business community."
A pilot for BEST Boston will be launched in summer 2023, with four participating businesses. Student business teams will be given a specific project based on the needs of their assigned business. The student teams will work with a designated project manager in each business to identify business problems, develop methodologies, collect and analyze data, and propose/implement solutions, including identifying potential benefits to the organization.
"BEST Boston is a strategic priority for the UMass Boston College of Management toward its commitment for the economic development of the Boston region. It is a win-win for both the businesses and students participating," said Venky Venkatachalam, dean of the College of Management. "BEST Boston creates a pipeline of talented business professionals that the industry always needs and provides a real-world experience for business students, which enriches their learning experience."
The new program—announced at a round-table discussion among small business owners, economic development leaders, and officials representing the city, state, and federal governments—is modeled after a similar program Dean Venkatachalam developed at the University of South Dakota's Beacom School of Business at the start of the pandemic to help small businesses survive, succeed, and grow during the economically challenging time. The program grew to assist 90 businesses in 29 counties across the state and engaged more than 180 students.
"The number one issue that unifies almost all businesses, large and small, is workforce challenges," said Mike Vlacish, regional administrator for the U.S. Small Business Administration. "That's why being here, being in a higher ed institution, is so important because you don't need to look very far to find solutions to those workforce challenges, in higher education and leading institutions like UMass Boston."
The BEST Boston pilot will include the Black Economic Council of Massachusetts, QUBIC Labs, The Castle Group, and Westnet. It is intended to expand rapidly in the fall and spring semesters, when students are expected to dedicate 10 hours a week toward their project, working with their business's designated project manager and a faculty mentor. The assistance will be free to the participating businesses, and the students will be provided a $2,000 stipend funded by university donors.
"We want businesses to stay and grow here," said Undersecretary Ashley Stolba of the Massachusetts Executive Office of Housing and Economic Development, noting that 80 percent of UMass Boston graduates stay in Massachusetts. "This program helps us on all fronts: It provides businesses with a strong talent pipeline, prepares students to enter the workforce, and encourages people to stay here after they graduate. It's a win-win."
About UMass Boston
The University of Massachusetts Boston is deeply rooted in the city's history, yet poised to address the challenges of the future. Recognized for innovative research, metropolitan Boston's public university offers its diverse student population both an intimate learning environment and the rich experience of a great American city. UMass Boston's colleges and graduate schools serve 16,000 students while engaging local and global constituents through academic programs, research centers, and public service. The College of Management is Boston's only public research business school and fully accredited by AACSB International, the gold standard in business higher education, and offers business degree programs at the undergraduate, masters, and doctoral levels. To learn more, visit www.umb.edu.