New Grant Funds UMass Boston, Bunker Hill Communit
New Grant Funds UMass Boston, Bunker Hill Community College Collaboration to Enhance Pathways for AANAPISI Students
---
02/24/2023
| Office of Communications
$2.5M Funding to Help Build Community College-to-University Program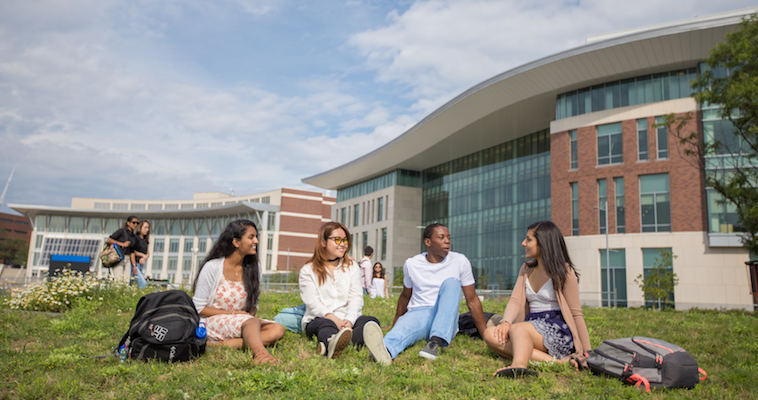 A five-year grant from the U.S. Department of Education will fund a plan for UMass Boston to work with Bunker Hill Community College (BHCC) to implement a culturally sustaining transfer pathway that enhances the capacities of each institution. This new funding comes at a critical time given the dual pandemic of COVID-19 and anti-Asian hate aimed at Asian American students, families, and communities.
"As a leading Asian American and Native American Pacific Islander-Serving Institution (AANAPISI), this new grant is an authentic recognition of the importance of the work UMass Boston is doing with Bunker Hill Community College," said UMass Boston Chancellor Marcelo Suárez-Orozco. "Our partnership with BHCC will strengthen our support for the many students from communities who are often first-generation college goers from immigrant and/or refugee families."
Bunker Hill Community College is also a minority-serving institution with federal designations as an AANAPISI and Hispanic Serving Institution and has a long history of partnering with UMass Boston.
"Bunker Hill Community College's collaboration with UMass Boston is a model for creating pathways to higher education for Asian American learners. This funding is an affirmation of that work," said BHCC President Pam Eddinger. "As Boston's only federally-designated AANAPISI institutions, BHCC and UMass Boston share a commitment to lifting up Asian communities everywhere and supporting student success."
This is UMass Boston's fifth AANAPISI grant since 2010, totaling nearly $9.5 million.
Over the past decade, UMass Boston has developed a strong, reciprocal partnership with BHCC, the only other AANAPISI in the city of Boston. The cornerstones of this project are the establishment of accelerated and aligned curricular pathways and academic support services; integrated and affinity-based academic advising; career development and work-based learning; and collaborative, asset-based student success outcomes assessment, data-sharing, and dissemination of findings.
This newly funded, five-year cooperative partnership is critical because the largest share of Asian American transfer students at UMass Boston begin their studies at BHCC. In fall 2021, 24% of all undergraduate transfer students who enrolled at UMass Boston transferred from BHCC, and of those BHCC transfers, 16% identified as Asian American. In fall 2021, of all UMass Boston transfer students who are Asian American, 34% transferred from BHCC.
This cross-institutional AANAPISI work is built on shared principles of equity and cultural wealth, taking a holistic and collaborative approach to integrating direct student services, curriculum alignment and enhancement, faculty/staff development, and practice-focused research, including the innovative use of AANAPISI-centered storytelling and knowledge co-production. While programming focuses on low-income, first-generation, Asian American students at UMass Boston and BHCC, all students are encouraged to participate in project services.
About UMass Boston
The University of Massachusetts Boston is deeply rooted in the city's history, yet poised to address the challenges of the future. Recognized for innovative research, metropolitan Boston's public university offers its diverse student population both an intimate learning environment and the rich experience of a great American city. UMass Boston's colleges and graduate schools serve 16,000 students while engaging local and global constituents through academic programs, research centers, and public service. To learn more, visit www.umb.edu.
About Bunker Hill Community College
Bunker Hill Community College is the largest community college in Massachusetts, enrolling approximately 18,000 students annually. BHCC has two campuses in Charlestown and Chelsea, and a number of other locations throughout the Greater Boston area. BHCC is one of the most diverse institutions of higher education in Massachusetts. Sixty-five percent of the students are people of color and more than half of BHCC's students are women. The College also enrolls nearly 600 international students who come from 94 countries and speak more than 75 languages. To learn more, visit www.bhcc.edu.