Outstanding Students at McCormack 2023: Four Stude
Outstanding Students at McCormack 2023: Four Students Receive Dean's Office Recognition
---
To celebrate the many accomplishments at the McCormack School throughout the 2022–2023 academic year, the school concluded its year with an awards ceremony in May. Among several awards given by the school's departments, the Dean's Office honored a select number of students who stood out among all programs offered at McCormack. In particular, the Dean's Office selected graduating students from each level—undergraduate, master's, and doctoral—to be recognized for their outstanding academic work while at McCormack.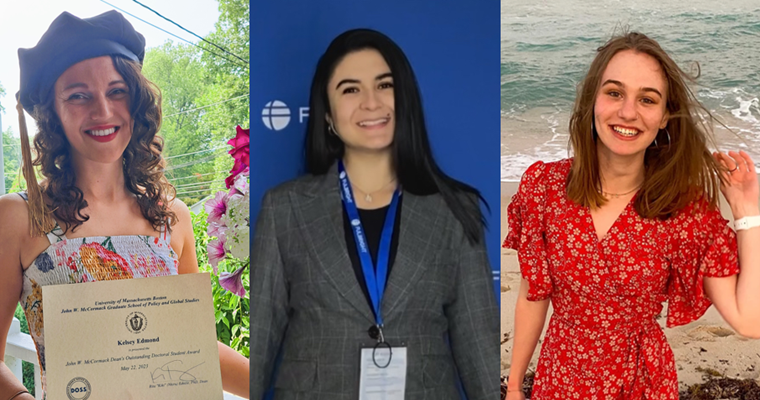 Kelsey Edmond, Alejandra Palacios, and Maya Hancock Pezzati (left to right) are among the several Dean's Office awardees for their outstanding academic work while at McCormack.
This year, it offered the Outstanding Doctoral Student Award to Kelsey Edmond of public policy; the Outstanding Master's Student Award to Maya Hancock Pezzati of international relations and Alejandra Palacios of conflict resolution; and the Outstanding Undergraduate Student Award to Elizabeth Arpino of gerontology.
Kelsey Edmond, a PhD in public policy, said that she was honored to have received the award but admits that she didn't understand the weight of it at first. Since she was already out of state by the day of the awards ceremony, she said, "It didn't hit me until going through graduation that this is actually a very incredible honor." She continued, "I'm extremely honored to be recognized in this way, especially amongst my McCormack peers. Everybody does really incredible work. To stand out amongst them means a lot," Edmond commented.
Having completed a bachelor's degree in organizational community leadership and a master's of public administration at the University of Delaware, Edmond said that she "started off my academic career knowing that I wanted to serve people and be in a position of leadership to create social change." During her master's program, she started getting more questions than answers and felt sure that a PhD was the next step for her.
She first learned of the PhD in Public Policy program at the McCormack School while in Seoul, South Korea during a study abroad trip. There, she was studying e-government, or how governments use technology, and met Dr. Michael Ahn, a professor in the Department of Public Policy and Public Affairs. Ahn, who knew Edmond's accompanying professor from the University of Delaware, mentioned at dinner with the two of them that he studied e-government at UMass Boston. At his suggestion, Edmond then applied to the PhD program to study government and technology policy with Dr. Ahn as her dissertation chair. In addition to the good fit she was able to find for her research, "McCormack had a lot of values that I was looking for at an institution," Edmond commented. "For example, it is grounded in the community it resides in and has a social justice-focused mission with equity and inclusion at the forefront."
While here, she focused her studies on the digital divide, recognizing a simultaneous widespread development of innovative technologies like AI and smart cities alongside a gap in equal access to such technologies. Her dissertation accounted for the digital divide fostered by the COVID-19 pandemic, exploring the effects that COVID had on digital equity policymaking using Boston as a case study. In a sequential mixed methods study, Edmond first collected data using a large-scale Twitter assessment of a half million tweets that discussed the digital divide and then conducted interviews with policymakers in Boston who help breach it.
As Edmond explained, she settled upon this framework for her dissertation through two internship opportunities that she had throughout her program. The first, as a Rappaport fellow with the City of Boston's Department of Technology and Innovation through the Harvard Kennedy School, gave her insight into government and policymaking related to how public constituents accessed non-profit organizations and government departments using technology during the pandemic. The second, as a policy research fellow at the Alliance for Business Leadership, a nonprofit in Boston studying perspectives on climate change, gave her practice in large-scale Twitter data collection. "If you combine those two experiences," Edmond commented, "that's sort of what my dissertation ended up being, so those internships were really foundational."
For Edmond, whose PhD journey was not an easy one—faced with societal challenges and personal challenges alike—the Outstanding Doctoral Student Award was a positive conclusion to her time at McCormack. "To go through a lot of obstacles and uphill battels and come out of them and still be acknowledged for the work I was able to produce is really meaningful," Edmond said. Following graduation, Edmond is taking time off to travel while continuing her part-time work as a management analyst at the Edward J. Collins, Jr. Center for Public Management before looking into full-time work in the industry. "Creating new knowledge in a very scientific and systematic way is one of the most rewarding things you can do," Edmond said, "so it's exciting to me that it's actually a career path I can pursue."
Maya Hancock Pezzati, a graduate of the accelerated master's degree program in international relations, received one of two awards given by the Dean's Office to master's students for their outstanding work this year. Upon receiving the award, Pezzati said, "I really love UMass. I give lots of love to UMass, and it felt nice to get a little love back."
During her coursework in international relations, Pezzati completed a thesis on rent control policy, comparing policies in Stockholm, Sweden with the United States. She used the Swedish rent control policy as a case study of a failing system to reveal that rent control is a potential solution to the global housing crisis, but it is an imperfect one. Using Swedish government sites, planning records, and law, Pezzati complemented statistics on housing in Sweden with insider perspectives to think more critically about whether it is a productive model for new rent control proposals in places like Boston.
Pezzati was inspired to join the program following a bout of uncertainty in her former major, biology. Like Edmond, Pezzati was inspired to join the McCormack School by a faculty member at the school, though she found her inspiration much closer to home than Edmond. She found it at UMass Boston itself. After realizing a year and a half into her undergraduate degree that she didn't want to continue with biology, Pezzati spent her sophomore year taking "a bunch of random classes" and landed in Dr. Travis Johnston's American politics class. Having already developed a passion for politics, it was in Johnston's class that Pezzati decided she wanted to study political science. At Johnston's mention of the accelerated program for international relations, Pezzati "decided to sign up for it on a whim. I didn't really know what direction my career was going to take," she said, "and it gave me a path to take, which I desperately needed at the time."
For Pezzati, who felt a degree of uncertainty throughout her time in the program, receiving the Outstanding Master's Student Award signaled to her that she made the right decision and had clear, tangible successes here. "I wasn't always so sure that this program was right for me. The award was validation that it worked out and was the right choice to keep up with this program in the first place," Pezzati said.
Her time at UMass Boston has informed her future career, as she will go on to study law at Suffolk University Law School in the fall. As she explained, the master's degree gave her a sense of what graduate school looks like and, she says, has better prepared her for law school. In the meantime, this summer, she is continuing her work at a local law firm that focuses on housing, a connection she made with a lawyer during her time at an internship with Justice Bridge, which she began during the undergraduate component of her time at UMass Boston.
While she has a growing interest in using the international lens of her studies in her future, Pezzati's time at UMass Boston taught her not to create too strict of a plan and to be open to developing new interests. "As someone who went into college with a plan that fell apart within a year, I'm trying to go in with an open mind and not really plan my life out just yet," she said.
Pezzati shared the award with another master's student, Alejandra Palacios. Palacios was honored for her master's work in conflict resolution, where she focused her thesis on prison violence in Ecuador, her home country. During her time at McCormack, Palacios also studied education, immigration, and whistleblowing, while the majority of her work, she explained, is rooted either in Latin American politics or prison systems.
Sharing the Outstanding Master's Student award with Pezzati, Palacios was the recipient of two honors at this year's graduation ceremony. In addition to the award given to her by the Dean's Office, the Department of Conflict Resolution, Human Security, and Global Governance, her home department, awarded Palacios the John W. McDonald Award for Leadership and Innovation. Upon receiving the two awards, Palacios said, "I feel very honored to have been awarded these two recognitions. They came as a nice surprise and a great way to finish up my time at the McCormack School."
Reflecting on her own leadership and innovation, Palacios commented, "Leadership in academia can look very different for different groups and academics." For Palacios, "The value of leadership and innovation rests on being able to expand the boundaries of knowledge and the limits of academia in terms of whose opinion matters, where and how we do research, and what issues are deemed relevant."
In her own work, Palacios draws from experiences at McCormack, such as her mediation internship, to "encourage a connection between developing knowledge and its practical applications to policy and daily life, especially in the conflict resolution field." As she moves forward in her career, Palacios is spending her time working at a small non-profit in Boston and hopes to continue research on Latin American politics.