Policy Across Disciplines Speaker Ellen Cassedy Ta
Policy Across Disciplines Speaker Ellen Cassedy Talks Working 9 to 5
---
A pioneer of women's rights and equal opportunity in the workplace, Ellen Cassedy visited UMass Boston in May on the tail-end of her new book, which chronicles the 9to5 women's movement association that began in Boston in 1973. Cassedy joined the community for a talk, contest, and Q&A as part of the Policy Across Disciplines series, a collaboration between the John W. McCormack School of Policy and Global Studies and the College of Liberal Arts (CLA).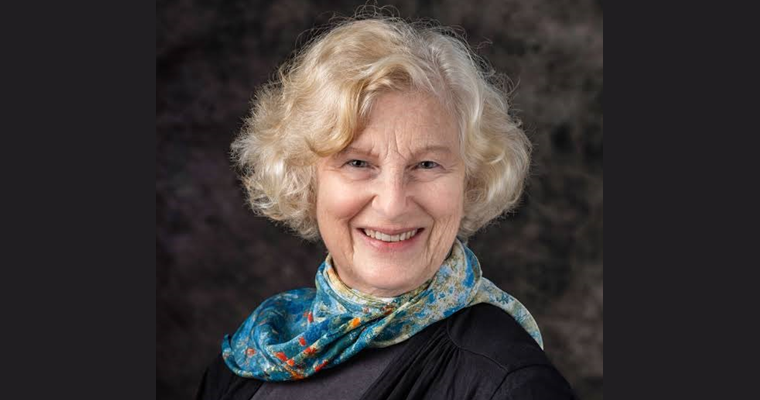 As a founding member of the 9to5 association in the 1970s, Cassedy's firsthand account provides a historical look into the inner workings of women's movements and union organizing that led to better pay, hours, and treatment in the workplace for women, particularly women of color. Chronicling 9to5's national reach and impact, Working 9 to 5: A Women's Movement, a Labor Union, and the Iconic Movie serves also as inspiration for budding activists to achieve better futures for all through organized, dedicated movements, no matter the challenges they might face.
Her event at UMass Boston described the history of the movement before considering where to go from here. She framed how the 9to5 movement informs the ongoing push for more equitable treatment in the workplace today, as seen in barbecues organized by pro-union Amazon employees and "sip-ins" encouraged by Starbucks union organizers. "Support for unions is at its highest level in two generations. 71% of Americans support unions today. We are hearing new voices [and] seeing new tactics," Cassedy reported.
As Cassedy explained, the 9to5 movement took concerted efforts to address workplace sexual harassment, discrimination, and unjust treatment of women, who bore the weight of their employer's work and who, often, were asked to go above and far beyond in their roles. Cassedy shared the story of one employee who was asked to sew a hole in her boss's pants while he was wearing them. Another was instructed to open a suspicious-looking package that her boss received, which may have been a letter bomb, while yet another was fired for bringing her boss a corned beef sandwich on white bread instead of rye. Summarizing these instances of workplace harassment, Cassedy commented, "The expression sexual harassment had not yet been coined, but that didn't mean it wasn't happening."
In 1973, Cassedy and nine other women office workers in Boston organized to create the 9to5 women's movement. At the time, one in three women in the workforce was an office worker, who kept businesses afloat while they themselves received unequal pay and lack of respect from their employers. Cassedy explained how the ten women in Boston, who handed out pamphlets and newsletters on the streets, created a national organization that made waves across the country, working in particular to support women of color who faced intersectional marginalization. The women managed to secure a tiny office in 1973 at the YWCA to begin their small but mighty operation and, only a handful of years later, were the inspiration for the hit movie 9 to 5 (1980), starring Jane Fonda, Lily Tomlin, and Dolly Parton. More recently, the legacy of the 9to5 movement was documented in Netflix's 9to5: The Story of a Movement (2021).
Three key strategies were essential to their success, Cassedy explained. First, media attention was an important priority. The organizers of 9to5 made every effort to make waves in the news—for example, by holding "bad boss contests"—to garner as much attention from the media as possible. Second was government action. The group stormed into offices and demanded that steps were taken to address discriminatory practices against women and people of color in the workplace. Third was whistleblowing, which included creating an anonymous hotline for employees and handing out anonymous surveys to learn about women's firsthand experiences of workplace harassment and discrimination. This three-pronged approach had success here in Boston and across the country—in Baltimore, Cleveland, Atlanta, and more—and eventually led 9to5 to become a preeminent national membership organization of working women in the United States. "We were winning millions of dollars in backpay and raises for women and people of color, and I can't tell you how exciting it was," Cassedy commented.
Drawing from her years of experience as a trailblazer for women's rights in the workplace, Cassedy addressed the UMass Boston community with the following advice: "Have an open mind. Rather than be a motorboat—going straight in as an organizer and heading for the goal—I [recommend being] a sailboat." She urged budding activists among faculty members and students at McCormack and the College of Liberal Arts to "Sense the wind, see what people are willing and ready to do, and learn from other people." This way, they can let go of assumptions and work with sensitivity to people's needs so that success can be best earned. Cassedy concluded her talk with the following vote of confidence for where unions and worker's movements are headed: "Today, I'm savoring my memories of the first stirrings of activism among women workers in Boston half a century ago, I'm celebrating the brave souls who are organizing today, and I'm dreaming of victories to come."
Following Cassedy's talk, she held a "bad boss contest" not unlike the ones that the 9to5 movement held in front of rolling news cameras in the 1970s. She asked audience members to write their worst boss stories on index cards, which were read aloud at the end of the event. The worst offense committed by a boss was then determined by "boo-ometer"—that is, which story received the loudest boos. One audience member, whose boss lamented that they wouldn't end their bereavement period following their father's death early to get back to work, walked away with an extra copy of Cassedy's book "to give to the friend or boss of your choice," Cassedy said.
As part of the Policy Across Disciplines initiative founded by McCormack interim Dean Edozie and former CLA Dean Tyson-King-Meadows, the event with Ellen Cassedy marks a collaboration between the McCormack School and the College of Liberal Arts at UMass Boston. The two schools' vested interests in making the world a more equitable place for all through research and activism come together to inform policymaking. With the college's and school's respective associate deans hosting the event, Professor Marlene Kim (the McCormack School) and Professor Jennifer Gregg (CLA) opened and closed the event for UMass Boston faculty, student, and community audiences. As Cassedy's event and her story of 9to5 reminded audience members, concerted collaborative efforts are the starting point for important systemic change on national and global levels. "I do have hope for the future," she explained. "My message to all those striving for fair treatment and a better world is 'Learn from the past.' Read my book, learn from the 9to5 stories, draw inspiration from what we did. Then, go on to forge your own path."