Senator Warren, Rob Hale Urge UMass Boston Class o
Senator Warren, Rob Hale Urge UMass Boston Class of 2023 to Choose Hope, Give
---
05/25/2023
| Crystal Valencia
Philanthropist Gives Each Graduate a $1,000 Surprise Cash Gift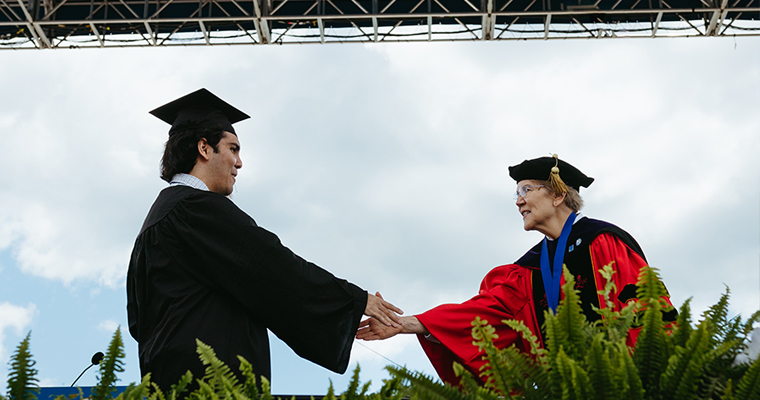 Image By: Javier Rivas, Haley Abram, Justin Bartels, Nick Brady
" Now I'm asking you to choose hope for our world. Because hope is the spark that ignites change. "
U.S. Senator Elizabeth Warren encouraged a sea of UMass Boston graduates to choose hope as the university celebrated its 55th undergraduate commencement back on its waterfront campus Thursday morning.
"Much is broken in this world. And the urgency of change is upon us. We must make changes—lots of changes—and we must make those changes quickly. Our survival depends on it," Warren said in her remarks. "The fact that you've persisted even as the challenges have intensified attests to your hard work and determination.
"You chose hope to get yourself here today. Now I'm asking you to choose hope for our world. Because hope is the spark that ignites change."
While 2,000 UMass Boston undergraduates received this charge to choose hope and make change, they also received an unexpected surprise.
As Chancellor Marcelo Suárez-Orozco began the conferral of degrees, co-keynote speaker Rob Hale, the cofounder, president, and CEO of Granite Telecommunications who gave an address earlier in the ceremony, interrupted to make an announcement.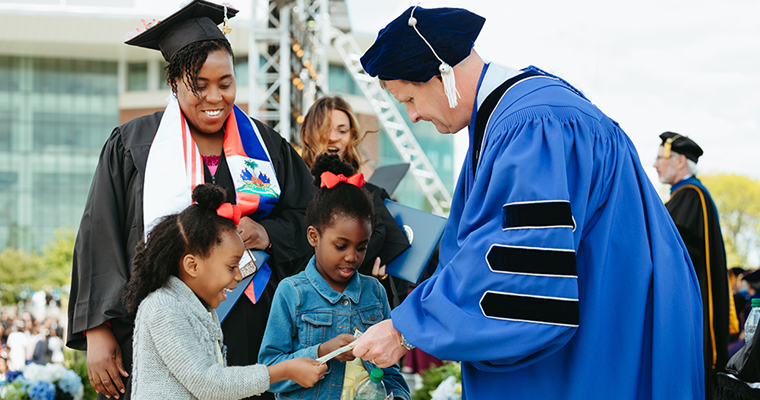 Hale, and his wife, Karen, announced that they would give each UMass Boston graduate in attendance $1,000 just moments before students began crossing the stage. Graduates received $500 as a gift and $500 to give to an organization, family member, or supporter.
Watch students react to the announcement on CNN.
"These are turbulent times. You guys have survived. You have prospered. You are to be celebrated. You overcome," Hale said. "It's not easy. We're here. And we are proud of you. We want to share in that celebration with you. We want to give you two gifts. The first is a gift to you. The second is the gift of giving."
In his earlier remarks, Hale told students not to be afraid to take risks, and to always give back along the journey.
"You're leaders. … You're going to define the next generation of our society, the commonwealth and beyond. You will have a more enjoyable life if you give a little more than you get, and you take a few chances. Don't fear failure. Defy it! You will have a more fulsome life because of it," Hale said.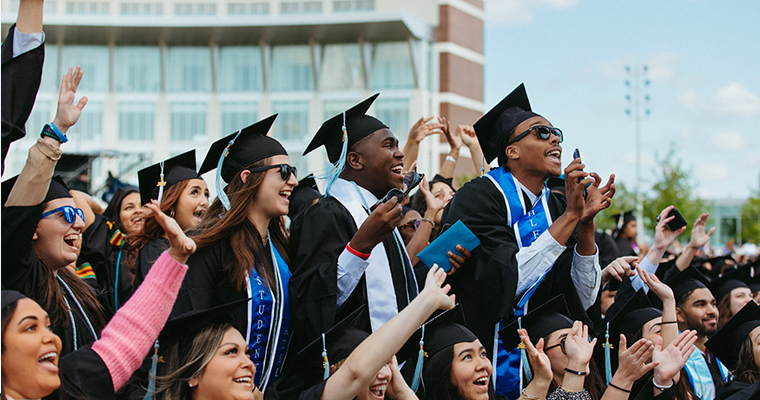 This year's graduates hail from more than 130 countries around the world, and speak more than 70 different languages. Nearly 60 percent of UMass Boston students are first-generation college students.
Chancellor Suárez-Orozco encouraged graduates to go out into the world fiercely and boldly.
"As I stand here before you, I see a future of hope and promise, as you are minutes away from one of the most exciting moments of your lives!" he said. "I believe that in these times the most consequential thing you can do as new college graduates is to serve and give back. And this takes courage – courage I know all of you possess."
Warren and Hale were each honored with a chancellor's medal at the ceremony. Also recognized this week at the university's doctoral hooding ceremony were honorary degree recipients Veerabhadran Ramanathan, a climate scientist who discovered the greenhouse effects of CFCs and other trace gases, which expanded the range of gases responsible for global warming, and longtime Univision anchor and leading Hispanic journalist Jorge Ramos.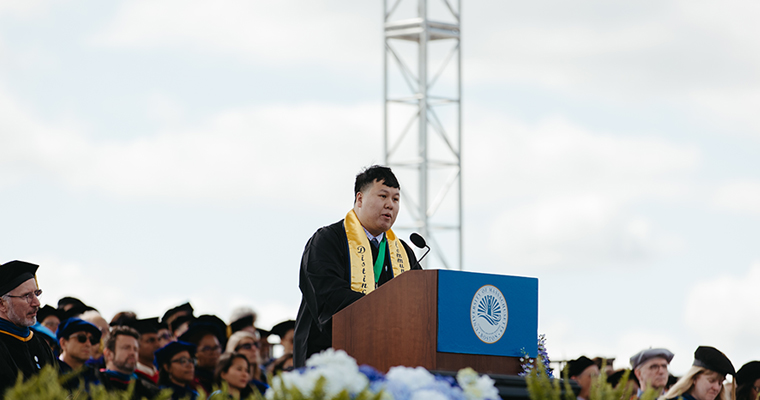 JFK Award winner and undergraduate student speaker Lee-Daniel Tran spoke of community and connection amongst differences.
"At UMass Boston, our public university, we are a community defined by a multitude of diverse backgrounds and experiences, those from mostly working-class and immigrant communities. We are made up of many rich and divergent cultures, both U.S.-born, U.S.-raised, local, international, immigrant, and so many more," he said.
"We are the public. What is beautiful is that despite or perhaps because of our differences, we have all come together and found ourselves at UMass Boston, in similar pursuits of how to best enter the job market, make connections, and gain real world experience in how to be good citizens, how to protect, preserve, and expand our precious public spaces, like UMass Boston itself."
Tran told his classmates to remember that a different version of ourselves exists in the mind of every person we meet.
"So if you may not think you're very great, somewhere, in someone's mind–in someone's story–you are the hero, and you probably will never even know it," he said. "Because of these differences, and things we hold in common, we are each only human. You are never as alone as you feel, and things are only what we make out of them. Be kind. Always. Be kind to yourself and live on."
Three faculty members received Chancellor's Awards at Wednesday's graduate ceremony: Professor of Psychology and Associate Dean of the College of Liberal Arts David Pantalone; Professor of Psychology S. Tiffany Donaldson; and Associate Professor of Biology Rachel Skvirsky for their distinguished scholarship, teaching, and service respectively.
UMass Boston conferred degrees to 3,646 students in total — including 130 doctoral candidates — over its two days of commencement ceremonies.