Succeeding in an AI-Powered World
Succeeding in an AI-Powered World: UMass Boston Launches Paul English Applied AI Institute with Kick-off Event
---
11/07/2023
| Crystal Valencia
Institute founder Paul English, a UMass Boston alumnus, was joined by tech entrepreneurs, industry leaders, and academics to discuss the new institute and how AI is reshaping higher education and the workforce.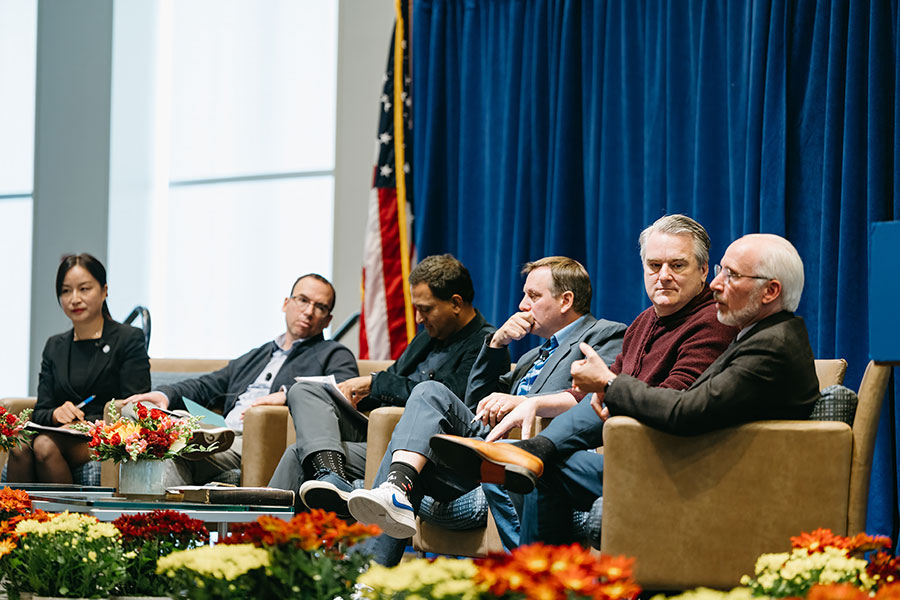 The study and integration of Applied AI into education is not just about preparing students for the task of an AI enabled workforce—it's about empowering them to shape the future.
That's the message attendees took away at the launch of the Paul English Applied Artificial Intelligence (AI) Institute at UMass Boston on October 31, "Succeeding in an AI-Powered World," as tech entrepreneurs, industry leaders, and academics came together to discuss how next-generation artificial intelligence is reshaping every field of work and what can be done to prepare students.
"I think a diverse community like [UMass Boston] that aren't painting by numbers, following what everyone else is doing, you can do things differently and become an incredible leader in the application of AI," said John Werner, managing director and partner at Link Ventures. "We need imagination, and this institute could be seen as one of the places where some of the best imagination is of how to apply these tools right now."
The panel included tech entrepreneur and UMass Boston alumnus Paul English '87, G'89, H'19, founder of the institute; Werner; UMass Boston Professor of Philosophy Nir Eisikovits; and Ramesh Raskar of the MIT MediaLab and C10Labs AI Studio. The panel was moderated by Professor of Computer Science Wei Ding and Provost Joseph Berger joined the conversation.
The event is the kick-off for the institute, which was announced earlier this year as the nation's first university-based institute dedicated to optimizing and democratizing the use of AI tools across a broad range of professions. Conceived and funded by Paul English, the institute's research, education, and outreach activities will be embedded in academic study across campus and include a focus on the social, ethical, and diversity challenges and opportunities associated with emerging AI tools.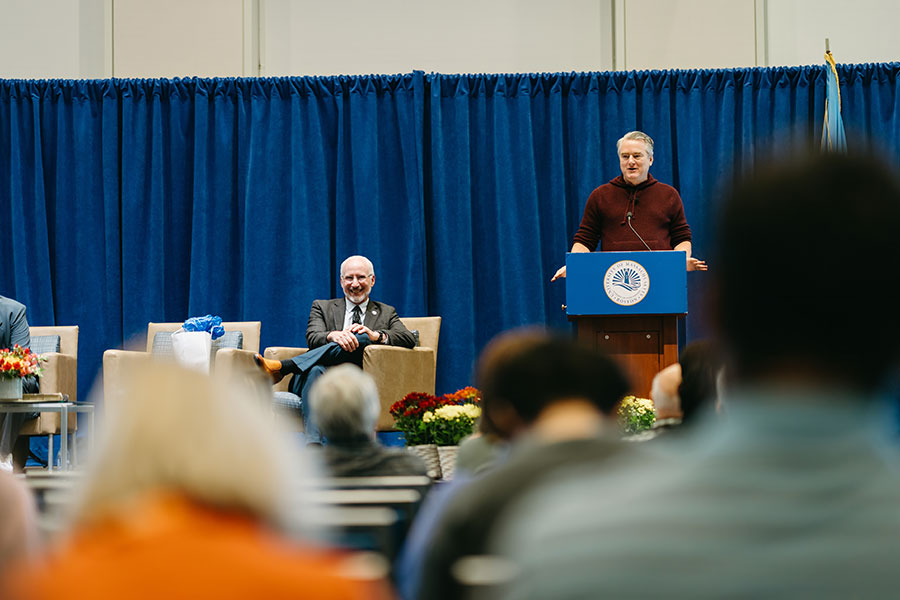 "The reason we created the institute is we wanted to make sure that AI is available to every student at UMass, not just the computer science students, but really across all the schools," English said. "It felt like doing this program with UMass is a way to make sure that AI is available to everyone."
English said there are two goals of integrating AI into curriculum: using AI to become a better student by learning faster and figuring out how to use AI to advance your career once you graduate, "because these tools are going to be important for pretty much any job."
Raskar says to succeed with AI, students will have to take on real world challenges.
"To make an impact in AI it's not enough to be a computer science student, but you have to go and spend time in the nursing school, right, or go spend time in other parts of the campus, but ideally go spend time in the real world and ask people what the problems are," he said. "Or sometimes they just bother you so much, you have such a pain point for yourself or for your family on a daily basis saying, 'You know, I think I can solve this.'"
Werner and Raskar said with UMass Boston's unique harborside location, there is a real opportunity to use AI in tackling the climate crisis.
"Climate and AI, both are such important topics and both are, you know, exciting and scary at the same time," Raskar said. "We know something needs to be done, but we can't believe all the data that's coming at us and so we're flying blind in many senses. So the challenge for the intersection of AI and climate is hopefully that all this I was talking about, interoperability and harmonization, all this data that's lying around—satellite imagery, methane emissions, the supply chain—all this highly distributed, highly disconnected information will actually allow us to understand how we can deal with the climate crisis, so I'm hopeful."
Provost Berger spoke of how it is imperative that students acquire the skills and knowledge to thrive in this new landscape.
"AI fluency can no longer be a niche supplement to education. It must be an essential component of a well-rounded curriculum, a gateway to the possibilities of tomorrow," he said. "We are so grateful for Paul's insight and generosity; this is allowing UMass Boston to be on the leading edge of this change."
Werner explained that if you had talked to experts five years ago, they would have predicted what's happening today was going to happen in 90 years.
"Clearly today things are happening that I don't think our society was fully ready for, but that doesn't mean that it's all bad. It means that there are opportunities," he said.
Eisikovits, director of the Applied Ethics Center at UMass Boston, cautioned attendees that while AI has many promises, there are perils as well—it can degrade abilities and experiences that people consider essential to being human.
"Part of the risk of having innovations that move at this kind of breakneck speed is that we don't have a chance to think about the fact that something being new doesn't always make it good," Eisikovits said. "Sometimes it makes it good, sometimes it doesn't make it good.
"In a world inflected with AI to a significant degree there will be a practical judgment loss, namely human beings will be making fewer judgments and the capacity to make judgments is a bit like a muscle in the sense that you use it or lose it," he said.
Eisikovits said the new institute is one way the university can address technology moving faster than our moral and social understanding. He encouraged creating interdisciplinary collaborations where people from the technical disciplines and people from the social sciences—the humanities, history, sociology, philosophy, political science— come together to think about this problem from more than one perspective.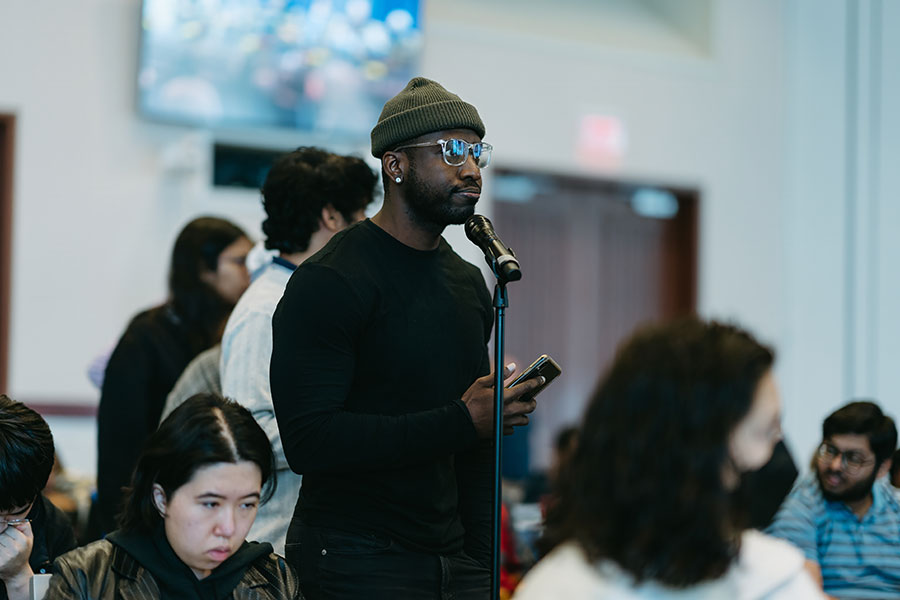 The event included a Q&A, where students were able to ask the panel about everything from using AI in coursework to whether AI will mean fewer jobs for students entering the workforce.
"The institute can be a forum for bringing us together right across our departments, across our disciplines, across our centers and institutes," Berger said. "How can we learn from each other and maybe even how can we accelerate understanding? We've been trained in very different ways depending on our field or discipline. How can we create ways to share what we're learning with this new set of tools in our pedagogical practices?"
To learn more about the Institute, visit umb.edu/ai.