The Tea: Spring 2023 - UMass Boston
The Tea: Spring 2023
---
05/09/2023
| Alumni Magazine
Columbia Point welcomed dignitaries from the State House, White House, U.S. House of Representatives, and Buckingham Palace in recent months: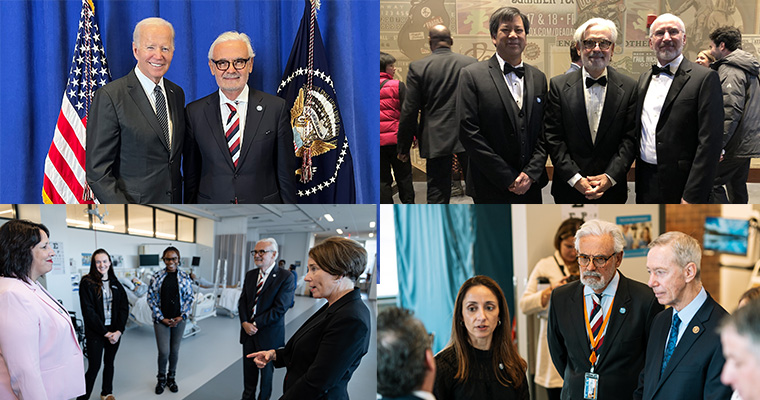 Politicians on the Point
SEPTEMBER 12: On the 60th anniversary of President John F. Kennedy's famed "moonshot" speech, President Joe Biden visited the JFK Library to announce a new goal for the government's Cancer Moonshot initiative: cutting the U.S. cancer death rate in half within 25 years.
OCTOBER 12: Former Attorney General Maura Healey, now Massachusetts governor, and former Salem Mayor Kimberly Driscoll, now lieutenant governor, toured the Manning College of Nursing and Health Sciences Center for Clinical Education and Research.
DECEMBER 2: Prince William acknowledged the inspiration of President Kennedy with a stop at the JFK Library during his visit to Boston to celebrate the 2023 awarding of the £1 million Earthshot Prize, which he co-founded in 2020 to spur climate change solutions. School for the Environment Interim Dean Bob Chen served on Boston's Earthshot Host Committee.
JANUARY 20: U.S. Rep. Stephen Lynch visited the university's nursing simulation lab to announce $3 million in new funding for the Manning College of Nursing and Health Sciences. The federal funds will be used to create a home care digital and simulation lab at UMass Boston to train nurses in evolving home-care technologies, with emphasis on patients who are aging, disabled, or have experienced health disparities.
UMass Boston to Add Women's Lacrosse to Varsity Programs
With the addition of women's lacrosse, UMass Boston will offer a total of 19 intercollegiate programs competing at the Division III level. The team will participate in the Little East Conference, with the first varsity season set for 2024.
"We are thrilled to be adding a women's lacrosse program, as this has been a priority for UMass Boston," said Chancellor Marcelo Suárez-Orozco. "And our timing could not be better—while we add another women's program to our successful athletics depart- ment, we continue to celebrate the 50th anniversary of the passage of Title IX."
Women's lacrosse is one of the fastest growing college sports in the country, said Vice Chancellor of Athletics and Recreation Jacqueline Schuman, with 291 women's programs at the Division III level, 44 more than the men's.
"Given the great success we have had with our men's lacrosse program, we believe that the addition of the women's program will reap similar rewards and strengthen the future success of both programs," she said. "The goal is that, as the only public research institution in the city of Boston, we will attract talent that will grow our program to be one of the best in the nation."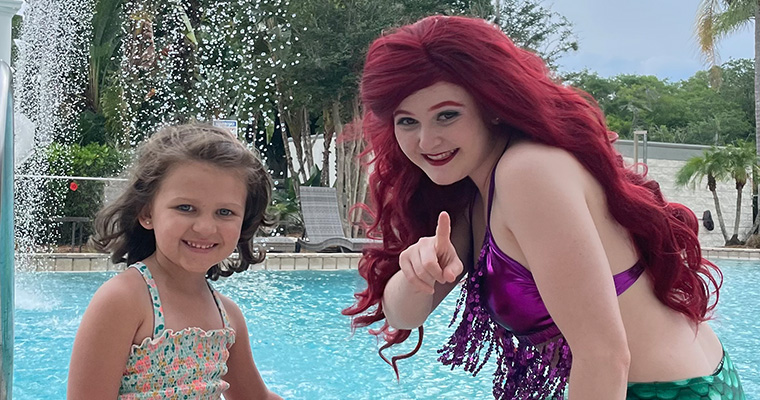 Student's Princess Program Goes Global
Since 2017, nursing student Alyssa Banks '23 has led the Princess Program Foundation, a nonprofit organization that brings magic to the lives of children battling serious illnesses through one-on-one hospital visits with volunteers dressed as their favorite princesses and superheroes. The organization was initially inspired by a conversation Banks once had with a child who said she would "never get to go to Disney."
The COVID-19 pandemic forced Banks to adapt the program to virtual Zoom meetings but the program was able to return to in-hospital visits last spring.
For one of their first visits, UMass Boston students traveled to Advent Health for Children in Orlando, Florida. Lauren McGuirk '24, a criminal justice and psycholo- gy major, dressed as Elsa from Frozen and visited individual hospital rooms, where she colored with the children and handed out toys donated from supporters.
"Being around children who are so brave and strong and being able to give them even a moment of joy is something I want to be able to happen for as many others as possible," McGuirk said. "Every time I volunteer, it's more fulfilling than the last."
There's something special about an in- person visit, Banks said, but she has no plans to stop the Zoom meetings, which have allowed the foundation to reach over 5,000 children in the U.S. and around the world so far.
"It's really incredible if you stop and think about the possibilities in a virtual world," she said. "Just the other day, the Beauty princess had a call with a child from Poland, who was overjoyed getting to talk to her favorite character."
Continuing with the global reach, the foundation is now giving children a "brave buddy," a doll created by Bravery Buddies, a nonprofit based in Australia. The doll matches the child's eye and skin color—and change in hair, because of chemotherapy treatments. Banks said the goal with the new dolls is to remind the children that they are beautiful, strong, and can handle anything.
"It's groundbreaking to see the connection the children have with these characters," she said. "They provide something that is unmatched. I wish we could all see the world through a child's eyes."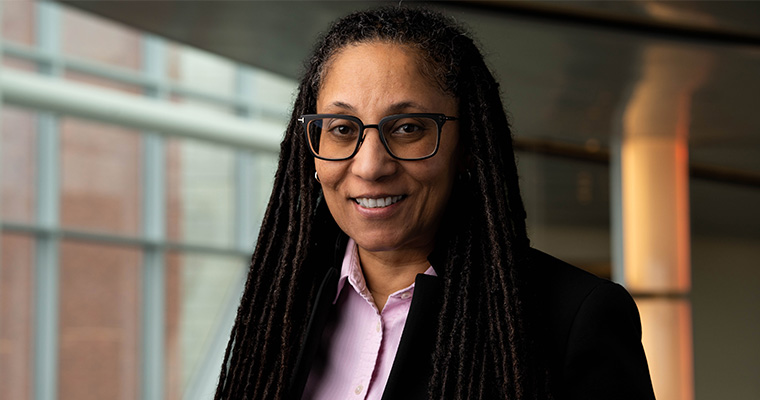 University Welcomes New Education Dean
Tara L. Parker has been named dean of the College of Education and Human Development (CEHD). Dean Parker, professor of higher education in the leadership education department, has held several leadership roles at the university, including department chair and interim dean.
"We are very fortunate to have Tara stepping into this critical role," said Provost Joseph Berger. "To get a leader who knows UMass Boston so well, who is an expert in higher education, who has devoted their career and their scholarship to inclusive excellence, anti-racism, and enhancing higher education, particularly in terms of access and opportunity—Tara is the ideal leader to steer CEHD into the future."
"I am incredibly honored to serve as dean of CEHD, my academic home for so many years," said Dean Parker. "I look forward to continuing to work with our students, faculty, and staff to advance these commitments in our research, teaching, and practice."
Dean Parker is the co-author of three books and multiple peer-reviewed articles and chapters. She is a board member of the United Way of Massachusetts Bay and Merrimack Valley as well as Another Course to College. She serves on the editorial board of the American Educational Research Journal and is a member of Delta Sigma Theta, Inc.
Dean Parker earned a doctorate in higher education from New York University, a master's in higher education administration from the University of Minnesota, and a bachelor's degree in communications from Marist College.
"UMass Boston is proud to work with Amazon and their employees to helpmake their goal of obtaining a college degree possible." - John Drew, Vice Chancellor for Enrollment Management, on UMass Boston becoming a partner in Amazon's Career Choice program, which provides eligible workers up to $5,250 per year in tuition assistance at participating universities.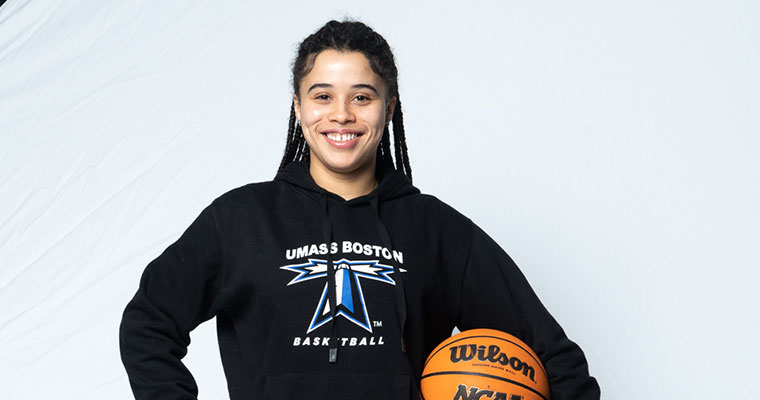 Student Q&A: Beeban Jikiemi-Peason'26
A sport leadership major, Beeban calls opening her acceptance letter to UMass Boston her "proudest moment." She relocated from England to fulfill her dream of becoming a student-athlete as a guard on the women's basketball team.
Q: What made you choose UMass Boston?
A multicultural learning environment was important to me when I was looking at universities and UMass Boston is the third-most diverse school in the United States. As someone coming from a different culture, I felt it would mean I would be accepted and welcomed—and I am glad to say that I was. I came to Boston as part of a trip with my high school basketball team in 2019 and absolutely loved it. The city reminds me a lot of London through the architecture. The campus being so close to the city without being in the heart of it stood out to me. I knew I would be able to enjoy the city but also experience a completely new lifestyle of living on the coast.
Q: What has it been like to attend a university in the United States?
It has been really refreshing to learn a range of subjects again. For example, this semester I took courses in young adult literature, Black history, and women and gender studies. The biggest change is living away from home and not being able to see my family whenever I want. It has been hard. But my teammates and coaches and other athletic staff have been supportive and understanding and made it easier for me to adjust and find what works for me.
Q: What is one of your favorite moments at UMass Boston?
Volunteering with my teammates at a local elementary school on Halloween and helping to set up and supervise the games for the children. It was nice to feel part of the community and I even got to go through the haunted house. It was surprisingly scary.
Q: What has been your most memorable experience as a Beacon?
Going to New York with my team for an in-season tournament. I got to bond with my team and explore such an amazing city with them.
Q: Who at UMass Boston has had the most influence on your life?
My teammates and friends have had the most influence on my life here. They have been so welcoming and caring. And they have always been as enthusiastic about learning about my life and culture as they have been about introducing me to theirs.
Q: What are your goals after graduation?
I have always been really interested in sports economics and how that coincides with sports statistics and analytics, even before applying to UMass Boston. I would love to pursue that after graduation. Boston is home to the MIT Sloane Sports Analytics Conference, where students, researchers, and industry professionals discuss the increasing role of analytics in the sports industry. Having the opportunity to study here feels like the perfect place to pursue this interest.
Q: What would you tell an international student considering UMass Boston?
UMass Boston is super diverse, which has made it a forward-thinking and welcoming place to study. It is also in a beautiful, historic city with many things to do.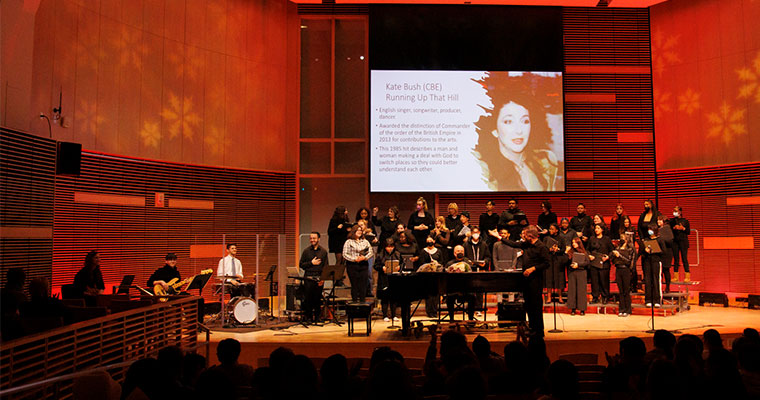 Last winter, the UMass Boston Choruses explored centuries of music by women composers through a concert called "Women Listen." "The voices of women throughout history have been raised, the level of artistic achievement has been significant, but too often, particularly in music history, they rarely receive the amplification they should." said chorus conductor David Giessow.
This concert doesn't seek to correct that, as no one evening of music could, but it is a conscious choice to explore compositions by women throughout history in a way that feels relevant for this moment.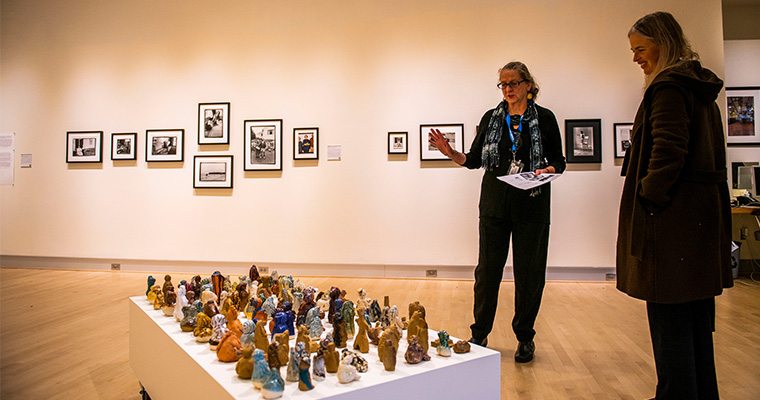 Getting to Know Melissa Shook: Inside and Out
An art exhibition showcasing the works of the late Professor Emerita Melissa Shook brought together art appreciators from all over the Boston area earlier this year.
Presented in a two-part retrospective at the University Hall Gallery and in the Walter Grossman Memorial Gallery, Melissa Shook: Inside and Out ran through September 2022, with a closing reception and exhibition catalogue launch in January 2023. In that time, more than 500 people visited the exhibition, many of whom were former students or colleagues of the professor, who passed away in 2020.
Gallery director Sam Toabe, who co-curated the collection alongside art history senior lecturer Carol G.J. Scollans '84, said this number is a testament to the respect and admiration Shook garnered throughout her esteemed career. Shook joined UMass Boston in 1979, teaching photography in the Department of Art & Art History and leaving an indelible mark on the department's pedagogy, as well as generations of students.
"She dedicated over 30 years of her life to teaching at UMass Boston," said Toabe. "Because of her commit- ment, both to the department and the university, it's important to honor her and to see the effect that she had on our department. She was so important to generations of faculty and students."
Shook was best known for her self-portraits and documentary-style photography representing and humanizing marginalized communities. Throughout her career, her practice expanded to include writing, book making, drawing, sculpture, video art, and social practice art through direct action and mutual aid projects.
Shook's daughter, Kristina, said seeing her mother's work on display was a "profound and deeply emotional experience."
"The thoughtful curation highlighted my mother's wide range of photography, expansive art, and personal ephemera," she said. "I will always remember the University Hall Gallery and the Grossmann Gallery exhibition with fondness and heartfelt appreciation for those who made it such a success."
Shook's exhibition was launched contemporaneously with the establish- ment of the Melissa Shook Documentary Photography Award, which was made possible with a generous gift from Nancy Lutz '82 and her husband, Wendell. The fund will provide an annual prize to one or more students who have demonstrat- ed exceptional skill or promise in photography.
"[Shook] instilled in me a lifetime passion for and commitment to the world of images," said Lutz. "To celebrate Melissa's impact on me and so many others through her generous teaching and unparalleled photographic work, I established this award."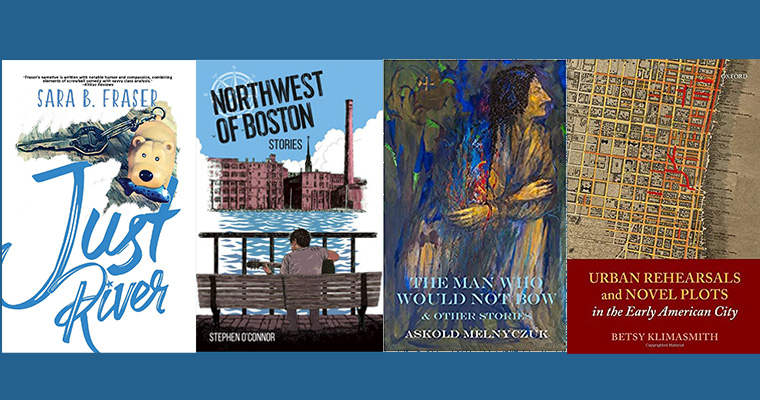 Alumni and Faculty Bookshelf
English professor Askold Melnyczuk tells eight different stories in The Man Who Would Not Bow. The book follows a journalist in a Middle Eastern war zone, an unemployed actor struggling with elder care, members of a commune planning to kidnap a priest, a torturer's mother, and Nikolai Gogol wrestling with his angels and demons. Melnyczuk has published four novels that have variously been named a New York Times Notable, an LA Times Best Book of the Year, and a Booklist Editors' Choice by the American Library Association. He has received a three-year Lila Wallace-Reader's Digest Writers' Award in Fiction, and the George Garrett Award from the Association of Writers & Writing Programs for his contributions to the literary community.
In Just River, Sara B. Fraser G'99 tells the story of Sam, a cross-dresser with a voice like Tina Turner, and his best friend, Carol, a cashier who stress eats. Together the two prove their mettle when trying to save Carol's wrongfully imprisoned daughter, Garnet. Just River is currently a finalist in the following contests: 2021 Foreword Indies adult fiction finalist (humor); 2021 SPR Book Awards finalist; 2022 Maxy Awards literary-humor runner-up; 2022 American Fiction Award winner (humor/comedy/satire); 2022 IAN Book of the Year finalist (general fiction & LGBTQ fiction); and 2022 American Writing Awards finalist (general fiction & humor).
The characters in Northwest of Boston, written by Stephen O'Connor's G'89, fully live the human drama in stories that range from the humorous to the poignant. They go to the crossroads to face their demons, come to terms with the fleeting nature of life and love, and find the courage to follow their own compass. For some, that means an evolution, for others, a steadfast embrace of a world that is passing away. O'Connor is the author of three novels and two collections of short stories. For further information or to order books, visit lowellwriter.com.
In Urban Rehearsals and Novel Plots in the Early American City, English professor Betsy Klimasmith sheds new light on the literature of the early U.S. by exploring how literature, theater, architecture, and images worked together to allow readers to imagine themselves as urbanites even before cities developed. In the four decades following the Revolutionary War, the new nation was a loose network of nascent cities connected by print. Before a national culture could develop, local city cultures had to take shape. Literary texts played key roles in helping new Americans become city people.
For this issue of Beacons, we asked our alumni and current students: What's the best piece of advice you received in college?
"The world will throw countless obstacles in your way. Be steadfast in your pursuit of your goals. Don't let anything stand in your way." - Evagrio "Vaag" Mosca '75
"Ninety percent of being successful is just being on time" - Heather Fabiano '03
"Don't worry how long your journey takes. Everything will fall into place." - Marlen Godinez '20
"That striving for perfection all the time is unrealistic, and not let the fear of making mistakes or not meeting expectations hold me back." - Adi Edelhaus '26
"Treat every interaction as an opportunity to open a new door, either personally or professionally. Served me well after graduating while looking for career opportunities." - Andrew Fox '11
"Your degree is one of the few things that can never be taken away from you." - Monique Lannieen Austin '01, G'05
"Don't be afraid to branch out and try new things." - Shubhankar "Shubi" Joshi '17
Who was your favorite UMass Boston professor?
For our next issue, send your answers to alumni@umb.edu. Don't forget to include your full name and class year!