Two PHD Students Named to Fulbright US Student Pro
Two PHD Students Named to Fulbright US Student Program
---
05/12/2023
| Crystal Valencia
Two UMass Boston PhD students have been selected to receive awards through the Department of State's prestigious Fulbright U.S. Student Program. The highly competitive scholarship opportunity provides funding for American students to conduct research or teach English in more than 140 countries overseas.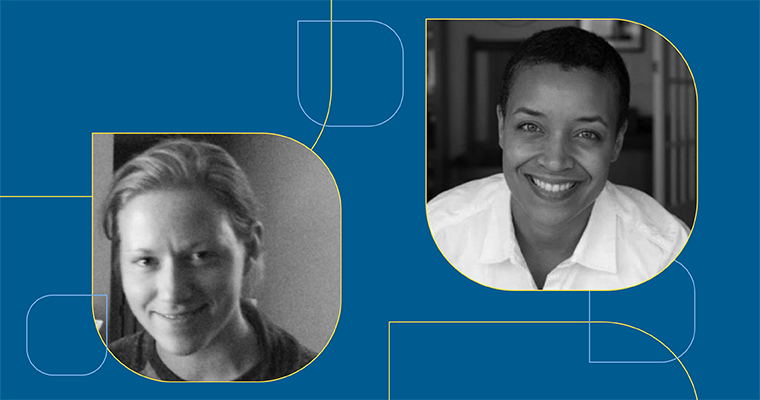 PhD candidates Dawn Colquitt-Anderson and Kate Butterworth received Fulbright Research Awards to study in Canada and Georgia, respectively.
Student recipients of Fulbright awards are selected on the basis of academic and professional achievement, as well as their records of service and leadership potential in their respective fields.
"I am thrilled for Dawn and Kate and congratulate them both on having won these prestigious Fulbright fellowships," said Louise Penner, director of the Office of National and International Fellowships. "I look forward to hearing about all the amazing work that they will do during the Fulbright year abroad and in the future. I hope that their success will inspire other UMass Boston students and alums to apply for these awards."
Colquitt-Anderson, an Illinois native and PhD candidate in the School for Global Inclusion and Social Development, will leave for Canada this fall to internationalize her research on culturally and community responsive teaching in K-12 schools using local history, particularly of Black and indigenous communities.
She says Canada is progressing in this area thanks to the Truth and Reconciliation Commission's (TRC) goal of addressing the legacy of residential schools.
"They invested a substantial amount of funds to study, understand, and begin to repair the traumatic impacts to its First Nations and Metis population, and I plan to study the progress it has made on the TRC tasks related to education and the impact on indigenous students, the community, and teacher education programs," Colquitt-Anderson said.
After completing the PhD program, Colquitt-Anderson would like to write, teach, and expand work as an inclusion and equity strategist that support the efforts of K-12 teachers to become ethnic studies practitioners. She would also like to continue unearthing and centering Black and Indigenous histories and contributions for formal and informal academic spaces.
"I see it as a human rights and sustainability issue for all students but especially for Black and indigenous communities," she said. "To systematically sever groups from their past is a slow violence that sets up a kind of perpetual vulnerability. Some see the traditional U.S. approach to education as an evolved form of the residential schools. I am headed north to investigate that."
Butterworth, an upstate New York native and PhD candidate in the Global Governance and Human Security program, will head to Georgia in September to conduct field work for her dissertation and engage widely with the local community.
She first traveled to Georgia in summer 2014 to study the Georgian language and returned a few years later through a Boren Fellowship to continue those studies.
"Throughout the past nine years or so I have been involved in studying the cultural and political history of Georgia and the broader South Caucasus," Butterworth said. "And I continue to enjoy learning more while also giving back to the local communities in which I am working and studying."
Upon completion of her PhD, Butterworth hopes to find a vocation where she can practice daily service while using the specific skillset she has gained over the last decade or so.
Butterworth thanked Penner and the Office of National and International Fellowships for incredibly thoughtful guidance throughout multiple application cycles.
"Louise is very dedicated, and I am very privileged to have had the opportunity to be advised and encouraged by her," Butterworth said.
Students and alums interested in applying for national and international external fellowships can begin the process by filling out a fellowships profile form here and then by emailing fellowships@umb.edu to set up a time to discuss their options.