UMass Boston Alumni Help Bring "The Embrace" to Bo
UMass Boston Alumni Help Bring "The Embrace" to Boston Common
---
01/15/2023
| Office of Communications
On Friday, one of the largest memorials ever dedicated to racial equality was unveiled on the Boston Common. The Embrace aims to honor the life and legacy of Rev. Dr. Martin Luther King, Jr. and Coretta Scott King, and spark a public conversation on advancing racial and social justice in Boston today.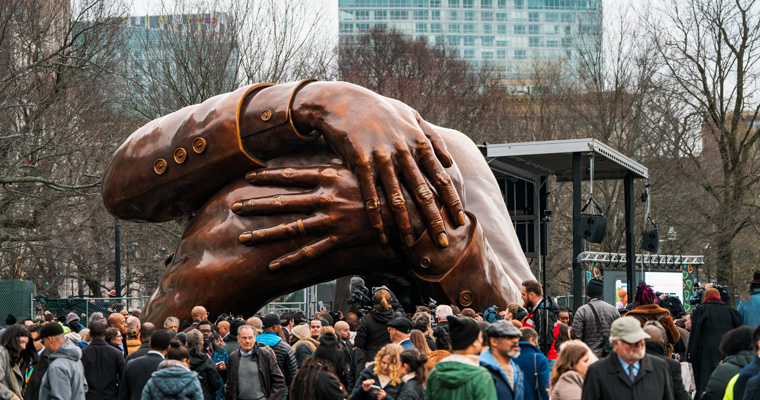 Image By: Javier Rivas
" The Embrace is a long-lasting symbol of the Kings' legacy, their love, and the impact of that love on us all. "
Two UMass Boston alumni—Imari Paris Jeffries '97, G'99, G'03, current PhD candidate, UMass trustee, and executive director of Embrace Boston, the nonprofit that raised $8 million to commission The Embrace and bring it to Boston; and Paul English '87, G'89, H'19, entrepreneur, philanthropist, and founder of King Boston, the earlier incarnation of Embrace Boston‑—helped nurture the vision for the memorial.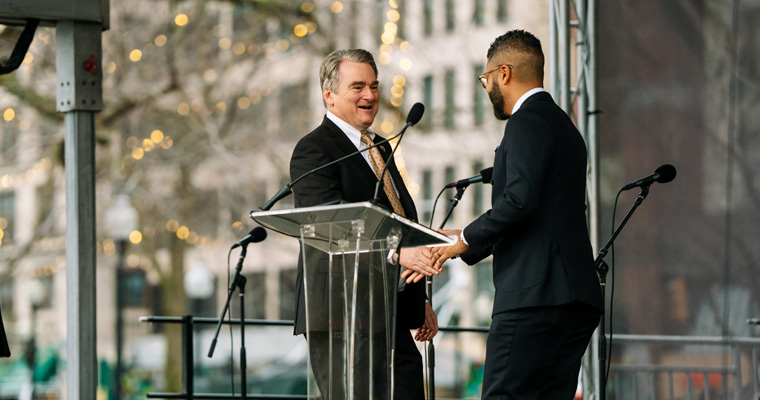 "Their devotion to this idea ensures that The Embrace will forever stand on the Common as an eternal symbol of love, belonging, and hope. And it will honor the stories of all who continue to work to transform Boston into a place that insists on equity, inclusion, and the beauty of diversity," Chancellor Marcelo Suárez-Orozco said. "Embrace Rev. Dr. Martin Luther King's humane message: talk to your fellow Beacons, friends, loved ones, and neighbors about the vision of peace and harmony to which Dr. King dedicated his life. Visit The Embrace. Work across divides to make our communities whole and always challenge injustice everywhere."
The Embrace memorial is a 20-foot-high bronze sculpture capturing the four intertwined arms and hands of Rev. Dr. Martin Luther King, Jr. and his wife Coretta Scott King in a moment of intimacy in 1964, when Dr. King learned he would be awarded the Nobel Peace Prize for his tireless civil rights advocacy.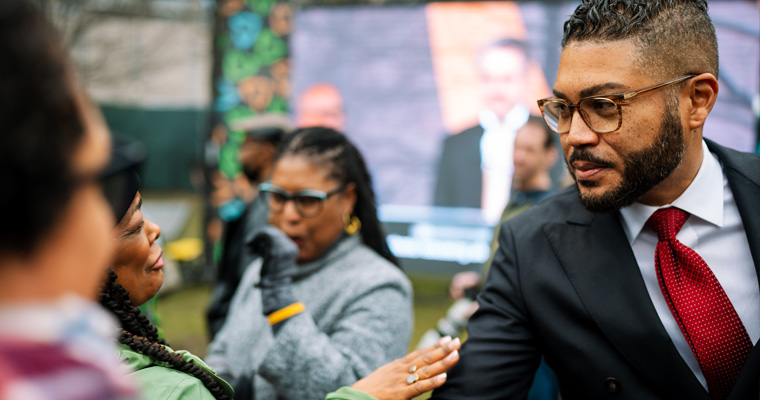 "The Embrace is a long-lasting symbol of the Kings' legacy, their love, and the impact of that love on us all," said Paris Jeffries. "The Embrace is also about teamwork, and I'd like to thank the many individuals, the City of Boston, and our numerous sponsors, who came together to make this a reality. The Embrace sculpture and the surrounding 1965 Freedom Plaza embodies our organization's vision of a transformed Boston, inviting all who walk within it to witness the legacy of equity in Boston, and see themselves reflected in its future."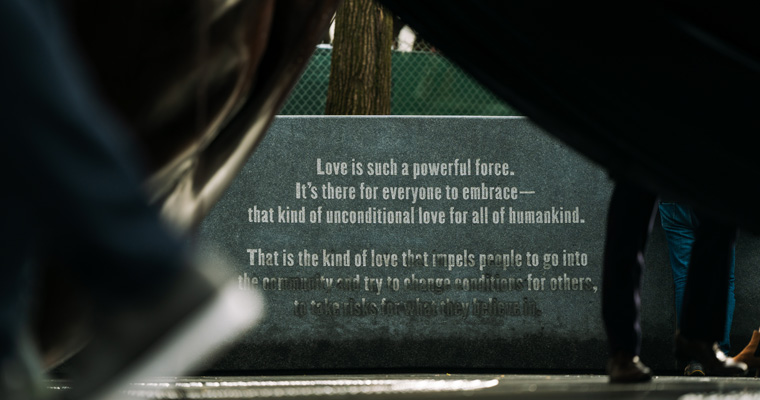 The Embrace and the 1965 Freedom Plaza by artist Hank Willis Thomas and MASS Design Group was initiated by a partnership between the City of Boston and Embrace Boston.
"On this Martin Luther King Day, we ask all in the UMass Boston community to reflect on the towering legacy of Dr. and Mrs. King, and the universal joy and pride reflected in The Embrace," Suárez-Orozco said.
For more information on The Embrace and future initiatives, visit Embrace Boston's website at embraceboston.org.