UMass Boston and Boston Public Schools Launch Earl
UMass Boston and Boston Public Schools Launch Early College Program
---
01/26/2023
| Crystal Valencia
BPS Students Can Earn Up to 30 College Credits, Lowering the Cost of College and Reducing Systemic Barriers to Higher Education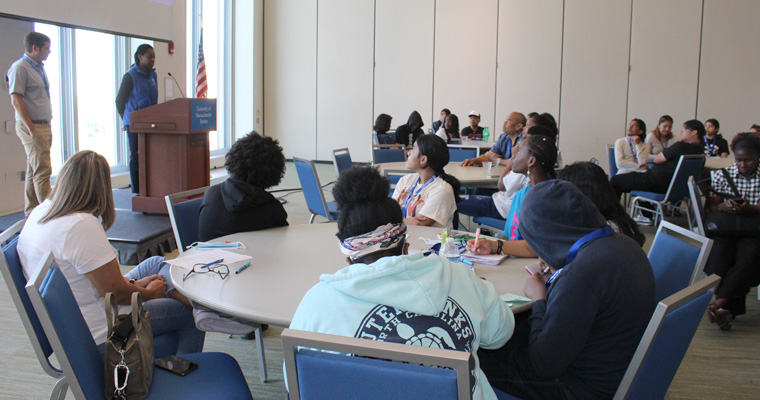 BPS students participate in an Early College orientation at UMass Boston last fall.
UMass Boston is working with three high schools and the larger Boston Public School (BPS) district to launch new immersive Early College programs, providing students with the opportunity to earn up to 30 college credits — or one full year of college— for free, expediting their path to a degree.
These Early College programs began as pilots in the fall and are serving 95 students at Boston Community Leadership Academy, Fenway High School, and New Mission High School. Students will be dually enrolled at BPS and UMass Boston, and will receive in-person instruction, wrap-around support services, mentoring, and tutoring from UMass Boston faculty, advisors, and the university's students, many of them BPS graduates. These programs are being launched with generous support from the Smith Family Foundation and the State Street Foundation. The Smith Family Foundation has pledged $1.9 million to support these Early College partnership programs over the next three academic years. The State Street Foundation is supporting the current pilot phase with an initial $150,000 investment.
"UMass Boston is committed to expanding access to higher education, particularly to those who face systemic barriers to succeeding in college," said Chancellor Marcelo Suárez-Orozco. "This partnership and support will open doors and opportunities for first-generation students, students of color, those facing economic challenges, and many others."
In addition, as Mayor Michelle Wu announced in her State of the City address last night, UMass Boston is working with Fenway High to launch a pilot program to provide their graduates with a "fifth year" of high school in which students will continue to receive support from the high school while taking a full course load at UMass Boston and benefitting from the full range of resources and supports available at the university.
"If we expect our young people to be the leaders our world needs, then it's on all of us to take every step to ensure they have the skills and experience to meet this moment," Mayor Wu said. "This program will give our students an additional full year of college-level courses debt-free as they transition to college and accelerate toward a degree."
Studies have consistently shown that Early College programs reduce the time, expense, and systemic barriers to higher education faced by students, increasing the likelihood of degree completion. This ultimately results in more equitable academic and career outcomes and increased levels of success in college and beyond.
As many of Boston's communities are still feeling the disproportionate impacts of the COVID-19 pandemic, UMass Boston leaders see Early College as an opportunity to help BPS students get back on track and even accelerate their progress after a difficult period, while lowering the cost of higher education.
"We are building the Early College model in close collaboration with our high school partners grounded in shared goals to expand access to post-secondary enrollment and reduce the time and cost of a college degree," said UMass Boston Provost Joseph Berger. "Equally important, we are committed to learning from each other in order create more equitable and culturally sustaining learning environments for BPS students. Together, we are identifying and addressing barriers to student success."
Early College will offer a place-based scaffolded 10-12th grade experience, with UMass Boston faculty teaching courses at the high schools in their sophomore and junior years, followed by the option to take courses on the UMass Boston campus in their junior and senior years. Students will earn highly transferable college-level credits, with an emphasis on general education and first-year and MassTransfer-aligned courses that maximize their future options.
Early College will also feature holistic integrated student support services, culturally sustaining curriculum, and exposure to career opportunities. Expansive career pathway exposure will enable students to deepen their knowledge, skills, and passion in high-demand fields. In close partnership with individual high schools, UMass Boston Early College incorporates strong connections to high demand career pathways such as health sciences and education.
UMass Boston faculty and their Boston Public Schools partners are co-developing the curriculum and pedagogical model, focusing on the strengths that diverse students bring to the classroom. Organizers believe that a collaborative model that brings together students, families, high school teachers and counselors, and UMass Boston faculty, staff, and students will successfully bridge the high school to college transition.
UMass Boston aims to grow its Early College programs to serve 1,000 students in the next five years.
Nationally, Early College programs have been shown to boost college completion rates for low-income, minority and first-generation college students. Since the Massachusetts Early College initiative launched in 2018, students who've participated in Early College programs have been found to complete their applications for federal financial aid and enroll in college at significantly higher rates than their peers.