UMass Boston Celebrates Black Excellence in STEM
Black to the Future: UMass Boston Celebrates Black Excellence in STEM
---
11/17/2023
| Danielle Bilotta
UMass Boston came together earlier this month for its fourth annual Black Lives Matter Day, entitled "Black to the Future," celebrating Black excellence in science, technology, engineering, and math (STEM).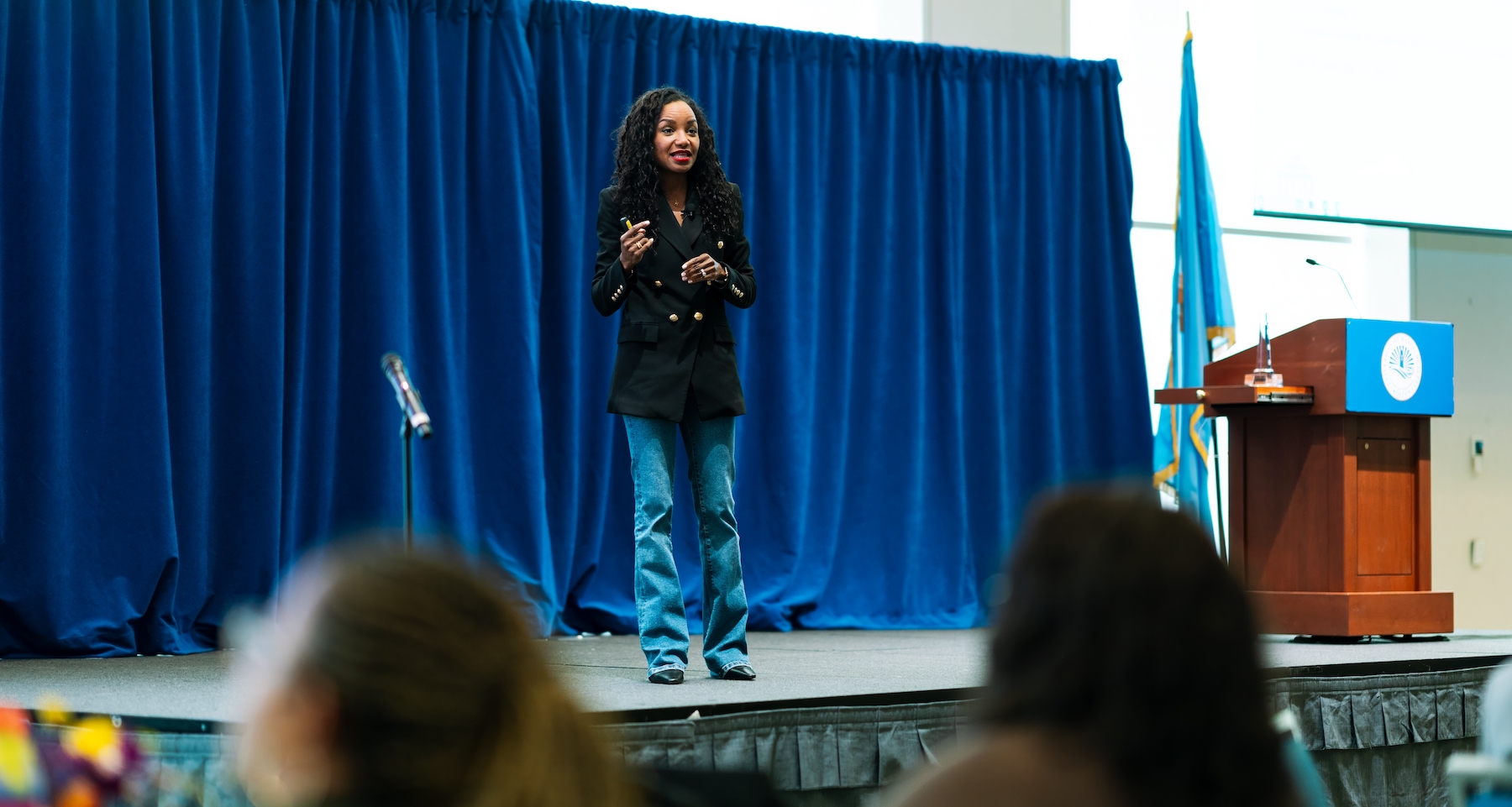 Keynote speaker Professor Renée Gosline
"Black pioneers and so many others found their passion for education, for learning, science, discovery, and technology," said Chancellor Marcelo Suárez-Orozco told the crowd gathered in the Campus Center. "And in doing so, they empowered generations of young Black scholars, thinkers, doers, innovators, and makers. They redefined the boundaries of what is possible."
Speakers from the National Society of Black Engineers (NSBE), UMass Boston, and MIT shared words of encouragement for students who may feel discouraged or ill-equipped to pursue education and a career in STEM. During a panel with members from the NSBE, students were given advice on how to gain new skills in science and technology, including joining organizations that are working toward breaking down barriers in tech, such as Black Girls Code or Hack.Diversity.
Panelists also shared their personal stories of how they entered the STEM fields, what fueled their passion for learning, and how educators can support their students through their academic journey.
"I have certain topics that get my little nerd heart aflutter, and I just want to talk about it. And I also love when other people tell me what gets their nerd heart aflutter as well," panelist Michelle Barnes said. "Across any age and demographic, if you just see that interest, help them nurture it, and that is how you help people into it without it feeling like it has to be a chore or a conscious thing. It can literally just come from what sets your soul afire and what makes you excited to be involved with things."
As part of his presentation on recruitment, retention, and employment in STEM fields, senior lecturer in the Mathematics Department Joseph E. Cooper advised students who felt they didn't have the time or money in order to earn top grades to seek out mentors, channel the self-confidence of Kobe Bryant, supplement their education with workbooks, and befriend unusually bright and highly motivated study partners who demand excellence and will help hold them accountable.
"Do what is difficult. Signal your high ability. And let your ability serve as proof that Black excellence matters," Cooper said. "Black people have been told since the founding of our country that we could not do many things. For example, Black women have been told that they could not be astronauts because that requires serious physics and medicine. Read May Jemison for a fine example that Black women can indeed fly. And Black men, you'll hear no finer examples of the highest ability in mathematics than David Harold Blackwell and his 'Kobe,' MIT's own Emery Neal Brown."
Keynote speaker Professor Renée Gosline, head of the Human-First AI Group at MIT's Initiative on The Digital Economy, spoke to a standing-room audience about creating trustworthy AI systems by consciously using friction to enable better choices, and shared research based on her upcoming book on AI-mediated systems.
"Friction is actually critical for acceleration. Friction is also critical for changing direction," she said. "And as human beings, as leaders in this world, we want to be able to accelerate and we want to be able to change direction when we need to.
"AI is a lot of like stochastic parrots, which is that they watch what you say and do, and they parrot it back. But they are not sentient, they are not conscious, they are not thinking. Only you can do that," Gosline said. "Embrace that thinking that you have to interrupt bias and to use AI in the way that's human first."
Following the panels and keynote speech, attendees watched Coded Bias, a documentary that investigates the gender, racial, and class biases of AI.
"We know that the STEM field will continue to have an important impact on all of our lives. Let's make sure that we're promoting it with all forms of equity: racial equity, gender equity, class equity, ability equity, and multicultural equity more broadly," Special Assistant to the Chancellor for Black Life Joseph N. Cooper said.
Black Lives Matter Day also included a special lunch featuring foods from the African Diaspora.
In November 2020, Chancellor Marcelo Suárez-Orozco declared that UMass Boston will observe Black Lives Matter (BLM) Day every year on the first Monday of November. The event received broad support from across the campus, including the Mass Media, Graduate Student Government, Undergraduate Student Government, Chancellor's Office, Quinn Graphics, Black Student Center, Student Multicultural Affairs, Academic and Career Engagement and Success (ACES) Center, and Black Life.