UMass Boston Community Encouraged to Run
UMass Boston Community Encouraged to Run in Pursuit of Change
---
09/15/2023
| Danielle Bilotta
Keynote speaker Massachusetts Secretary of the Executive Office of Education, Patrick Tutwiler, PhD, had one request for students, faculty, and staff at this year's UMass Boston Fall Convocation: Run.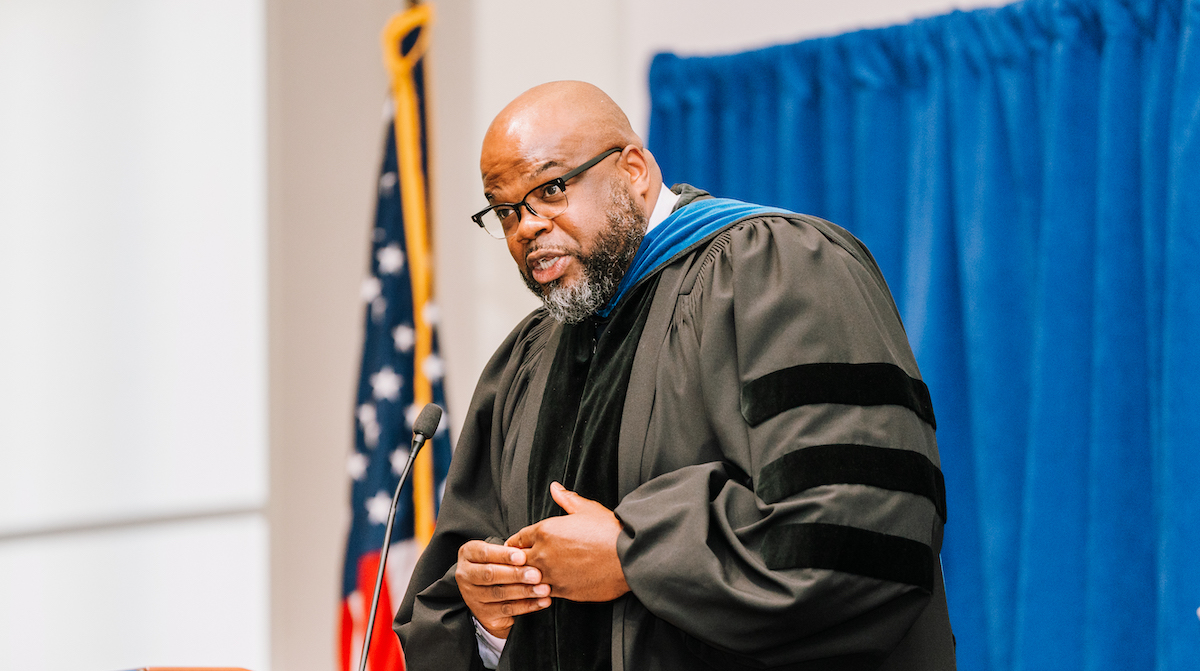 UMass Boston 2023 Fall Convocation Keynote speaker Massachusetts Secretary of the Executive Office of Education, Patrick Tutwiler, PhD
Image By: Javier Rivas
"UMass Boston family, you have the tools, the mindset, the stuff to succeed in the course set in front of you," he said. "It's no longer the time to be cautious. You've walked before, I'm sure, and now it's time to run."
While we're often told the valuable lesson of learning to walk before we run, Tutwiler said, running will help us gain momentum as we wrestle with the ripple effects of the pandemic. "Each individual in this space has the potential to do great things, to solve pressing issues, and we're relying on you to get there."
As Governor Maura Healy's top advisor on education, Tutwiler oversees early education, K-12, and higher education across the state and is the first Black Secretary of Education in the Commonwealth's history. Tutwiler described the current world we live and work in as "pandemic recovery," and acknowledged how that has shaped education budget and policy initiatives to better meet present and future needs. Within this new envisioned framework, the Executive Office of Education is working toward creating lasting change that isn't tied to previous goalposts, Tutwiler said.
"In our vision for education in the Commonwealth, we have to be intentional to 'see' those who the proposed shifts and enhancements will impact," he said.
Tutwiler is a graduate of The College of the Holy Cross, received a master's in education from Harvard University Graduate School of Education, and a PhD in curriculum and instruction from the Lynch School of Education at Boston College. Growing up in a single-parent household, Tutwiler's family moved around the country to follow his mother's own professional journey in education, relocating for teaching opportunities and earning her doctorate at the University of Texas in Austin.
"With the deep knowledge of an educator but the fierce love of a mother, we watched her fight for my brother and me to ensure that we received the best possible education, no matter what state we found ourselves in," he said. "We watched her safeguard our potential, respectfully disagree about our placements, labels even, that might otherwise have attached themselves not only to our transcripts, but internally to the view we had of ourselves as learners."
Tutwiler said these experiences informed his own journey to becoming an educator, leading him to operate from a firm set of values that centers students and their best interests, listens and understands the stories of the students and their families, and elevates the most underserved student population.
With more than twenty years of experience as a teacher, principal, and superintendent in urban and suburban school districts in Massachusetts, Tutwiler's leadership has driven education stakeholders to put students and families first. Chancellor Marcelo Suárez-Orozco introduced Tutwiler as a "tireless champion of educational equity."
"Your career has placed you in the rarified air of educators who have a 360-degree understanding of public education," he said.
Tutwiler said the instruction and experiences the faculty will deliver to students will help students gain the skills and knowledge needed to be part of the solution to the challenges we're facing today. He encouraged the audience to run toward something always, to stay exuberant, and to channel their inner child that was always excited at the possibility of something without failure ever entering their mind.
"As you move forward from this day, I hope you are quick to leave behind the stuff that will slow you down, that will get in the way on your course," he said. "For far too long you've been cautioned to slow down, but now we're counting on you, cheering for you, to speed up."