UMass Boston Graduate Students Encouraged to Help
UMass Boston Graduate Students Encouraged to Help Shape a Resilient Society at 55th Commencement Ceremony
---
05/25/2023
| Danielle Bilotta
Graduate students and their families were greeted with clear skies above Dorchester Bay for the UMass Boston 55th commencement ceremony on Wednesday. In total, 983 students completed their graduate programs including 130 students who graduated with a Doctor of Philosophy, Doctor of Education, or a Doctor of Nursing Practice.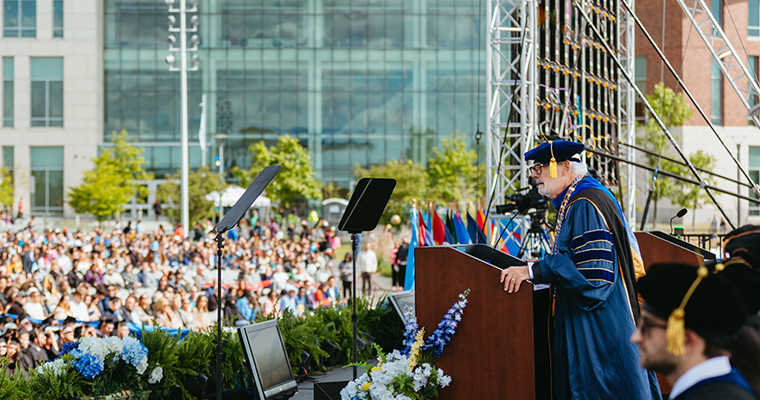 Image By: Javier Rivas, Haley Abram, Justin Bartels, Nick Brady
" Your UMass Boston education is a gift in so many ways. "
Chancellor Marcelo Suárez-Orozco congratulated the graduating students on their accomplishments and encouraged them to use the new tools and knowledge they acquired to go into the world and their communities and help shape a resilient society. The chancellor's remarks focused on the climate change challenges we face and the university's commitment to climate resilience through initiatives such as the Stone Living Lab developing and deploying living sea walls to preserve Boston's coastal environments.
To meet the climate change challenge, Chancellor Suárez-Orozco emphasized the need for a generation of climate stewards and champions that has the willingness to work for the common good.
"Your UMass Boston education is a gift in so many ways," he said. "One of them is that it has prepared you to meet this extraordinary moment and help shape a resilient society that leaves no one behind."
UMass trustee Robert Lewis greeted the graduates and their families on behalf of the UMass Board of Trustees, taking a moment to recognize the students that completed their studies while working, meeting family responsibilities, and performing community service all despite a global pandemic.
"We are excited about the work, service, and leadership that you are going to bring to the Commonwealth, your communities, your nation and indeed the world in the years ahead," Lewis said. "Your energy, creativity, and resilience are needed now more than ever."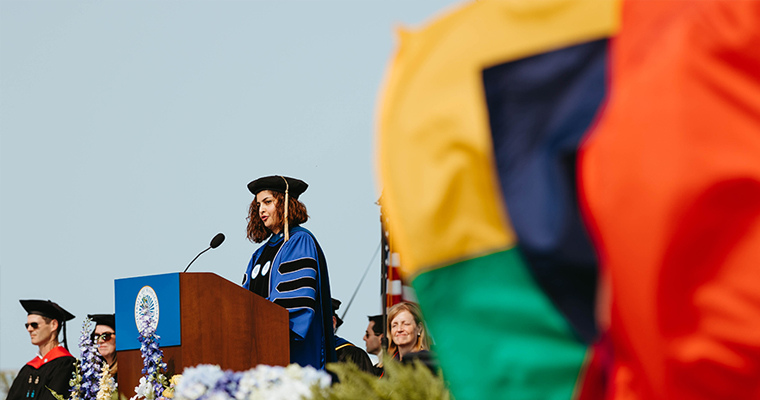 This year's graduate student speaker, Noor Tahirkheli, who graduated with a doctorate degree in clinical psychology, described her time at the podium as a public group therapy session, encouraging her fellow graduates to "cancel all self-doubt and all questions about your worth" and that liberating themselves from their own fear of not being good enough will help them tap into unlimited potential.
"This piece of paper we're leaving with today is a ticket to all sorts of new experiences: a seat at the table, an invite to that meeting, a say in that decision," Tahirkheli said. "Imagine if you took advantage of the privilege of this degree simply by knowing that you aren't an imposter in the room, but that you are the exact person who is supposed to be there."
The graduate commencement ceremony included celebrating this year's chancellor award recipients. Professor of Psychology S. Tiffany Donaldson received the 2023 Chancellor's Award for Distinguished Teaching. Donaldson's colleagues described her as an "innovative, culturally responsive, engaged, inspiring classroom teacher." In addition to making a profound impact over her 26 years at the university serving as a mentor to her students and junior faculty, Donaldson is currently the director of the Research Education Core within the UMass Boston-Dana-Faber/Harvard Cancer Center U54 program.
Professor of Psychology David Pantalone was this year's recipient of the 2023 Chancellor's Award for Distinguished Scholarship, whose research addresses health inequities, and the physical and mental health of stigmatized vulnerable populations. He has contributed to the Association for Behavioral and Cognitive Therapies and the American Psychological Association and is committed to cultivating the next generation of clinical health psychology researchers.
"You have advanced the understanding of health in marginalized populations, generated culturally situated and empirically based theories, and set standards for cross-disciplinary health research," Chancellor Suárez-Orozco said.
The recipient of the 2023 Chancellor's Awards for Distinguished Service was Professor of Biology Rachel Skvirsky. Skvirsky was recognized for her commitment supporting underrepresented students in STEM and her leadership developing diverse STEM education with the Boston Public Schools and Project Kaleidoscope. Chancellor Suárez-Orozco emphasized that her work had contributed to new initiatives on antiracism and represents the best of the university as a "research university with a teaching soul."
As the students were conferred, shifting their graduation cap tassels from right to left, their family and friends in the audience cheered in celebration. Before diplomas were distributed, the new graduates were welcomed into the Beacon alumni family which stretches across the U.S. and globally.
"Graduates, as you go forth, take pride in all you have accomplished at the University of Massachusetts Boston," Chancellor Suárez-Orozco said. "We are truly proud of you."