UMass Boston Graduates 130 Doctoral Students at Ho
UMass Boston Graduates 130 Doctoral Students at Hooding Ceremony
---
05/24/2023
| DeWayne Lehman
Presents Honorary Doctoral Degrees to Scientist Veerabhadran Ramanathan, Journalist Jorge Ramos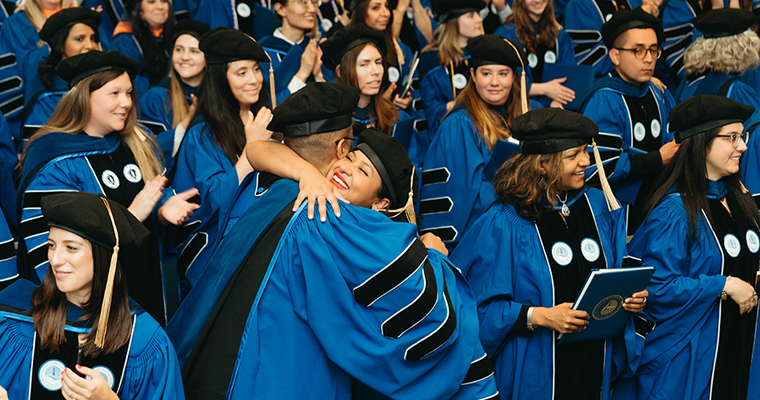 Image By: Javier Rivas
" You will be the ones to break ground on new discoveries, innovations, and the translation of knowledge for the greater good. "
UMass Boston honored 130 students who completed their doctoral degrees this year in a traditional hooding ceremony signifying their accomplishment in attaining the highest academic standing.
During the ceremony, attended by students, faculty, friends, and families, UMass Boston Chancellor Marcelo Suárez-Orozco also conferred honorary doctoral degrees to scientist Veerabhadran Ramanathan for his work in the fields of atmospheric and climate sciences and longtime Univision anchor and leading Hispanic journalist Jorge Ramos. Watch the ceremony.
"Graduate education is a cornerstone at UMass Boston – and it is central to our mission," said Chancellor Suárez-Orozco. "All of you have produced original scholarship that advances knowledge and impacts lives. You will also grow as trusted instructors and mentors who bolster your academic communities and help create a virtuous circle of scholarly discovery and excellence.
"Look around this room…. Together, you are the new generation of rising academic leaders and topical experts. You will be the ones to break ground on new discoveries, innovations, and the translation of knowledge for the greater good."
Provost and Vice Chancellor for Academic Affairs Joseph Berger said that this year's ceremony was particularly rewarding because of the additional challenges students faced over the past several years.
"Under any circumstances, earning a doctorate is an occasion for unabashed joy, pride, and celebration," he said. "Yet in these challenging times, I have an extra special appreciation for each of you and profound admiration for your accomplishments – earning a doctorate in any circumstances is a remarkable achievement; earning a doctorate in the midst of the disruptions and trauma caused by COVID-19, that simultaneously laid bare and exacerbated structural racism and racialized inequities that are so deeply embedded in our society. You, our graduating doctoral students, are truly, truly remarkable."
The doctoral hooding ceremony includes each graduating student taking the stage to have a ceremonial "hood" placed on their neck and shoulders, which drapes down their back, by the student's faculty advisor. The tradition dates back to medieval times, according to Bala Sundaram, dean of Graduate Studies and vice provost for Research and Strategic Initiatives.
"The hood served both as a badge of learnedness as well as providing warmth whilst recipients sat in drafty libraries for the foreseeable future," Sundaram explained. "Luckily, modern heating and wider career options has relegated this more functional use to the annals of history. What remains is essentially a recognition and acknowledgement of both the obstacles many of the graduates overcame when reading for and earning a doctorate -- as well as the bond developed over this time between each of you and your research mentor.
"With this final acknowledgement, the recipients of any doctoral degree are now closer to or at the frontiers of their respective fields of study and have embraced the reality that they are indeed students for life, wherever and however they may end up using their skills."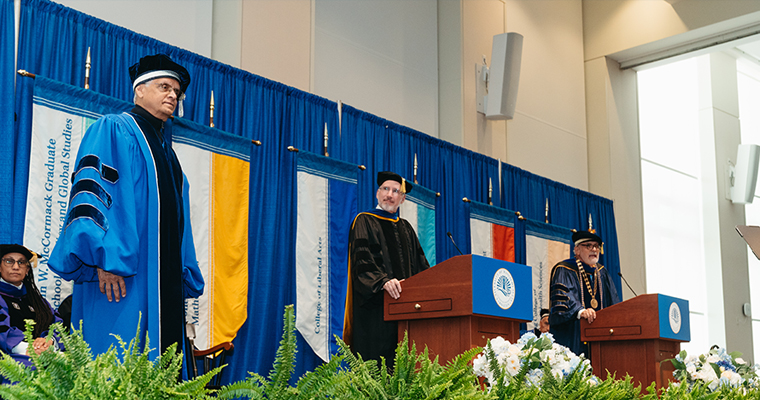 In conferring the honorary degrees for this year's commencement celebration, Chancellor Suárez-Orozco noted the recipients are leaders in their respective fields. Indian-born Veerabhadran Ramanathan has undertaken groundbreaking work in the fields of atmospheric and climate sciences. His contributions include discovering the greenhouse effects of CFCs and other trace gases, which expanded the range of gases responsible for global warming, and the early development of global circulation models and the detection and attribution of climate change.
"You have lent your expertise to projects that changed the course of climate change research," said Chancellor Suárez-Orozco, highlighting his "unwavering commitment to investigating and educating the world about climate change and the impact of human activity on the environment."
Mr. Ramanathan received the degree of Doctor of Science, honoris causa.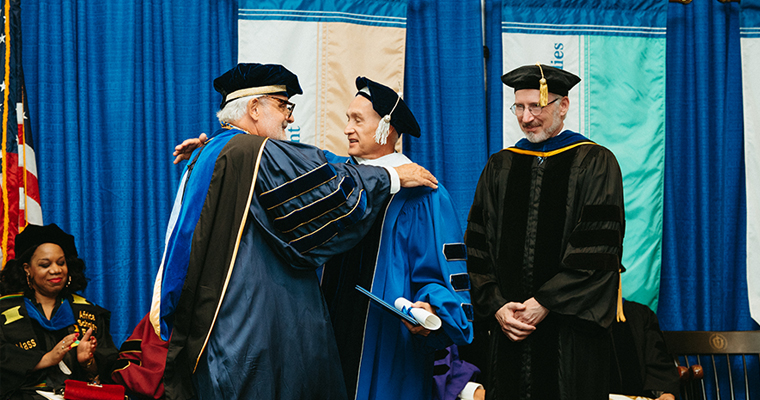 Honoring journalist Jorge Ramos, Chancellor Suárez-Orozco cited a Wall Street Journal article calling the Univision anchor "Hispanic TV's No. 1 correspondent." Born in Mexico City, Ramos immigrated to the United State and at age 28 became one of the youngest national news anchors in the history of American television, establishing himself as "the voice of the voiceless" and drawing more than 2 million viewers to his nightly newscast and more than a million viewers to his Sunday morning political show.
"You are among the most respected journalists in the United States and in the 13 Latin American countries where your newscast is aired," said Chancellor Suárez-Orozco, emphasizing his "distinguished career in communications and service to the Latin American community."
Mr. Ramos received the degree of Doctor of Humane Letters, honoris causa.