UMass Boston Launches The Paul English Applied Art
UMass Boston Launches The Paul English Applied Artificial Intelligence Institute
---
05/17/2023
| Office of Communications
Investment from Tech Entrepreneur and UMass Boston Alumnus Will Fund Campus-Wide Initiative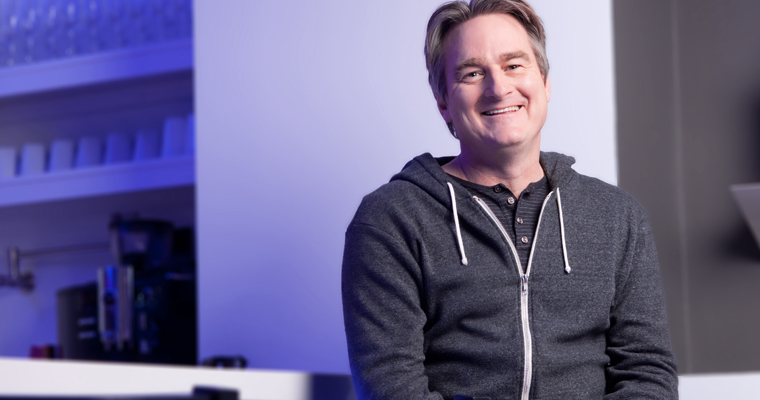 UMass Boston alumnus Paul English
Image By: John Davenport
" As we train the next generation of Massachusetts workers, we are grateful for Paul's continued leadership... "
UMass Boston today announced the creation of the Paul English Applied Artificial Intelligence (AI) Institute, conceived and funded by tech entrepreneur and UMass Boston alumnus Paul English. The new Institute will be the first of its kind and will be embedded in academic study across campus and include a focus on the social, ethical and diversity challenges and opportunities associated with AI. The goal of the initiative is to give UMass Boston students in every field—who overwhelmingly join the Massachusetts workforce after graduation—the tools to shape the increasingly AI-powered world of work.
English, who earned his bachelor's and master's degrees in computer science at UMass Boston, has committed $5 million to establish the Institute, as well as an associated scholarship fund. It will formally launch during the academic year 2023–2024, funded with the investment from English plus a $2 million match from the UMass Foundation.
"We are at the dawn of a new era. Like the agricultural revolution, the development of the steam engine, the invention of the computer and the introduction of the smartphone, the birth of artificial intelligence is fundamentally changing how we live and work," said UMass Boston Chancellor Marcelo Suárez-Orozco. "Like any transformative technology, AI is also raising social, ethical and diversity questions that UMass Boston is ideally suited to explore. As we train the next generation of Massachusetts workers, we are grateful for Paul's continued leadership, and understanding of our unique role in the Massachusetts economy."
"I've had the privilege of visiting dozens of universities over my career," said Paul English. "What stands out about UMass Boston is its pragmatism, grit, and diversity. It is these things that will propel UMB to lead on Applied AI. The new generation of AI will change the jobs of everyone who uses a computer, and I will work closely with UMB as they leverage and develop AI tools across all their disciplines."
The Paul English Applied Artificial Intelligence Institute will catalyze UMass Boston's efforts to organize significant expertise and activity around AI. It will gather experts from the full spectrum of UMass Boston's schools and colleges, as well as the Venture Development Center, to lead the university's ambitious teaching, learning, workforce development, community engagement, and research agenda around AI. It will incorporate AI competencies into the curriculum, giving each student the applied AI skills they need to join tomorrow's workforce.
"The Institute will promote the democratization of artificial intelligence by empowering every UMass Boston student to graduate with fluency—and a competitive edge—in ethically leveraging evolving AI-powered tools to improve processes and outcomes in their chosen professional field," said UMass Boston Provost Joseph Berger. "We hope that Paul's far-sighted commitment inspires others to support this important initiative and the opportunity it offers Boston's public university students."
English '87, G'89, H'19 is the founder or co-founder of several technology companies, including Boston Venture Studio, Deets, Kayak, Moonbeam, Reki, Xiangqi.com, FunContact, Lola, GetHuman, Boston Light and Intermute. He has also co-founded several non-profit organizations, including Embrace Boston, Summits Education in Haiti, Winter Walk for Homelessness and the Bipolar Social Club. His many speaking and media engagements include a TEDx Talk and an appearance on "How I Built This" with Guy Raz on NPR.
About UMass Boston
The University of Massachusetts Boston is deeply rooted in the city's history yet poised to address the challenges of the future. Recognized for innovative research, metropolitan Boston's public university offers its diverse student population both an intimate learning environment and the rich experience of a great American city. UMass Boston's colleges and graduate schools serve 16,000 students while engaging local and global constituents through academic programs, research centers, and public service. To learn more, visit www.umb.edu.