UMass Boston Strong - UMass Boston
UMass Boston Strong
---
04/16/2023
| University Advancement, Andrea Kennedy
On April 17, the members of the University of Massachusetts Boston's Run for Krystle Marathon Team will lace up their sneakers, pin on their bibs, and join almost 30,000 fellow racers in the 127th running of the Boston Marathon. When the going gets grueling—and over 26.2 miles, it always does—they'll find motivation in the reason behind their run. "You have to say to yourself, 'I'm running because Krystle can't,'" says nine-time Run for Krystle team member Rhonda Hodge '13, G'20, DNP'20. "That's enough to continue to take one more step."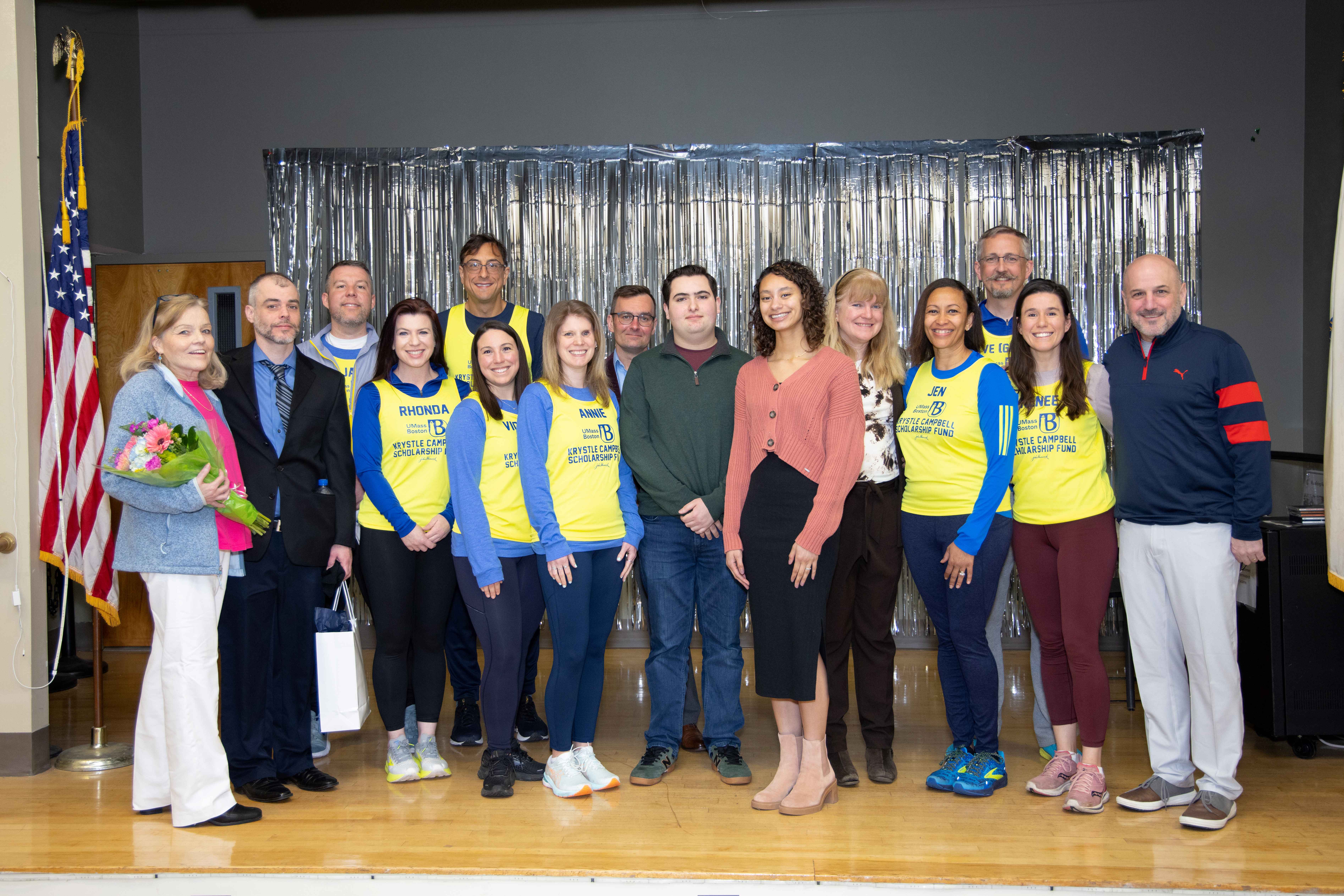 Krystle Campbell's mother and brother join the 2023 Run for Krystle team and two scholarship recipients at this year's scholarship luncheon.
Image By: Bob Durling
"Krystle" is Krystle Campbell, the UMass Boston alumna who was one of three people killed by bombs at the finish line of the 2013 Boston Marathon. Over the 10 years since that tragic day, the Run for Krystle team has raced more than 2,000 miles in Krystle's honor—and helped raise more than $1.35 million for the scholarship founded in her name.
A tragic beginning
On the morning of April 15, 2013, Boston Globe weather writer David Epstein declared it "a great day for the marathon," with the feeling that spring had finally arrived. Lured out of his Charlestown law office by the sunshine, UMass trustee Dick Campbell '70 spontaneously hailed a cab to Boston to watch the marathon from the finish line, something he had never done, despite living in greater Boston all his life. He found a great vantage point at the intersection of Boylston and Exeter Streets, and watched the wheelchair and elite finishers come in. Spurred by their athleticism—"they were screaming down Boylston Avenue!"—he decided to get his own legs pumping and headed back to Charlestown on foot. Soon after arriving, he heard that two bombs had exploded at the finish line, the first only yards from where he had stood. "Like everybody in the Commonwealth, maybe everybody in the country, but certainly in the city of Boston, where the marathon is so revered, it literally took my breath away," says Campbell.
Dick Campbell had never met Krystle, but as he learned about her death and life, he was struck by similarities in their backgrounds. Besides sharing a last name, both were Medford natives, raised just a few streets apart. Both were graduates of the same high school and college. "It just hit home: What a horrible thing. Her life was on an upward trajectory, and then it was cut short," says Campbell.
Heartsick and hoping to build something "useful and worthwhile" from the tragedy, Campbell and his wife, Barbara, asked Krystle's parents for permission to name a scholarship at UMass Boston in Krystle's honor. With their blessing, Dick and Barbara seeded the endowed Krystle Campbell Scholarship Fund in 2013, creating a perpetual annual award for students like Krystle: high-achieving undergraduates majoring in business at UMass Boston.
But Dick and Barbara wanted the scholarship fund "to live, and keep Krystle's memory alive" says Dick. So they suggested that UMass Boston launch a marathon team to continue raising funds for the scholarship. The first Run for Krystle team in 2014 consisted solely of their family members, but since then a growing group of UMass Boston alumni, faculty, and friends has gotten involved.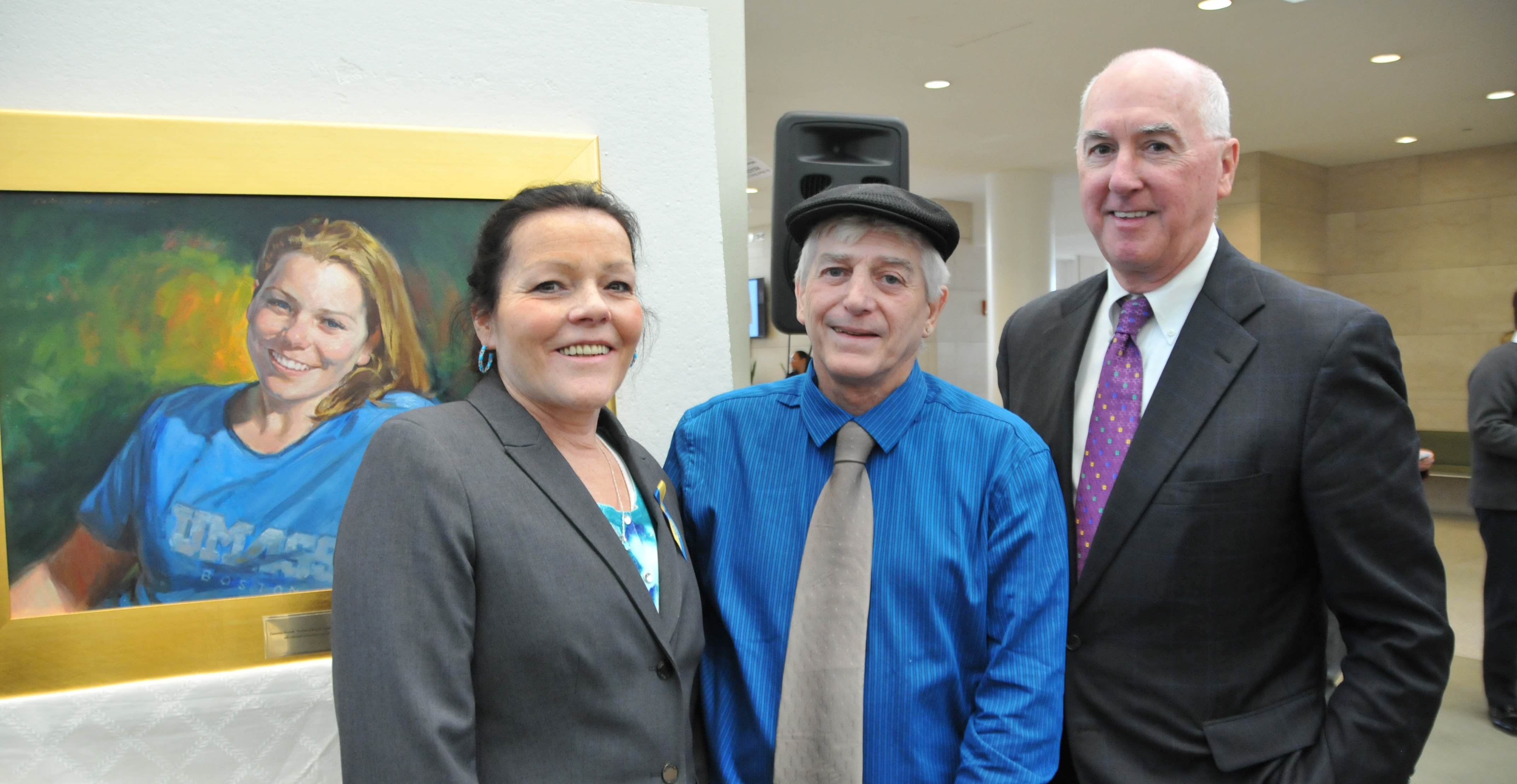 Krystle Campbell's parents, Patricia and William Campbell Jr., with Dick Campbell at the 2013 portrait unveiling.
Image by: Harry Brett
10 years of impact
After nine years of running and fundraising, the Run for Krystle team has helped boost the Krystle Campbell Scholarship endowment to more than $1.3 million, thanks to the generosity of hundreds of donors from the UMass Boston community and beyond. The nine runners racing this year are on track to add almost $75,000 to that total.
Since the first two awards were made in 2015, 32 students have received Krystle Campbell scholarships. The recipients are chosen from applicant pools of more than 80 students each year, based on financial need, academic excellence, volunteer leadership, and engagement with the university and Boston communities. As the scholarship total has grown, so has its annual impact: eight recipients were chosen this year.
For many of them, the $5,000 award proffers some relief from the relentless effort of working while pursuing a full-time education. "Every student who receives one gets to breathe a sigh of relief from the financial burden of school," says Erin Collins, a junior from Quincy, Mass., who hopes to become an accountant. The willingness to help those who need it is a fundamental part of the UMass Boston community, she says, and Paul Dyson Jr '00, a senior lecturer in UMass Boston's English department and eight-time Run for Krystle team member, agrees.
"This scholarship represents the best things about UMB: empowerment, education, a helping hand," Dyson told the runners and past and present scholarship recipients who gathered with members of Krystle's family on April 1 for the annual Krystle Campbell Scholarship luncheon at the Medford Senior Center's Krystle Campbell Peace Garden. "My colleagues who knew Krystle speak of her as kind, smart, and engaged. I'd expect no less from a UMB student. And she should expect no less of us than that we carry on in her name."
For Dyson and his fellow repeat racers, the rewards of this commitment run both ways. The Run for Krystle team and Krystle Campbell scholarship communities have become something of an extended family over the past decade. When Hodge earned her doctorate at UMass Boston in 2020, she was hooded by four-time Run for Krystle team member Kathleen Kirleis, the university's vice chancellor for administration and finance. Former scholarship recipient Dawn DeRossette '18 worked for a time in Hodges' psychiatric practice in Salem, New Hampshire, and Dawn's husband, David, is running with the team this year. "Baby showers, weddings…we just really are just cheerleaders in each other's lives now," says Hodge.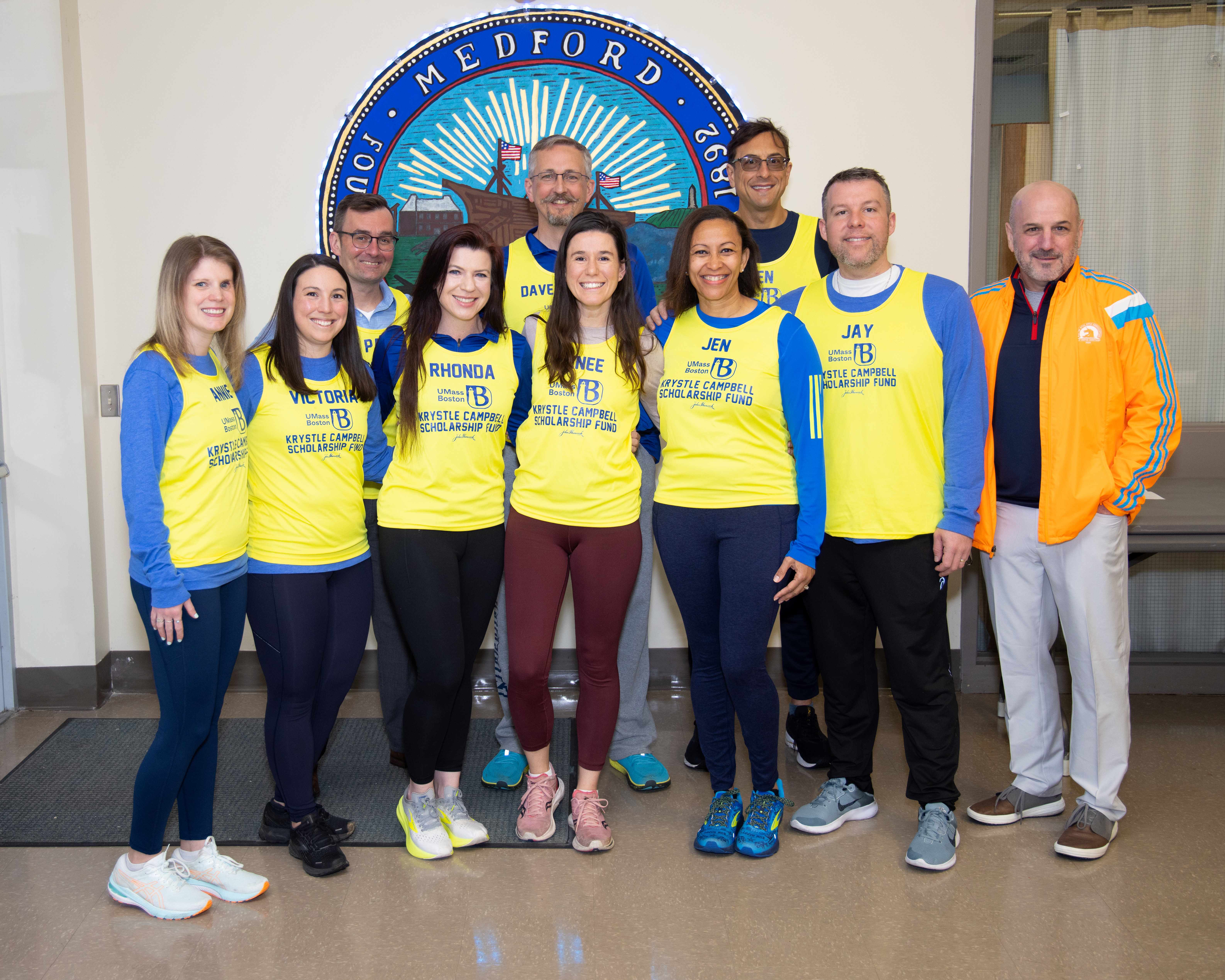 The 2023 Run for Krystle Marathon Team, with Bill Campbell
Image by: Bob Durling
The long haul
Though many Run for Krystle team members have run the marathon for years, every race has its own challenge. In 2018, it was cold, which left Hodge hypothermic at the finish line. In 2020, it was the pandemic and an unprecedented virtual race. This year, it's the poignancy of the tenth anniversary of the bombing and Krystle's death. "It's going to be very emotional from start to finish," Hodge says.
For Dyson, this year's race is a milestone to be proud of. "The fact that we've been at this for 10 years speaks volumes about the dedication of our runners and the immense generosity of our donors. That we can serve the university's students and Krystle's memory in this way is really wonderful and humbling," he says. But by no means does he feel that this is the finish line for their effort. "I will keep doing this as long as my body holds up!"
If you are interested in learning more about Team Run for Krystle and the Krystle Campbell Scholarship Fund, visit umb.edu/runforkrystle.