UMass Boston Unveils Renovated Student Affairs Spa
UMass Boston Unveils Renovated Student Affairs Spaces with Ribbon Cutting Ceremony
---
04/14/2023
| Crystal Valencia
UMass Boston's Division of Student Affairs and campus partners held a ribbon cutting ceremony last week, unveiling renovated spaces at the Campus Center dedicated to student success, inclusivity, and belonging.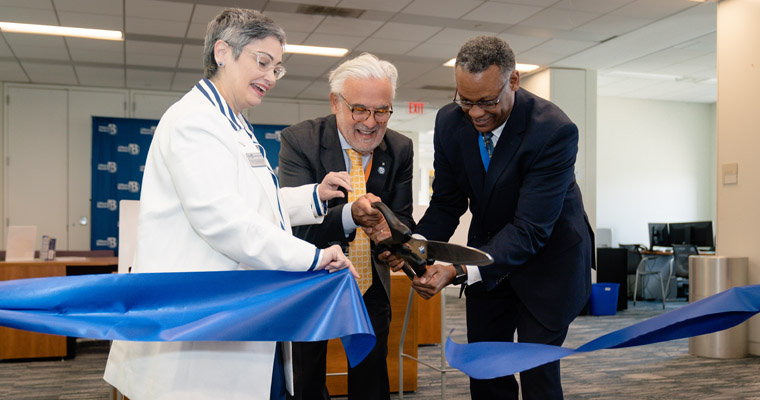 Vice Chancellor for Student Affairs Karen Ferrer-Muñiz, Chancellor Marcelo Suárez-Orozco, and Assistant Vice Chancellor Steven Neville cut the ribbon.
Image By: Javier Rivas
" As our campus continues to be transformed in the months and years ahead, 'belonging' will be a central theme. "
The Student Affairs campus life and student services spaces, located on the second and third floors of the Campus Center, include Student Activities, Student Leadership and Community Engagement, U-ACCESS, New Student & Family Programs, Off-Campus Living and Student Multicultural Affairs.
"It's beautiful because of what it embodies, what it represents," Chancellor Marcelo Suárez-Orozco said, noting his excitement to be participating in his first ribbon cutting since becoming chancellor three years ago.
"This is an early embodiment of a much, much larger endeavor. You're seeing here the unfolding of UMass Boston 2.0—a new beginning, a new chapter in our journey to give the City of Boston the anchor public research university it needs."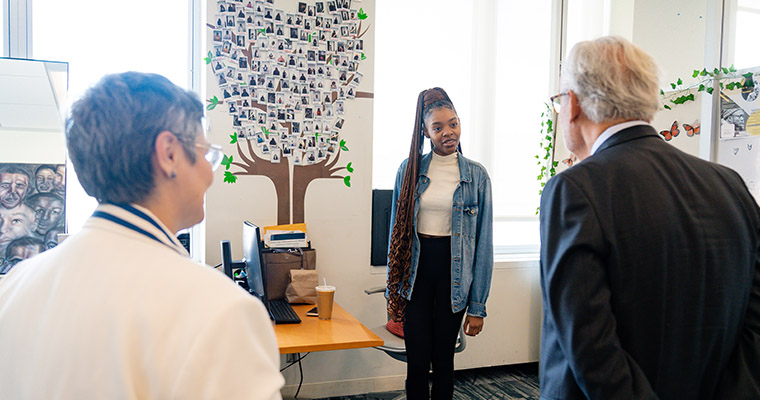 This project refreshed much of the furniture and carpet in the spaces for the first time since the building opened in 2004.
Vice Chancellor for Student Affairs Karen Ferrer-Muñiz says the goal is to encourage collaboration, community, greater visibility of resources, enhance flexibility of the space, and better meet current student needs for office, social, and meeting space—all of which promote student belonging.
"It was important for UMass Boston to simply make this space more appealing, a space where everyone feels like they belong," Ferrer-Muñiz said. "As our campus continues to be transformed in the months and years ahead, 'belonging' will be a central theme. Building community and bringing people together is an important part of our mission. And this refresh marks another step in this direction."
The project began in 2017 with student leaders visiting student centers across Massachusetts, continuing with focus groups and charrettes led by an outside design firm as well as Student Affairs. Planning was delayed for several years due to the COVID-19 pandemic and its impacts; however, it was ultimately guided to completion by the Campus Planning and Sustainability, a committed stakeholder group of staff from across the university, and students for a spring 2023 opening.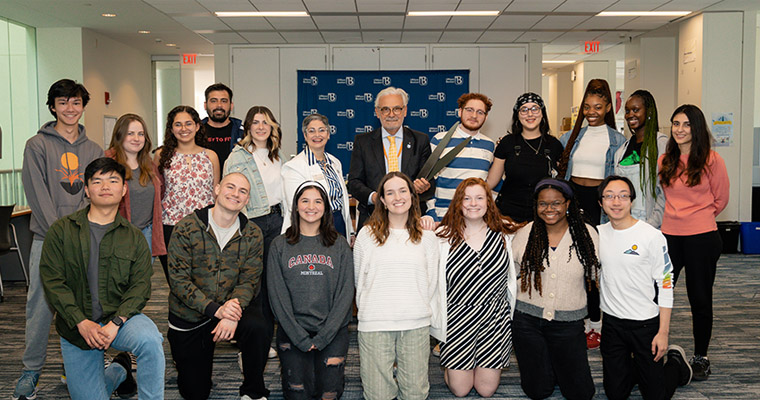 Ferrer-Muñiz thanked students for their collaboration from the start, and for their additional help and patience over the last eight months as the space evolved.
"Much of this is your space. And you started some of the cleanup, some of the pushing and tugging, some of the communications pieces, some of the ups and downs— 'what do we do', 'do we like it', 'do we not like it'. It's part of the process of trying to make a space here for everyone, a common space. And it's not easy, and you put up with the packing, the cleaning, the conversations," she said.
The project was funded by university capital dollars, a private donor, and Undergraduate Student Government funds. At the conclusion of the ceremony, guests were invited to tour the newly renovated spaces and to hear directly from the users of the spaces.
"It begins with all of you," Chancellor Suárez-Orozco said. "It begins with our students, our student leadership here, it begins with all our endeavors to make sure that we have the facilities, the architectures that are needed for us to be able to do the best work we can do."