U.S. Senator Elizabeth Warren and Business Leader
U.S. Senator Elizabeth Warren and Business Leader Rob Hale to Speak at 2023 UMass Boston Commencement
---
03/29/2023
| Crystal Valencia
The Honorable U.S. Senator Elizabeth Warren, the first woman elected to the Senate from Massachusetts, and business leader, entrepreneur, and philanthropist Rob Hale will deliver keynote addresses at the university's 55th commencement ceremony on Thursday, May 25, 2023.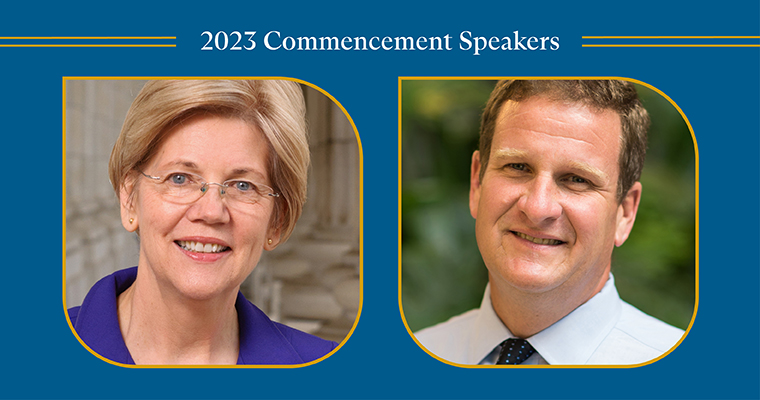 The Class of 2023 graduation will be held on UMass Boston's harborside campus for the first time since May 2019.
Senator Warren, currently in her second term, is a distinguished public servant who shares UMass Boston's focus on economic justice, having served as Chief Adviser to the National Bankruptcy Review Commission; member of the Federal Judicial Education Committee; member of the FDIC-established Commission on Economic Inclusion; law professor for over 30 years; a tireless consumer advocate; and, of course, a champion for the Commonwealth of Massachusetts.
"Senator Warren has an admirable record of championing and delivering results for the people of Massachusetts. Her economic policies and vision have improved the lives of working families across the country," said Chancellor Marcelo Suárez-Orozco. "And we are truly honored that UMass Boston will be Senator Warren's only Massachusetts commencement address this year."
"I can't wait to celebrate the graduates and their families at UMass Boston -- an outstanding public research university that reflects the talent and diversity of our Commonwealth and our nation," said Senator Warren. "After years of hard work and perseverance, I look forward to recognizing their accomplishments and sharing a few words of advice for the Class of 2023."
Mr. Hale is well-known in the Boston community as the co-founder and president of Quincy-based Granite Telecommunications, a $1.9 billion company that provides telecommunications products and services to two-thirds of Fortune 100 companies. Mr. Hale has distinguished himself as an extraordinary philanthropist, with Granite being ranked for years in the top three of Boston Business Journal's most philanthropic companies in Massachusetts. He has been listed in the Chronicle of Philanthropy as one of the 15 most generous philanthropists in America, and he has held or holds leadership roles at Boston Children's Hospital, the Massachusetts Soldiers Legacy Fund, Dana-Farber Cancer Institute, Deerfield Academy, Connecticut College, and Brigham & Women's Hospital.
"Granite has also been lauded for its deep commitment to diversity," Suárez-Orozco said. "As a major employer, Mr. Hale understands the importance of a building a diverse workforce pipeline, one of the signature priorities of UMass Boston's strategic plan."
"UMass Boston graduates contribute enormously to the economic vitality and cultural vibrancy of our city and Commonwealth," said Rob Hale. "More than 200 Beacons work with me at Granite Communications, so I can vouch for the skilled workforce UMass Boston produces. I look forward to addressing the newest class of alumni on May 25."
Degrees will be conferred to approximately 3,800 undergraduates, graduate, and doctoral students in the Class of 2023. For more information on commencement, visit www.umb.edu/commencement.