Veterans Honored at the Inaugural Veterans Excelle
Veterans Honored at the Inaugural Veterans Excellence Gala
---
04/18/2023
| Danielle Bilotta
The William Joiner Institute recently hosted the inaugural Veterans Excellence Gala to celebrate the achievements of our nation's veterans and honor awardees of the monthly Veterans Excellence Award, which brings attention to outstanding post-service achievements showcasing veterans who continue to serve their broader community.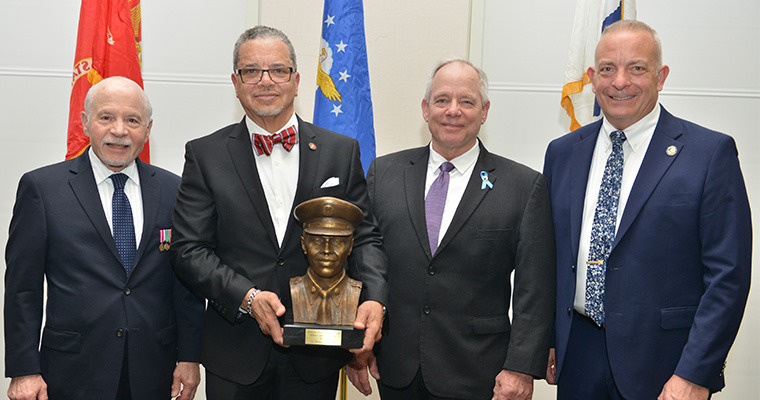 From left to right: Arthur Mabbett ('69), Dr. Roger Harris, Brendan O'Connor, Thomas Miller
Thomas Miller, CEO of the William Joiner Institute, said the event was inspired by his father, a Korean War veteran who served in the Air Force and worked post-service in southern Oregon as an educator and coach. After his father's passing and inspired by his father's work as a pillar in his community, Miller wanted to find a way to honor the veterans who continue to serve their communities and country and help strengthen the fabric of our society.
"All too often when we gather, it's to remember or memorialize the loss of one of our veterans. While we'll always pay tribute to those military members and their families impacted by their loss, tonight is intentionally different," Miller said. "I can think of no better way to honor William Joiner's legacy than by paying tribute to the veterans who are doing and accomplishing exactly what he set out to do at UMass Boston as our first director of Veterans Affairs."
The gala's keynote speaker, UMass Boston alum and U.S. Army Veteran Arthur Mabbett, spoke about how his time at UMass Boston directly impacted his military career and his life. As an undergraduate biology student, Mabbett was on the path to fulfill his childhood dream of becoming a dentist when his professor Herbert Lipke suggested he pursue environmental sciences instead. Taking his advice, Mabbett applied to Rutgers University, where he was accepted as one of the first full scholarship recipients to study environmental sciences, provided by the Environmental Protections Agency (EPA).
About a year into his master's program, Mabbet was called into the draft in 1970, but he was able to utilize his new studies to become one of the first Environmental Sciences Officers for the U.S. Army. Following six years in active duty, Mabbett joined the reserves for 13 years while he pursued an environmental career outside of the military, eventually starting his own business and supporting his growing family. He told students in the audience to run with any opportunity they're given, take pride in their efforts, to overcome every challenge they face with persistence, and to listen to the advice of others.
"Ensure that an effective team is created because one does not succeed and achieve success alone," Mabbett said. "Success, as I say, is a team effort."
There were 12 Veterans Excellence Award recipients honored at the Gala. The recipient of the 2023 Director's Veteran Excellence Award, Dr. Roger Harris, spoke to the crowd about his experience serving with a combat unit in the U.S. Marine Corp. Acknowledging the growing civil rights movement at the time of his return from service, Harris, a Roxbury native, also spoke candidly about the racism he faced when he returned to Boston. The racial tension that swept the area and his experiences in Vietnam eventually led Harris to a 41-year-long career in education, starting as a teacher in the Boston Public Schools during the first year of desegregation in 1974.
Upon reflection, Harris said he believed that his ability to connect with students of all different backgrounds showed him that he was meant to continue his service as an educator. He's since worked as a mentor, principal, professor at Boston University, was featured in the Ken Burns PBS documentary "The Vietnam War," and has received international recognition for his work. In honor of those he lost in Vietnam, Harris's hope is that he can inspire future generations to solve problems through conversation, not war, and advocates for a closer global connection. "As long as I can breathe, as long as I can get up in the morning, I'm going to do as much as I can, for as many as I can, for as long as I can," he said.
The gala featured performances from the U.S. Coast Guard Band and the Coast Guard Academy's Fairwinds Ensemble. Addressing the crowd, Provost Joseph Berger said the university is honored to support the William Joiner Institute and proud to work closely with an organization that supports veteran students as a service-oriented university.
"In these times, having honor, dedicating yourselves to service, and providing leadership to others, is exactly what we all need," Berger said. "I'm humbled to be here with such an incredible group of individual and collective leaders who have done so in the military and have continued throughout their lives to have a remarkable impact in their communities."