When Will This War End? Moakley Chair and Panelist
When Will This War End? Moakley Chair and Panelists Weigh In on the Russia-Ukraine Conflict
---
The Moakley Chair Webinar series kicked off last December with a pair of programs devoted to the Russian invasion of Ukraine. The Moakley Chair webinars are a newly-created channel for conversations, organized by Moakley Chair Padraig O'Malley and hosted by the John W. McCormack School of Policy and Global Studies. A widely acclaimed author, convener, and facilitator, O'Malley has served as the John Joseph Moakley Distinguished Professor of Peace and Reconciliation at the McCormack School since its inception in 2006. The endowed chair, supported by an array of donors, honors the late John Joseph Moakley, who represented South Boston in Congress from 1973 until his death in 2001. O'Malley was a close confidant of Moakley's and views the Moakley Chair Webinars as a vehicle for greater understanding of peace and conflict challenges, international politics, and foreign affairs.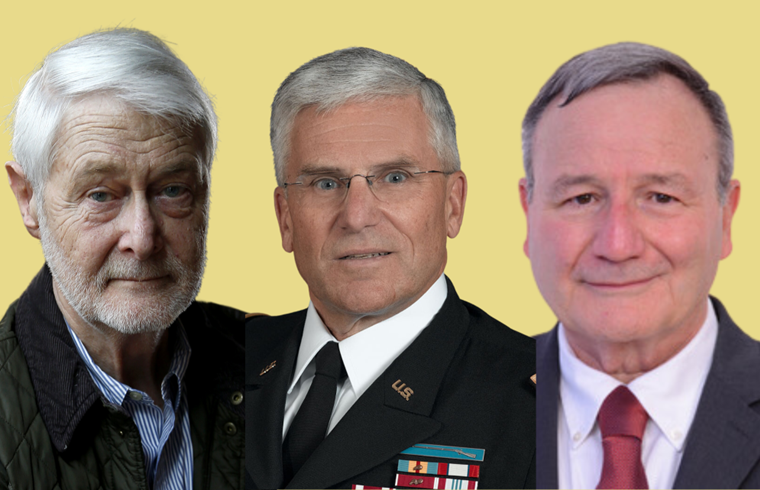 "For over 50 years, I've worked in conflict areas across the world," O'Malley said in a recent interview. "I have a lot of contacts who've played various roles in these conflicts. We're drawing on my experience to share that in some way with not just the McCormack community but a wider community as well."
O'Malley has convened two panels within the past four months related to the war in Ukraine. The first examined the conflict through a psychoanalytic and psychological lens, while the second viewed the war within a political and military framework. The McCormack School is hosting the Moakley Chair series as part of its Brown Bag Talks, one program of the McCormack Institutes of Public and International Service (MIIPS). McCormack's own Dr. Christopher Graham serves as the MIIPS Program Manager. Though the series will go on to cover a wide array of topics in which O'Malley has deep expertise—including the Northern Ireland peace process, conflict in Syria, and peace and reconciliation in south Africa—the first two webinars were devoted to the Russian invasion of Ukraine.
The first, held on December 5, 2022, presented a psychoanalytic take on Russian President Vladimir Putin's stake in his war. Titled "Inside Putin's Head: The Threat of Nuclear Strike in Ukraine," O'Malley was joined by NYU professor emeritus, historian, and psychoanalyst Dr. Charles B. Strozier and Chicago-based psychiatrist and psychoanalyst Dr. David M. Terman. Dr. Strozier and Dr. Terman were, as O'Malley put it, "uniquely qualified to provide a psychoanalytic insight into Putin's personality."
Following introductory remarks from McCormack's interim Dean Rita Kiki Edozie, O'Malley painted a picture of the war up to that point, even as it continues to evolve rapidly. Indeed, only minutes before the webinar began, attendees learned that Ukrainian drones had attacked Russian territory over 100 miles into the border.
O'Malley opened his remarks by tracing some of the key conflicts between Russia and Ukraine and cited Putin's use of what O'Malley calls "the Aleppo strategy"—that is, "essentially, bomb Ukraine back to the Stone Age with missile attacks and drone attacks on Ukraine's infrastructure." O'Malley and Dean Edozie then posed several questions to guide the discussion, all centering on Putin's psychology. Among the most provocative: whether the war in Ukraine might damage Putin's existential existence and ego in such a way that would drive him to the use of tactical nuclear weapons. Charles Strozier put it this way: "Our focus is on an attempt to understand Putin's psychology, particularly in relationship to nuclear weapons and work that we've been doing for many years on the fundamentalist mindset." Complementing his work as a psychoanalyst with a historical perspective, Strozier posited that Russia's repeated failures in its war with Ukraine might humiliate Putin personally, encouraging him to hammer down with nuclear weapons.
David Terman offered a psychoanalytical perspective into Putin's behavior and beliefs that led both Strozier and him to understand Putin's behavior as that of the "paranoid gestalt"—that is, that Putin believes "We [Russians] as a group are perfect, we are in danger from the evil other who is trying to destroy us through humiliation, and we as a group are trying to establish a perfect world." However, the "evil other" stands in the way, and "the only way to achieve the utopia is the destruction and extermination of the evil other."
Both Dr. Strozier and Dr. Terman stressed the need for a psychological perspective into the mind of Putin, which can be augmented with political and historical perspectives. Terman went on to explain: "An awareness of the psychological vulnerabilities of Putin could help offset the possibility that he would actually use nuclear weapons. His aggression needs to be stopped, but Russia can't be humiliated or backed into a corner in the process." On the contrary, Putin must be engaged with in as much discussion and negotiation as possible to avoid harming his ego to the point that he would, as O'Malley described the use of nuclear weapons, do the "once unthinkable." "While we should remain firm and support Ukraine in its war with Russia," Terman argued, "we could in personal exchange convey not raging threat but some level of understanding of this position."
The second webinar, held on March 2, 2023, offered a political and military perspective on the war that was titled "How Will This War End?" Featured were two highly-decorated military leaders: General George Casey Jr., the 36th Chief of Staff of the United States Army and a retired four-star general, and Ambassador Karl Eikenberry, U.S. Ambassador to Afghanistan from 2009 to 2011 and lieutenant general of the U.S. Army, who is now a faculty member at Schwarzman College of Tsinghua University in Beijing, China. Addressing the fundamental question of "How Will This War End," the discussion focused on what it might take to get both sides to the negotiating table.
General Casey began the discussion by recounting how he and Ambassador Eikenberry have gained insights into the Russian perspective through a series of three behind-the-scenes meetings with four retired Russian generals since the start of the war. This continued dialogue has given Casey and Eikenberry an insider perspective of what Russia actually wants from the war: a neutral, non-NATO, non-nuclear Ukraine. In answering the central question of how the war will end, Casey posited four potential outcomes. First, Russia prevails and instills a Russian-friendly government in Kyiv. Second, a ceasefire leads to diplomatic efforts to resolve the boundaries between the two countries. Third, conflict freezes. Fourth, Ukraine prevails and reasserts its control over the territories it lost in the Maidan Revolution of 2014. Each of these, as Casey explained, is feasible though not entirely likely, and any outcome, he suspects, will require years of continued conflict.
Ambassador Eikenberry agreed, commenting, "Something has got to change from what we see as the status quo right now." He offered three additional possible outcomes: One possibility would be the collapse of either Russia or Ukraine. The second would involve "a shock that occurs which changes the complexion of the battlefield and changes everything strategically." Third, and what he believes is most likely, is the emergence of a stalemate "in which both sides conclude that they've gone as far as they can."
The major challenge in any of these outcomes, both General Casey and Ambassador Eikenberry agree, is time. What takes so long is the negotiations. "We're happy to talk as soon as you lift the sanctions. We're happy to talk as soon as you move your forces back. All those things have to take place before you even get to the table," Eikenberry commented.
Moakley Chair O'Malley drew upon his vast experience of facilitation and conflict resolution between divided societies. He used the 1998 Good Friday Agreement, which ended violent conflict in Northern Ireland, as an illustration of one possible model of ending the war between Russia and Ukraine. (On April 10, the Good Friday Agreement will mark its 25th anniversary.) O'Malley wondered if, like the Good Friday Agreement, Russia and Ukraine could reach a peace agreement that allows both sides to claim victory. "Maybe in the end," he suggested, "we need an agreement where there can be the saving of face—one where Putin can say to his people, 'We won. We secured Russia,' and Ukraine can say, 'We are secure. We won. We stopped them.'"
While the future of the war is uncertain and ongoing, structured opportunities such as the Moakley Chair Webinars can help to advance McCormack's academic mission as a school committed to "provid[ing] our faculty and students with an opportunity to engage community partners in the process of co-creating knowledge in a variety of forms," as Dean Edozie remarked in her introduction to the March webinar. According to Edozie, MIIPS offers a "worldwide community of connections and partnerships with public and private institutions that create meaningful, intellectual, and experiential exchanges. [The centers and institutes] connect what we teach and learn in our academic programs to real-world practices in our communities."
Indeed, the Moakley Chair Webinars serve as a model of public education that can—and did—reach far and wide. "Doing it online," O'Malley said, "we can reach anybody anywhere, so [we can have] the world in a small room." Both webinars were well-attended by a global audience, with audience members Zooming in from the United Kingdom to Nigeria to Brazil, thus confirming both McCormack's and O'Malley's global reach.
O'Malley's sentiments are shared by Dr. Christopher Graham, Program Manager for the MIIPS Series and Student Success Manager at the McCormack Graduate School. For Graham, this new webinar series strikes a timely note. "I strive to ensure that we showcase these pertinent issues of global significance. The content covered in these talks engage real-world global affairs issues in real time. They also showcase the value of utilizing various methods and perspectives in analyzing global challenges towards finding lasting solutions." Graham adds that, "It has also truly been an honor to work with Professor O'Malley to establish this forum for public engagement, where students, scholars, and general audiences can exchange ideas and thoughts on these issues in world politics and global policy."
Both O'Malley and Graham say they plan to facilitate one more conversation on the war in Ukraine before turning attention to other looming conflicts across the globe. Attempting to draw on the Russian perspective that General George Casey and Ambassador Karl Eikenberry tapped into through their conversations with four retired Russian generals, O'Malley hopes to offer a third webinar featuring insider perspectives from both Ukraine and Russia. "I'd be juxtaposing the Russian views from a Russian and the Ukrainian view from Ukrainians," O'Malley said.
Moving forward, O'Malley considers it important to stay in touch with what audiences want to hear and to facilitate discussions on potential conflicts before such conflict occurs. "I'm looking for topics that attract audiences," O'Malley said. "China and Taiwan—that's a conflict waiting to happen. I think getting a discussion of it out there beforehand is important."