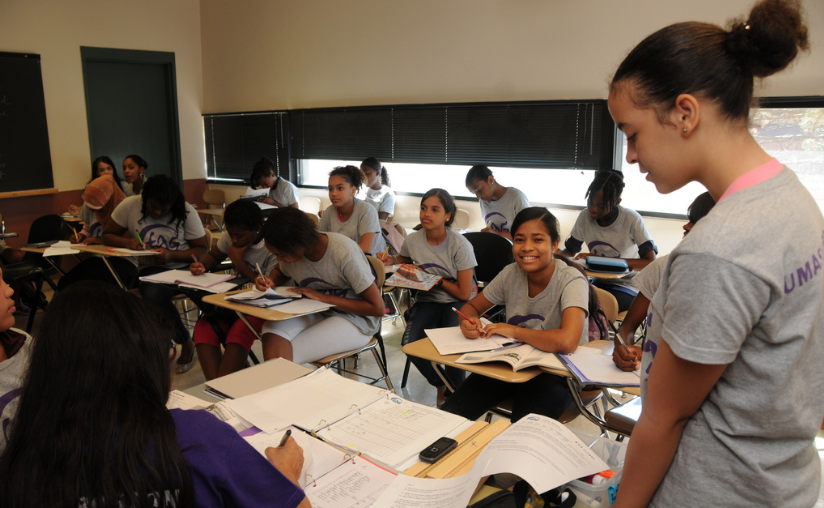 About Us
Every student is talented and gifted
TAG | ALERTA works with the spectrum of Latinx and Multilingual youth, from those who are high-achieving and college-bound, to those who may be struggling and need a little bit of extra help, for it is our philosophy that every student is talented and gifted and it is our responsibility and that of other adults and educators to help students discover, develop and manifest their talents and gifts.
TAG | ALERTA aims to cultivate young citizens and civic leaders who can respond to their local and global communities' needs in the areas of art, math and science, education, social development, and social justice. We accomplish our mission through various components which provide comprehensive academic, personal, and social support to Latinx youth and English Learners (EL).
In each component TAG | ALERTA integrates leadership development and community building, thereby creating the next generation of Latinx leaders that will uplift the Boston community. We achieve these by implementing stimulating, thematic, and guided programs that are inspired by our young leaders, developed by dedicated teachers, supported by engaged parents, influenced by the Massachusetts Curriculum Frameworks, and tailored to the needs of the communities we aim to serve.
The vision of TAG | ALERTA is that all Latino and English Language Learner students in Boston Public Schools will have the opportunity to gain entrance into and success in one of the Boston Public Schools' exam schools, or high achieving middle/high schools with a college preparatory curriculum.
Although the TAG | ALERTA is open to all students in BPS, its services are geared towards Latino and ELL students, with strong partnerships within a variety of Boston Public Schools. Students who participate in TAG and successfully complete high school have an excellent opportunity to attend UMass Boston, thereby opening the doors to an excellent four-year college education. TAG and ALERTA's long list of alumni, many of whom have since obtained postgraduate degrees and are now working professionals often choose to return to the program as Club guest speakers, mentors, TAG tutors, teaching assistants, and teachers in the summer program.
Reaching out to families and increasing their involvement in their child's education is a key component of our strategy. Bilingual family events at schools and UMass Boston, meetings with parents, and frequent family phone contact are a regular part of our programs.
---
The Talented and Gifted (TAG) Latino Program | Project ALERTA
100 Morrissey Blvd.
Boston, MA 02125-3393
617.287.7638
Giving to UMass Boston
Your gift to TAG helps Boston's Latino students and English Language Learners succeed academically, socially, and personally.