How to Apply

Thesis Track
Non-Thesis Track

Applicants must meet general graduate admission requirements in addition to the following program-specific requirements:

Letters of Recommendation: 2
Other: Faculty advisor commitment, 3.0 undergraduate GPA
Application Deadlines

Thesis Track
Non-Thesis Track

Deadlines: January 15 for fall, October 15 for spring
Curriculum

Skills Course (3 or 4 Credits)

---

Complete one from below.

Another course may be taken with approval of the master's thesis/project committee.

School for the Environment Seminar (2 Credits)

---
Graduation Criteria

Program Requirements

---

Complete 30 credits from at least nine courses including two core courses, one skills course, one ethics course, one School for the Environment seminar, one capstone course, and nine to ten credits of electives.

Capstone: Complete a project as part of ENVSCI 698.

Minimum grade: No courses with a grade below B may be applied toward the program. Students who earn a B- in two courses will be considered no longer in good standing and may be dismissed from the program. Students who receive a grade below C in any graduate course will be dismissed from the program.
Grading basis: Courses must be taken graded unless the course is only offered on a satisfactory/unsatisfactory basis.
GPA: A minimum GPA of 3.0 is required from all courses applied toward the program.
Residency: Graduate course credits earned at another institution, as a non-degree student, or in another department may only be applied to the program with approval from the thesis/project advisor and graduate program director.
Course level: No more than one course taken at UMass Boston at the 300/400-level may be applied toward the program with approval of the thesis/project advisor and graduate program director.
Statute of limitations: Seven years.
Tuition & Financial Aid
FAQs

1. Should I contact faculty members directly?

Yes, reach out and talk to faculty whose research interests you. To be accepted in the program you need a faculty advisor.

2. Is there a separate application I need to fill out to be considered for a teaching assistantship?

No, your general application is all that is required.

3. I'm applying for a master's degree, can I still get a teaching assistantship?

Possibly, preference is given to doctoral students.

4. Can I start my graduate degree in the spring semester?

Yes, however, most students start in the fall semester.

5. Can I get an application fee waiver?

In special situations this is possible, please contact the graduate program director directly and discuss your situation.

Should you need further assistance please refer to the link below or contact Graduate Program Director Michael Tlusty at michael.tlusty@umb.edu
Career Possibilities
Conduct research, collect and analyze environmental data, and assess the impact of human activities on ecosystems as an environmental scientist. Evaluate environmental policies and provide recommendations for developing and improving environmental policies as a policy analyst. Or, study the impacts of climate change and contribute to efforts aimed at addressing them as a climate change analyst.These are just a few of the possibilities.
Become a(n):
Environmental Scientist
Environmental Consultant
Conservation Specialist
Environmental Policy Analyst
Climate Change Specialist
Environmental Educator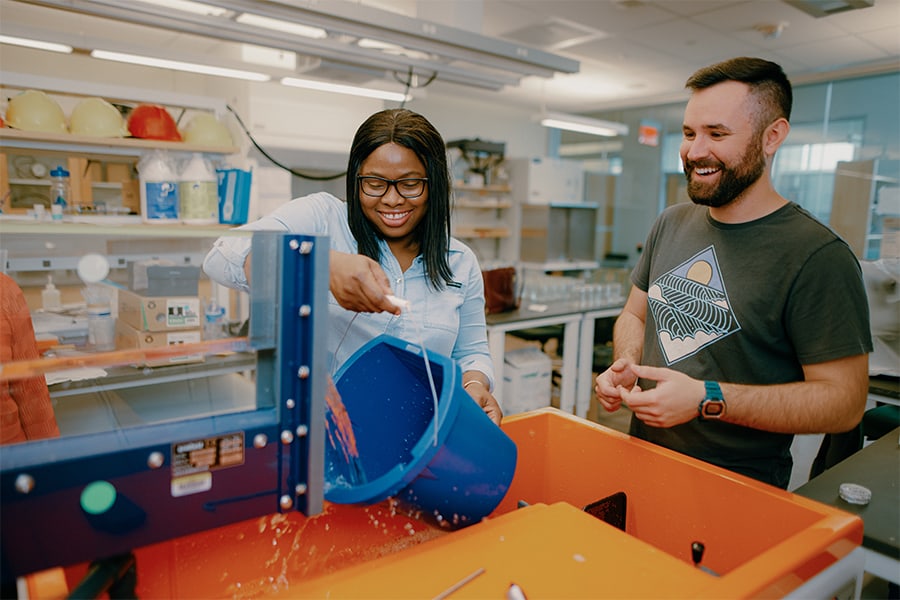 School for the Environment
Interested in learning more about the faculty, research, and range of programs that make the School for the Environment so popular?
Explore Now