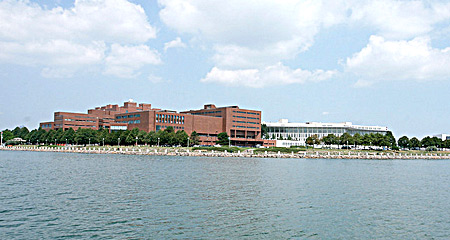 Host Institutions
UMass Boston | Dartmouth College | Harvard | UMass Amherst | Yale
UMass Boston (Boston, MA)

University of Massachusetts Boston is the only public university in the city of Boston. It is a research and teaching institution committed to urban and global engagement. In 2009 UMass Boston established its Institute for New England Native American Studies. The Institute strives to develop collaborative relationships, projects, and programs between Native American tribes of the New England region and all of the UMass campuses so that tribes may participate in and benefit from university research and innovation. The university now offers a minor in Native American Indigenous Studies (NAIS). The academic field includes course offerings in indigenous literary traditions, human rights, globalization, history, social movements, and political activism. Students enrolled in the NAIS minor learn about local, national, and international issues concerning indigenous peoples.
Co-Chair, Executive Host Committee Member: J. Cedric Woods (Lumbee), Director, Institute for New England Native American Studies
Dartmouth College was founded in 1769 with a mission to educate Indian students. In 1970, the college recommitted itself to that mission and in 1972 established the Native American Studies Program, an academic program open to all Dartmouth students. The program strives to develop interdisciplinary teaching and research and increase understanding of the historical experiences, cultural traditions and innovations, and political status of Indian peoples in the United States and Canada. In addition to this intellectual project, Dartmouth has a nationally recognized Native American Program, that provides student support services to Native students. This program collaborates with faculty, staff, and tribal communities to help assist Native students become life-long learns and responsible leaders in global society.
Executive Host Committee Member: N. Bruce Duthu (United Houma Nation of Louisiana), Samson Occom Professor of Native American Studies and Chair of the NASProgram

Harvard University Native American Program (HUNAP) brings together Native American, Alaska Native, and Native Hawaiian students, and interested individuals from the Harvard community for the purpose of advancing the wellbeing of Indigenous peoples through self-determination, academic achievement, and community service. The program was established in 1970 as the American Indian Program (AIS) and was dedicated to recruiting and graduating American Indian leaders in the field of education. Today, HUNAP is an Interfaculty Initiative under the Office of the President and Provost. HUNAP works collaboratively with all schools across Harvard to support teaching and research, community development, and tribal outreach. In line with the 1650 Charter, by which Harvard University continues to be governed, the program continues to support the recruitment, retention and graduation of American Indian students at all levels and in all programs on campus.
HUNAP has long standing collaborations with the Harvard Project on American Indian Economic Development, the Peabody Museum of Archeology and Ethnology, the Committee for the Secondary Concentration in Ethnic Studies, the Harvard Medical School and Indian Health Service collaboration, as well as Harvard Law School's American Indian Law reading group and the Harvard Foundation for Intercultural Relations. HUNAP offers two courses, Nation Building I and Nation Building II, through the Kennedy School of Government and the Harvard Graduate School of Education. In addition, HUNAP supports over a dozen student groups whose representatives make up the Harvard University Native American Student Council.
Executive Host Committee Member: Shelly C. Lowe (Navajo), Harvard University, Executive Director, Harvard University Native American Program
University of Massachusetts Amherst was established in 1863 as a land-grant agricultural college. Since that time the University has grown into a major research institution and is now the flagship campus within the state's five-campus university system. UMass Amherst offers interdisciplinary undergraduate and graduate certificate programs in Native American Indian Studies. Students enrolled in the certificate programs gain a structured understanding of historical and contemporary issues affecting the Western Hemisphere's First Nations, as well as a greater appreciation for the indigenous peoples of eastern North America. In addition to its academic offerings, the university's Native American Student Support Services provides an academically and culturally enriched environment for the Native American students through mentoring, personal counseling, and interactions with indigenous communities and organizations. Other Native American programs within the university include the Josephine White Eagle Cultural Center, the American Indian Science and Engineering Society (AISES), the Native American Students Association (NASA), and the Native American Special Interest Residential Program: Kanonhsehsne.
Executive Host Committee Member: D. Rae Gould, PhD (Nipmuc), Repatriation Coordinator and Lecturer, Anthropology Department
Executive Host Committee Member: Alice Nash, PhD, Associate Professor, History Department

Yale University is a major research institution comprised of three academic components: Yale College, the Graduate School of Arts & Sciences, and the professional schools. Since 1910, when Henry Roe Cloud (Ho-Chunk) received his Master's degree from Yale College, the university has educated American Indian people. In the 1990s, an expanding group of Native undergraduates formed the Association of Native Americans at Yale and worked with administrators to establish the Native American Cultural Center (NACC). The NACC strives to maintain a permanent and prominent Native American presence at Yale that incorporates and supports the success of future Native leaders through recruitment, encouragement, mentoring, service, and the fostering of a community that makes Yale the most sought after Ivy Institution for Native American achievement, research and solidarity.
In addition to a growing institutional commitment to Native American students, departments and programs within the university have hired several faculty members who specialize in Native American and Indigenous Studies. Currently, there are three Native American faculty members on campus working in American Studies, History, and Nursing. The university also has extensive collections bearing on Native American and Indigenous people in numerous libraries, galleries, and museums on campus. A preview of these collections can be found at American Indian Studies Resources at Yale.
Co-Chair, Executive Host Committee Member: Alyssa Mt. Pleasant, PhD (Tuscarora), Assistant Professor of American Studies and History
Executive Host Committee Member: Theodore C. Van Alst, Jr., PhD (Sihasapa Lakota/Eastern Cherokee), Assistant Dean of Yale College, Director, Yale Native American Cultural Center