Faculty Discuss Research Projects, Personal Philosophies During Annual Distinguished Faculty Event
---
03/10/2020
| Colleen Locke
Professors Were Honored at 2019 Commencement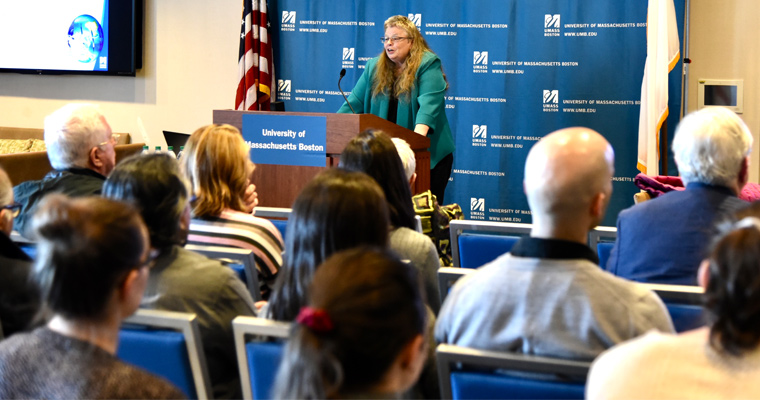 Professor of Remote Sensing Crystal Schaaf talks about her student and the work in her lab.
Image By: Harry Brett
Interim Provost and Vice Chancellor for Academic Affairs Emily McDermott calls them superstars: professors Crystal Schaaf, Karen Suyemoto, and Randy Albelda. All three gave mini lectures on Thursday during the ninth annual Reflections from Distinguished Faculty event.
It's become a tradition that the three faculty members honored at the previous commencement speak at an event on campus during the next school year. During last year's undergraduate ceremony, Professor of Remote Sensing Crystal Schaaf received the Chancellor's Award for Distinguished Scholarship, Professor of Psychology Karen Suyemoto received the Chancellor's Award for Distinguished Teaching, and Professor Randy Albelda received the Chancellor's Award for Distinguished Service.
"One faculty member has powered the university through her research, one has powered the university through her thoughtful and reflective teaching, and one has powered the university by actually helping it run," McDermott said about Schaaf, Suyemoto, and Albelda, respectively.
As a research pioneer in remote sensing, Schaaf has made important contributions to a number of scientific fields that address climate change. The School for the Environment professor develops albedo products for NASA and the U.S. Geological Survey, which are used to monitor vegetation, snow extent, and natural and human disturbances.
"Albedo is a measure of the Earth's reflectivity. It's how much of the sun's radiation comes down and gets bounced right back up to space. It's a function of what's on the land. Sand reflects a lot …, forests gather in the radiation and get warmer and toastier," Schaaf said.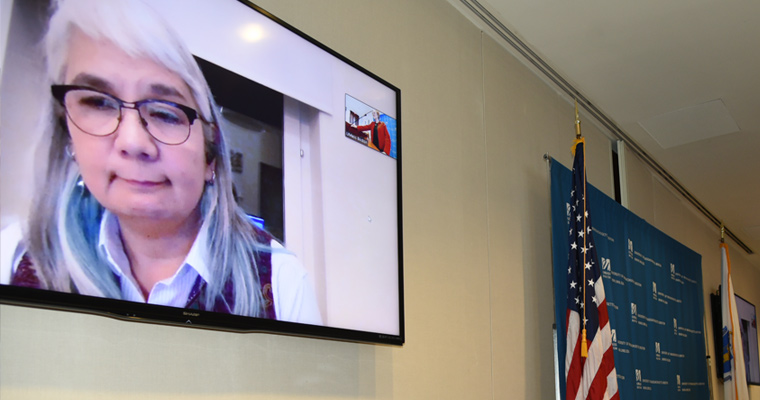 Suyemoto holds a joint appointment in psychology and Asian American studies. She is also faculty for the Critical Ethnic and Community Studies master's program.
Suyemoto is currently in Sweden on a Fulbright award, so she spoke to the crowd from there. She began her remarks with different definitions of the purpose of education.
"I think it's imperative that we understand that education isn't objective and unbiased and it's not uncultured and it's not without a context and it inherently relates to the society which takes place, and how we teach does that as well," Suyemoto said. "As educators we contribute to the influence of the social values and the social norms that are in our particular context in one way or another. There isn't a neutral option. So as educators we make choices to reflect and reify or to resist and challenge the biases and injustice without society and education."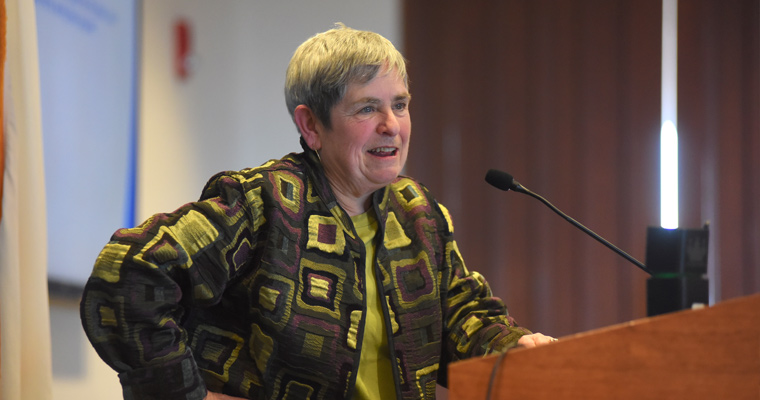 Albelda spoke about social reproduction, which, in a university setting she says is the reproduction of ideas and knowledge and getting that knowledge out and heard and discussed and the production of graduates. She said she has found work serving on hiring committees to be incredibly important.
"I want to make sure we can produce ourselves as faculty," Albelda said. "And so personnel work I see as our collective project of reproducing the kinds of people, faculty, and staff that effectively produce what we produce and teach students well and do research that matters and challenges."
The Chancellor's Office and the Friends of the Library sponsored the event.
About UMass Boston
The University of Massachusetts Boston is deeply rooted in the city's history, yet poised to address the challenges of the future. Recognized for innovative research, metropolitan Boston's public university offers its diverse student population both an intimate learning environment and the rich experience of a great American city. UMass Boston's 10 colleges and graduate schools serve 16,000 students while engaging local and global constituents through academic programs, research centers, and public service. To learn more, visit www.umb.edu.