Nursing Professor Haeok Lee to Use Storytelling to Promote Cervical Cancer Testing in Malawi
---
09/15/2020
| Crystal Valencia
Malawi has one of the highest rates of cervical cancer in the world, with an estimated 2,979 women dying from the disease every year. Cervical cancer accounts for 45.4 percent of all cancers in Malawian women. The statistics are startling, and yet to most villagers, they're nothing more than numbers.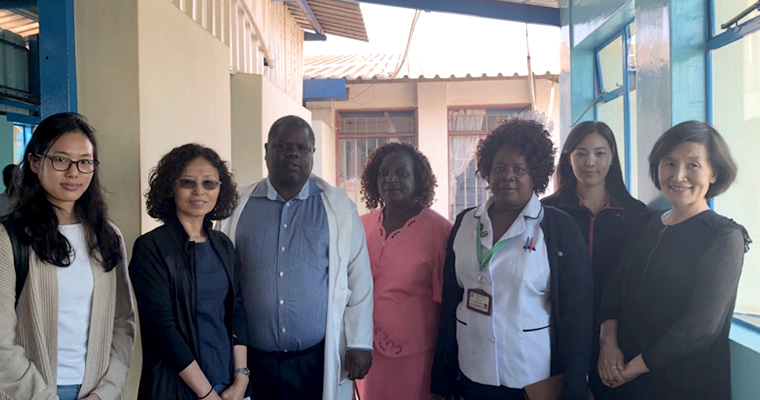 Haeok Lee (far right) poses for a photograph with nurses and researchers at Kamuzu Central Hospital in Malawi. Jasintha Mtengezo (fourth from left) has a nursing PhD from UMass Boston.
" They are real stories and women are able to identify with them and say, 'Oh, this is my story. This is our story.' "
UMass Boston Professor of Nursing Haeok Lee wants to use Malawi's rich history of storytelling to do what statistics can't— increase cervical cancer screenings among Malawian women living with HIV infection.
"Storytelling is powerful in changing their behavior," Lee said. "Their history and education are based on oral tradition. Behavior is passed down through stories."
Lee has received a $383,191 R21 Award from the National Institutes of Health's National Institute of Nursing Research to develop culturally grounded and human-centered storytelling narrative intervention videos aimed at addressing the sociocultural and individual factors that can influence cervical cancer prevention behaviors.
Lee, the principal investigator, and a global team of researchers from Deayang University in Malawi, Case Western Reserve University, Cornell University, Arizona State University and the College of Nursing Health Sciences at UMass Boston, will examine the videos' effectiveness on changing cervical cancer screening behaviors.
Lee says stories and storytelling are considered persuasive tools for ideas, inspiration, or behavioral changes in Malawians.
"We select authentic, powerful storytellers … Malawian women from the village, some of them are living with HIV infection, social workers," Lee said. "They are real stories and women are able to identify with them and say, 'Oh, this is my story. This is our story.'"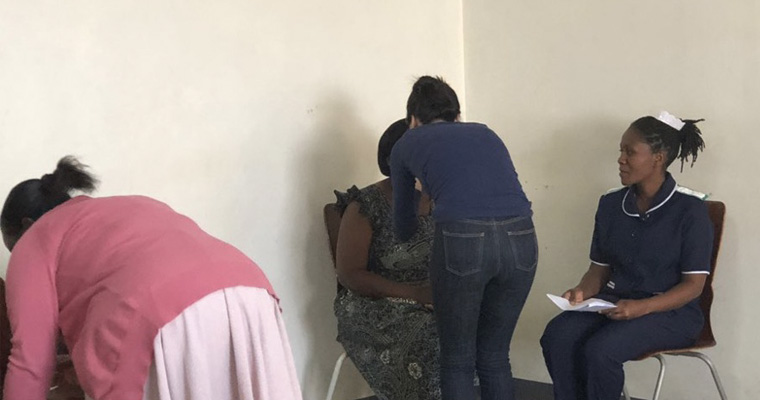 Researchers prepare for a video shoot with storytellers.
Lee described how one interviewee had misunderstood the cervical cancer risk factors. Her husband had passed away many years ago, and given her age, she thought she was immune to cervical cancer. To her shock, during a regular clinic visit, she discovered she had stage 1 cancer. She luckily had a hysterectomy and survived.
"There are many women just like her. They know her and relate to her. It helps them to change their behavior, to go get screenings," she said.
The storytelling-based intervention videos will be filmed in person in community organizations in Malawi and then delivered by mHealth (tablets).
The penetration of mobile devices and smartphones has been increasing throughout low resource countries and has resulted in a focus on the role that phones can play in enhancing health care and health education. In a pilot study, Lee and her team found that more than two-thirds of the participants owned phones.
Due to unstable electricity and internet services in Malawi, they will load story-telling videos onto tablets so villagers are able to play them offline. Free tablets will be provided to each HIV support group participating in the study as well.
"They enjoy using the phones and tablets," Lee said. "It connects them to the world."
Lee's focus on the screening and control of cervical cancer in Malawi began when she first traveled there in 2012 to train Daeyang Luke College of Nursing faculty on community-based participatory nursing research. She recruited Jasintha Mtengezo, the dean of Daeyang, to become a student in UMass Boston's PhD nursing program.
Lee received a Fulbright Specialist award from 2017 to 2020, collaborating with nursing faculty at Deayang to educate women and train nurses on how to use the Visual Inspection with Acetic Acid test in screening cervical cancer and cryotherapy treatment, which WHO recommends for developing countries. They also began to develop health education interventions to increase screening.
Lee said she quickly saw this as a social justice issue.
While cervical cancer is highly preventable in most Western countries because of vaccines and screening tests, these methods are too expensive for use in resource-limited developing countries. Screening in Sub-Saharan Africa has very low coverage ranging from 1 to 20 percent.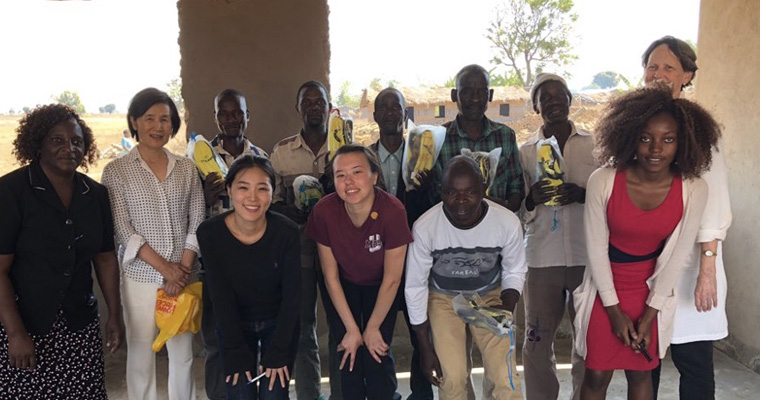 Researchers provided health screening services at a rural village community center and delivered shoes donated from a Korean American Catholic church in New Jersey.
Lee says there is an urgent need for inexpensive prevention methods for early detection of cervical cancer in poor countries.
"Cervical cancer is the No. 1 killer of women in Malawi and often affects people in their 20s and 30s. Many people in Sub-Saharan African countries, including Malawi, do not live to reach the age of 60," Lee said. "That's younger than I am now. I believe that addressing issues of health disparities in Malawi is my professional and moral obligation."
Mtengezo and Sue Makin, who served as Lee's sponsors for her Fulbright work, will continue to work with her as co-investigators. From the College of Nursing and Health Sciences, Associate Professors of Nursing Ling Shi, Ling-Ling Zhang, and Eileen Stuart-Shor will serve as co-investigators. Associate Professors Sun Kim and Courtenay Sprague will serve as a safety monitoring committee.
While the COVID-19 pandemic prevented Lee from traveling to Malawi this spring, she hopes to get there soon. She continues to look for additional funding for the screening, treatment, and education of Malawian women.
"I'm just waiting. As soon as the U.S. government clears us, the next day I want to fly to Malawi," Lee said. "I just miss it. In Malawi I see the meaning of my life. I am able to save lives."