Q&A: New Director of the Trotter Institute Brings Fresh Approach to Black Studies
---
The University of Massachusetts Boston recently selected Quito Swan to be the new director of the William Monroe Trotter Institute for the Study of Black Culture. Swan, who joined UMass Boston this past September as a tenured full professor of Africana Studies, succeeded Barbara Lewis five months later, after she retired.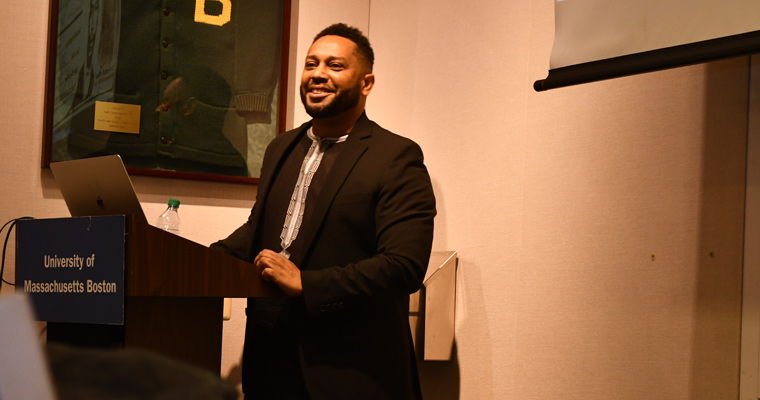 Quito Swan spoke to students, faculty, and staff at a meet and greet in February.
Image By: Colleen Locke
" I want people to see the Trotter as a space that brings them together. "
Here he shares why he left the tech industry to study the African diaspora, how he hopes to combine the two spheres in the Trotter, and the way he imagines the institute can engage with the community.
You started with a BA in computer science. What made you want to switch to African diaspora history?
I love technology, but always had a passion for history. So I went to Howard University, which has an illustrious career and tradition of producing cutting-edge research on the African diaspora. I thought there was no place better that I could study the black world.
What was your research focus?
I started by looking at the African diaspora in Latin America and the Caribbean. My first dissertation was on social and cultural movements in Bermuda. Later, I learned of a Bermudian environmental justice activist and pan-Africanist who traveled the world. I was fortunate to get fellowships to study his life and activism in Oceania, and that brought me into looking at the black Pacific. I'll try to bring some of that background into the Trotter: looking at not just black Boston, but also at links to the diaspora beyond Boston, beyond the Atlantic, and also the Pacific.
What else are you excited to do as director of the Trotter Institute?
I'm trying to make a space where we can build our archival communities in the current time. A black Bostonian project that involves all history: helping organizations archive their papers, digitizing materials, establishing collections to the Healey. Building a digital footprint, but also finding ways to engage with the community so they see UMass Boston as a physical space where conversation can happen.
What would be the kind of message that you would want to send to students who have never heard of this space before?
That they're part of a broader community. That they can find support, and that there's another on-campus institution that can bring Africana alive beyond just content. I'm still trying to think of ways to make the Trotter more visible because to be honest, most of my students didn't know of the institute. But, you know, we can change that. I want people to see the Trotter as a space that brings them together.
About UMass Boston
The University of Massachusetts Boston is deeply rooted in the city's history, yet poised to address the challenges of the future. Recognized for innovative research, metropolitan Boston's public university offers its diverse student population both an intimate learning environment and the rich experience of a great American city. UMass Boston's 10 colleges and graduate schools serve 16,000 students while engaging local and global constituents through academic programs, research centers, and public service. To learn more, visit www.umb.edu.