Sustainable Solutions Lab, Labor Resource Center Announce Faculty Funding Opportunities
---
01/06/2020
| Colleen Locke
SSL Offering Two $7,500 Grants; LRC Offering Up to $3,000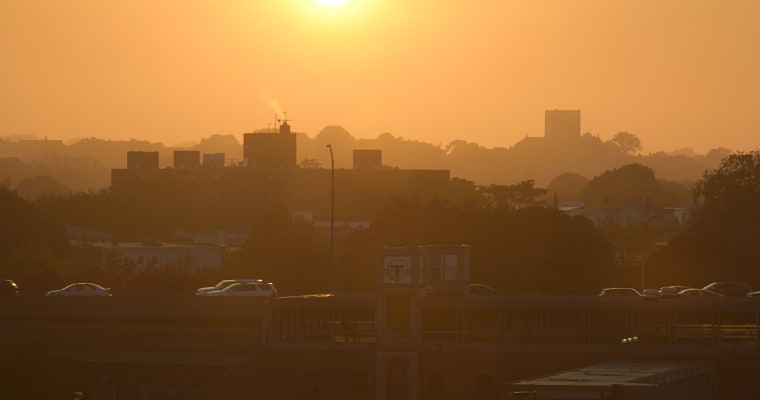 Image By: Lisa Link
Two of UMass Boston's centers are offering opportunities for research funding for faculty members who are focused on climate change or labor-related themes.
The Sustainable Solutions Lab (SSL) has launched a new Seed Grant Program for research projects focused on issues of climate change and social equity. By investing in new projects and then finding ways to support this fledgling research with additional resources and connections, SSL is hoping to foster a community of scholars who are interested in the interconnections between historic and systemic inequities and climate impacts.
"This is an opportunity to take a risk and explore interdisciplinary questions in a new way," said Sustainable Solutions Lab Director Rebecca Herst. "With the near constant deluge of climate disasters, issues of climate justice are increasingly making headlines. At the same time, many gaps remain about how to ensure that our efforts to prepare for and adapt to climate change don't amplify current inequities. We hope this program will incentivize increased scholarship around this important issue."
These grants are available to both tenure and non-tenure track faculty who are connected to one of the SSL colleges, schools, or institutes: the College of Liberal Arts, the College of Management, the College of Nursing and Health Sciences, the McCormack Graduate School of Policy and Global Studies, the School for the Environment, the Institute for Asian American Studies, the Institute for New England Native American Studies, the Mauricio Gaston Institute for Latino Community Development and Public Policy, and the William Monroe Trotter Institute for the Study of Black History and Culture.
Faculty teams of at least two PIs from different schools or colleges are invited to submit proposals. In the inaugural year, there will be two grants of $7,500 each. Proposals should include a budget, a project narrative with a clear connection to climate justice, and a CV of each faculty member who is applying. Visit the Internal Funding Programs page for the project narrative requirements and the list of allowable budget items. Proposals are due March 30 and should be sent to ssl@umb.edu.
The UMass Boston Labor Resource Center is offering a limited number of seed grants of up to $3,000 to support faculty research on a broad range of labor-related themes within and outside the United States, including, but not limited to, work and the working class, inequality, poverty, social movements, organizing, and immigration. All UMass Boston faculty are eligible. Along with a short CV, applicants should submit a one-page proposal describing the research project, how the funds will be used, and the potential the research will lead to new proposals for external grants. Proposals are due February 4 and should be sent to laborresourcecenter@umb.edu.
About UMass Boston
The University of Massachusetts Boston is deeply rooted in the city's history, yet poised to address the challenges of the future. Recognized for innovative research, metropolitan Boston's public university offers its diverse student population both an intimate learning environment and the rich experience of a great American city. UMass Boston's 10 colleges and graduate schools serve 16,000 students while engaging local and global constituents through academic programs, research centers, and public service. To learn more, visit www.umb.edu.