Zuckerberg Leadership Prize Awarded to UMass Boston Researcher
---
05/26/2020
| UMass President's Office
System-wide Honor Highlights Outstanding Leadership in Research, Teaching, and Service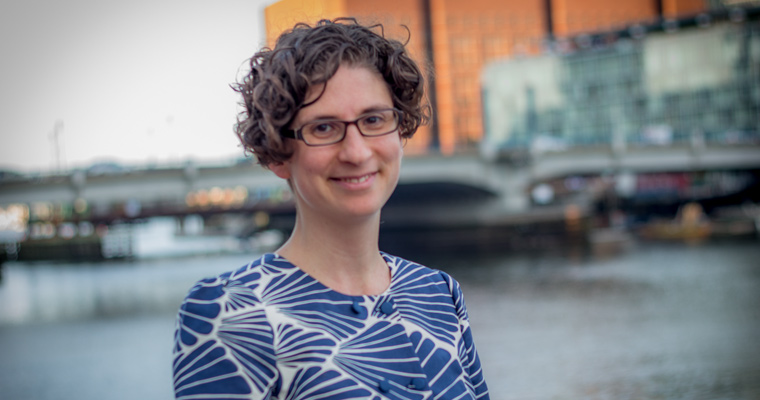 Rebecca Herst has been at UMass Boston for nearly five years and director of the Sustainable Solutions Lab for the last three.
Rebecca Herst, director of the Sustainable Solutions Lab (SSL) at the University of Massachusetts Boston, has been awarded the 2020 Zuckerberg Endowed Leadership Prize for her work in climate adaptation, preparing marginalized communities for the effects of climate change, and developing sustainable and equitable solutions that prioritize their needs.
Established in 2005 by UMass Lowell alumnus and former senior director of Goldman Sachs, Roy J. Zuckerberg, the Zuckerberg Prize recognizes faculty and staff across the UMass system for leadership in helping the university accomplish its goals.
The two-year, $100,000 award provides $30,000 toward research and service activities and a $20,000 stipend for a total of $50,000 each year.
"Roy Zuckerberg's engaged philanthropy is making a difference in people's lives," said UMass President Marty Meehan. "Helping people drives Roy and continues to be his primary focus, and we are deeply grateful for his tremendous financial support that benefits our students, faculty and campus communities each and every year."
"I commend Rebecca for her outstanding contributions to the university and society," said President Meehan. "Through her important work at the Sustainable Solutions Lab, she is putting the needs of the region's underserved communities front and center."
"Rebecca Herst is a jewel in the UMass Boston crown," said Interim Chancellor Katherine Newman. "Her dedication is widely known and tremendously appreciated. I am delighted she has been honored by this prize. It is richly deserved."
Herst has been at UMass Boston for nearly five years and director of the Sustainable Solutions Lab for the last three. Under her leadership, the SSL has become a trusted resource in the Greater Boston region around questions of climate adaptation and resilience. The Zuckerberg prize will support the SSL in solidifying a national reputation in the climate justice field. This award will allow the SSL to host an invitational climate justice convening that will bring together researchers and frontline activists from around the country.
"I'm incredibly honored to receive this prize," Herst said. "COVID-19 has laid bare the deep racial inequities in our society. In a horrifyingly short period of time we have seen how disproportionately this crisis is impacting low-wealth communities and communities of color. Climate change is no different. Now, more than ever, we need strategic coordination between researchers and people on the frontlines of the climate crisis. Thanks to the Roy J. Zuckerberg Leadership Prize we will be able to bring together leading thinkers to chart a path forward."
Before joining UMass Boston, Herst worked on climate resilience at Boston Harbor Now, Harvard University's Office for Sustainability, and the Urban Land Institute. She holds a BA from Carleton College and an MBA from Boston University's Questrom School of Business.
The Sustainable Solutions Lab (SSL) is an interdisciplinary partnership among five schools and four institutes within UMass Boston: the College of Liberal Arts, the College of Management, the College of Nursing and Health Sciences, the McCormack Graduate School of Policy and Global Studies, the School for the Environment, the Institute for Asian American Studies, the Institute for New England Native American Studies, the Mauricio Gaston Institute for Latino Community Development and Public Policy, and the William Monroe Trotter Institute for the Study of Black Culture. The SSL's mission is to understand the disproportionate impacts of climate change on marginalized populations and work with them to develop sustainable and equitable solutions.
The Roy J. Zuckerberg Endowment Leadership Prize is presented bi-annually to a UMass faculty or staff member who "leads by serving, by giving, and by pointing the way."
The work of the SSL, led by Herst, was also featured prominently in one of a series of digital advertisements produced by the UMass President's Office in fall 2019.