Team of UMass Boston Faculty Raises $12,000 for U-ACCESS in Charity Ride
---
10/06/2021
| Gray Milkowski
Last Sunday, a team of 10 faculty, staff, and friends of UMass Boston took to their bikes to support the campus's U-ACCESS food pantry in the 2021 Ride for Food, hosted by Three Squares New England. Members of the group, who each rode either 25 or 50 miles to support the cause, raised over $12,000 that will be donated directly to U-ACCESS.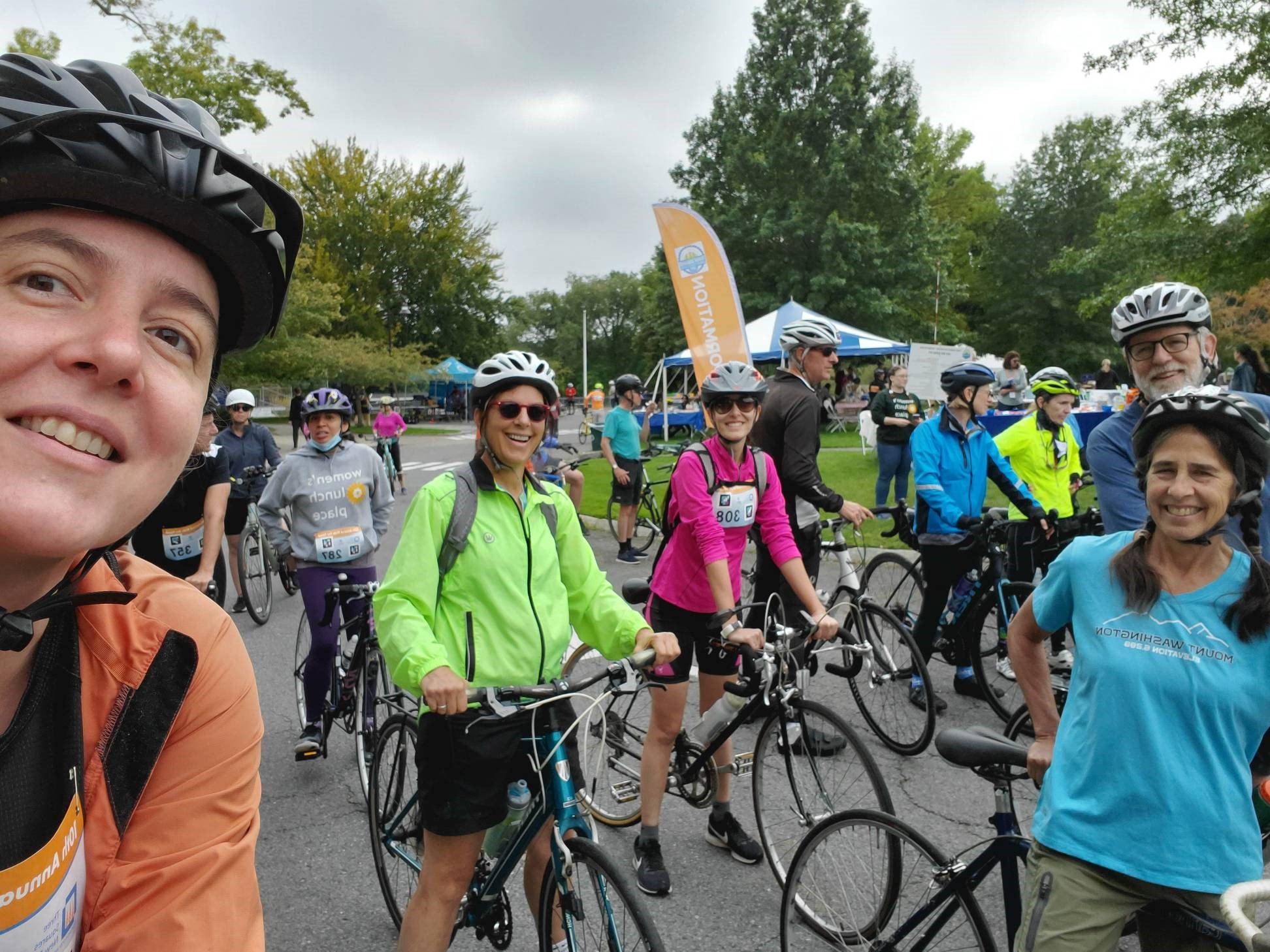 The UMB Ride for Food Team before the event on Sunday.
Image By: The 2021 UMB Ride for Food team.
It was the second time that the group participated in the event, and the first time that they came together in-person to do so. The event was remote last year due to COVID-19.
Rick Kesseli, a professor of biology and captain of the U-ACCESS team, said that he had participated in the race on behalf of other organizations for several years, but after learning how many UMass Boston students were struggling to eat – several of whom were in his classes – decided to start a team in support of the food pantry.
"It's really hard for me to demand that my students study really hard if they have to worry about where they're getting their next meal from," said Kesseli, speaking about how food access impacts academics. "It's just an awful feeling."
Founded in 2013, U-ACCESS serves as a support program for UMass Boston students by offering emergency grocery items, pantry items, fresh produce, toiletries, and some school supplies. A 2018 report found that 2 in 5 students who attended UMB were food insecure.
Ellen Douglas, an associate dean at the School for the Environment who is also on the team, shared Kesseli's concern as what motivated her to join and help raise money to stock the shelves at U-ACCESS.
"I knew that our students had a lot of challenges, but I had no idea that putting food on the table was one of them," she said. "So this whole idea of the Ride for Food to raise money specifically for the program, which has lots of different resources for the students in addition to the food pantry – I'm all for that."
"You can't learn if you're hungry," she said. "We should do everything we can to make sure our students have food."
The ride brought together people from across the university, with more than 70 people donating what they could to the team and every dollar going to the food pantry. One university alum, who wished to remain anonymous, saw the fundraiser and the impact of U-ACCESS and contributed $5,000.
"The staff and volunteers at U-ACCESS are thrilled at this news. In these uncertain and difficult times, this donation will help the center take very important steps in fulfilling its mission," said Arlene Wilhite, the program coordinator at U-ACCESS. "Dr. Kesseli and his team are very beloved members of the U-ACCESS family, and we cannot begin to adequately thank them for their unflagging support for some of UMass Boston's most vulnerable students. This is a dimension of the UMass Boston community that can be very difficult to put into words, but we, nevertheless feel, in times like these."
To learn more about how to support U-ACCESS, visit their webpage.