Connecting the Social and the Physical: UMass Boston Research Maps Boston's Climate Adaptation Relationships
---
12/07/2021
| Gray Milkowski
When it comes to combating the effects of climate change in Boston, historically much of the emphasis has been on protecting physical infrastructure threatened by climate hazards like rising tides and extreme weather.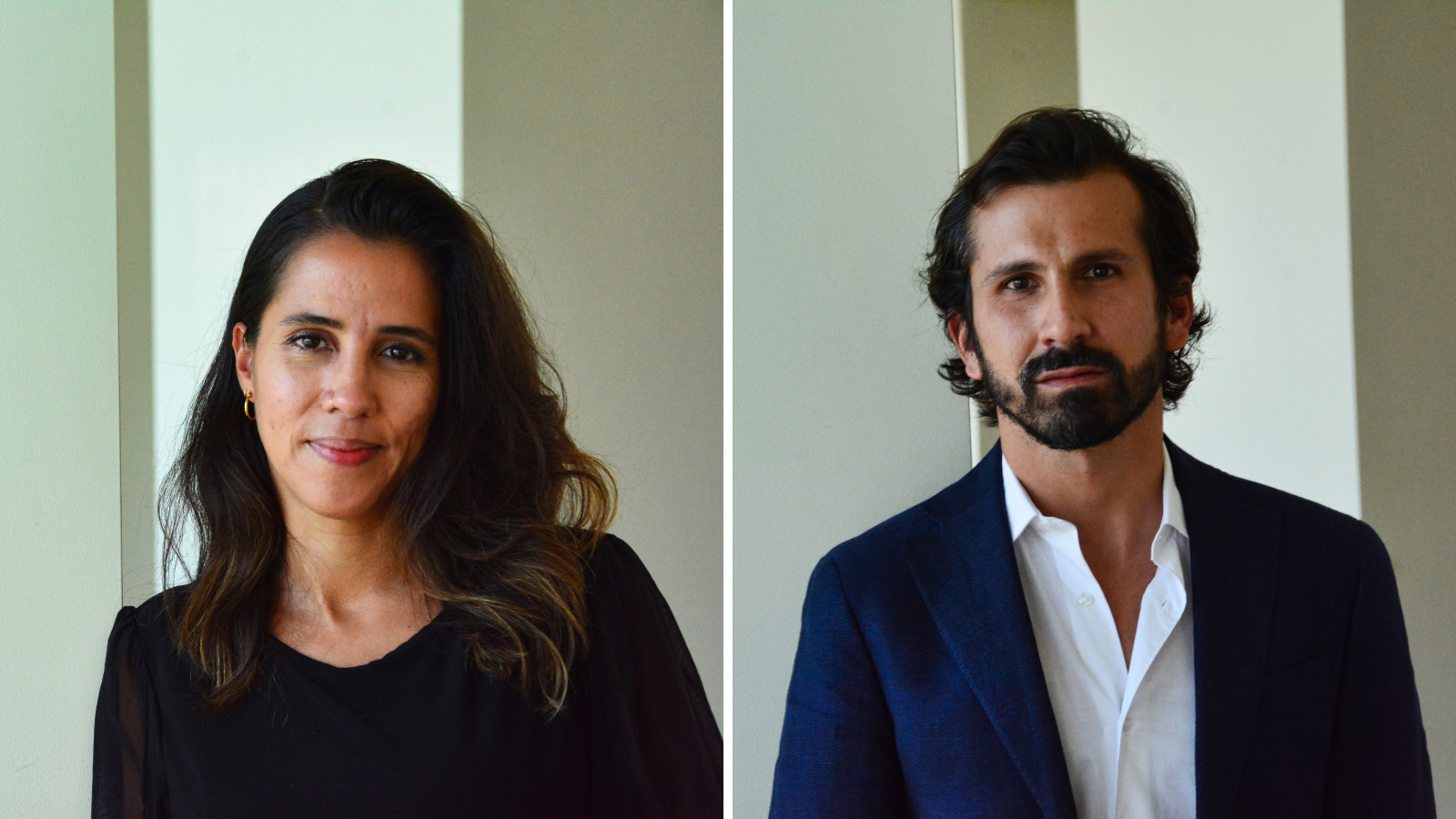 Dr. Rosalyn Negrón and Dr. Antonio Raciti
Image By: Gray Milkowski
" How can we work towards an adaptation agenda that looks at how overlooked communities are prepared for climate change. "
But over the past decade another piece of the climate adaptation agenda has emerged: the human impact. Increasing calls for climate justice are focused on lack of green space around the city, the health impacts of extreme heat, and displacement – all of which disproportionately affect Black and brown communities – have become a central piece of the region's adaptation efforts.
Given the two critical priorities, one of the challenges that researchers, advocates, and policymakers in the metro-Boston climate adaptation community face is how to align these physical and social resilience efforts, with the mutual goal of climate justice for a region where the impacts of climate change are visible in every neighborhood.
New research from the UMass Boston Sustainable Solutions Lab is taking a big step towards solving that challenge. Dr. Rosalyn Negrón and Dr. Antonio Raciti have taken an in-depth look at the connections between stakeholders at the forefront of climate change, showing how different approaches to climate adaptation are advancing across the region's social network.
To do this, the team mapped the collaborative connections among nearly 150 people in metro-Boston who work in the climate adaptation field. Their goal was to make sense of the social field of climate adaptation practitioners, activists, researchers, and officials, to better identify gaps in connections between different stakeholders, understand power distributions, and describe the demographics of the metro-Boston climate adaptation field.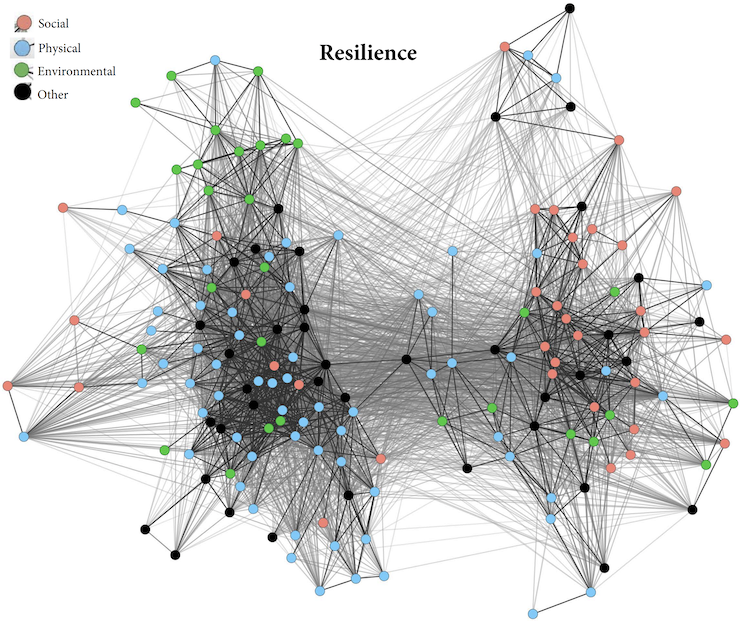 One of the team's maps, showing the relationships between Boston-based climate adaptation stakeholders and the separation between the two climate change advocacy camps. Photo courtesy of Rosalyn Negrón.
"There is a very important conversation that has been happening in Boston about protecting the physical environment … but then there are also a lot of conversations about how we can go beyond that and think about humans and residents, especially in communities of color, disenfranchised communities, and communities that have been overlooked," said Negrón, an associate professor of anthropology.
"This work asks how can we work towards an adaptation agenda that looks at how those communities are prepared for climate change."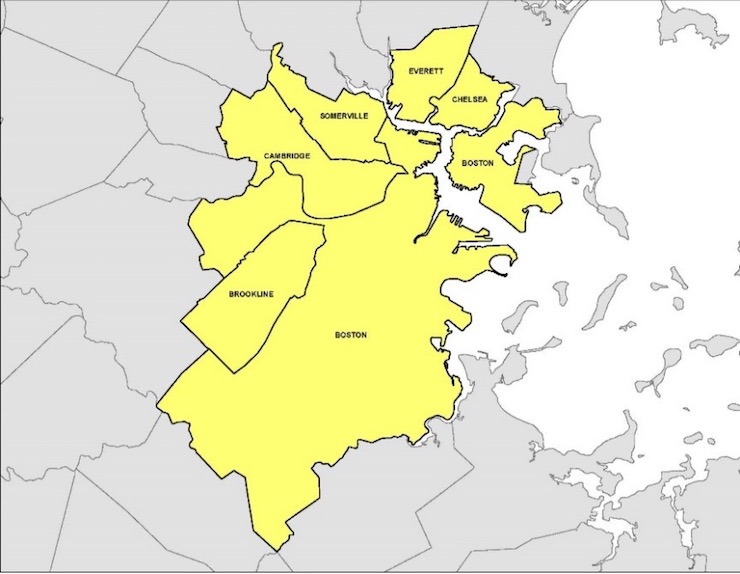 The team surveyed climate adaptation stakeholders within a 5-mile radius of Downtown Boston, highlighted in yellow above. Photo courtesy of Antonio Raciti.
Understanding the relationships is also important because it shows where the power centers are, and by extension, which areas are most likely to see progress in the city.
"There are different networks and coalitions of people who are pushing those different agendas forward," said Raciti, an assistant professor of community planning and ecological design in the Department of Urban Planning and Community Development in the School for the Environment. "From a planning perspective, we asked what kind of research is needed to bolster those advancing social justice."
The maps show the overlapping relationships across different types of climate resilience work and the visible groupings of stakeholders in the field. One example offers a visual of two clusters in the climate adaptation field: physical adaptation, and social adaptation. Others show various intersections in the field, such as race and organization type.
The team's hope is that the stakeholder mapping will help move forward conversations about how to build broader collaborations across climate adaptation agendas.
"You can be very intentional in the type of adaptation agenda that you want to foster, having seen the big picture. I think that one of the main values of this map is that it's giving the big picture of the field of adaptation," said Negrón.
"It helps us understand how we can play a role in what it might look like, to better integrate the work that's being done by the grassroots organizations around the more social resilience type work, with what the other sectors are doing," she continued.
One of the most unique pieces of the team's mapping research is that it has already, in a way, been tested – in the context of COVID-19. Negrón and Raciti's research took the additional step of showing how relationships between climate adaptation stakeholders were activated during a public health emergency.
"We asked the question of whether the same infrastructure that's meant to prepare Boston for climate crisis is also responding as a part of that social infrastructure around the pandemic," said Raciti, drawing a comparison between the two crises that some have argued could have similar ramifications on public health. "It was a little bit of a real-world experiment of how these collaborations might respond in practice."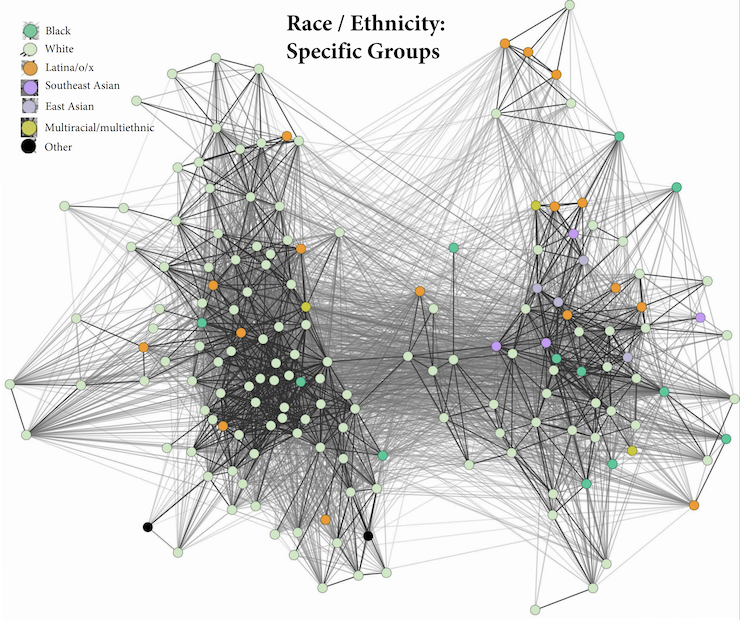 The team also mapped race in Boston's climate adaptation stakeholders. Photo courtesy of Rosalyn Negrón.
Ultimately, the team is hopeful that the maps will serve as a baseline for future work.
"The idea behind this was to catalyze additional conversations," said Negrón.