UMass Boston Opens New EV Charging Stations, Now Available to the Public
---
04/21/2021
| Office of Communications
EV Charging Now Available on Campus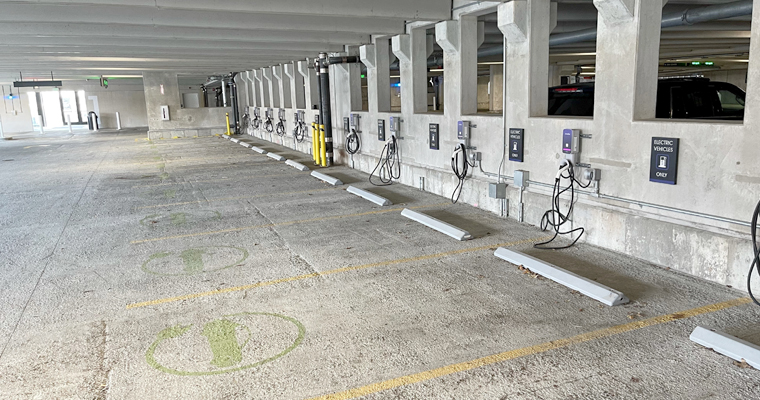 In honor of Earth Week 2021, Transportation Services has unveiled 11 new EnelX EV Charging Stations in the West Garage, giving electric vehicle owners effective and convenient charging options on campus.
The 11 stations, located on the first floor of the garage, are now available for public use.
The announcement comes as part of a partnership with UMass Boston and EnelX to add solar, storage, and EV charging to the campus through the installation of a 1,000kW solar photovoltaic system on the rooftop of West Garage, a 500kW lithium-ion battery system, and the EnelX Juicebox Pro EV charging stations (see more here).
UMass Boston was recently recognized for its leadership and commitment to EV adoption across the UMass Boston campus at the third annual MassEVolves recognition ceremony. The MassEVolves annual recognition event is a celebration of the exemplary contributions Massachusetts employers and colleges/universities have made toward encouraging and supporting employees to adopt EV usage in the commonwealth.
UMB's Transportation Demand Management Coordinator Daniel Scavongelli was on hand to participate in the recognition ceremony virtually this fall.
"I am grateful to our community members for their willingness to adopt sustainable transportation modes that reduce CO2 emissions, and I would like to thank all departments who have worked to make this possible, including Campus Services, Transportation Services, Human Resources, Sustainability and Recycling, Environmental Health and Safety, the Campus Center, Master Planning, Procurement, and Facilities," Scavongelli said.
For more information about the EV Chargers, rates the university will be charging, and how to use them, visit Transportation Services' website