Center for Women in Politics and Public Policy Hosts Women's Policy Conference
---
12/09/2022
| Crystal Valencia
5th Biennial New England Women's Policy Conference Focuses on Building an Intersectional, Inclusive and Equitable Future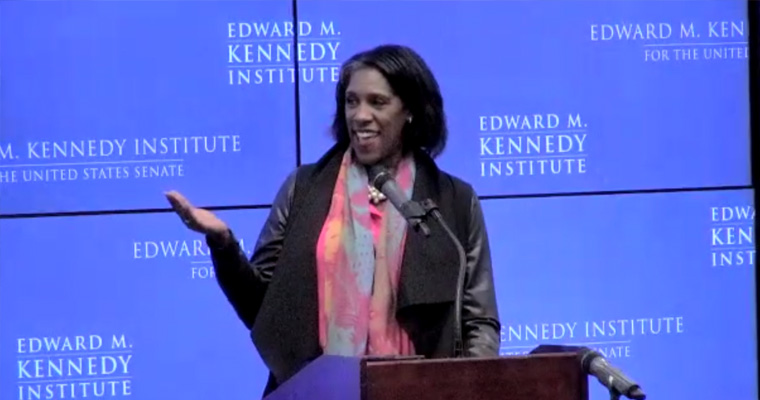 Teresa Younger speaks at the 5th Biennial New England Women's Policy Conference.
" What's important is building an intersectional and inclusive and equitable future. "
Fifty years into the women's rights movement, this is a moment to reassess what we need to do, what that needs to look like, and how we can get there, keynote speaker Teresa Younger told almost two hundred women attending the 5th Biennial New England Women's Policy Conference.
"And we absolutely can get there," said Younger, president and CEO of the Ms. Foundation for Women, looking around the Senate Chamber in the Edward M. Kennedy Institute. "There is nothing more scary right now to those who do not agree with us than the idea that we are sitting in this room together."
"Take a look around this room. Wouldn't this be awesome if the Senate looked like this."
Activists and leaders from across New England convened Friday, December 2, in person and virtually for the New England Women's Policy Conference, to envision and promote new transformative policies to eliminate systemic inequities. UMass Boston's Center for Women in Politics and Public Policy hosted the conference in collaboration with partners from across the region.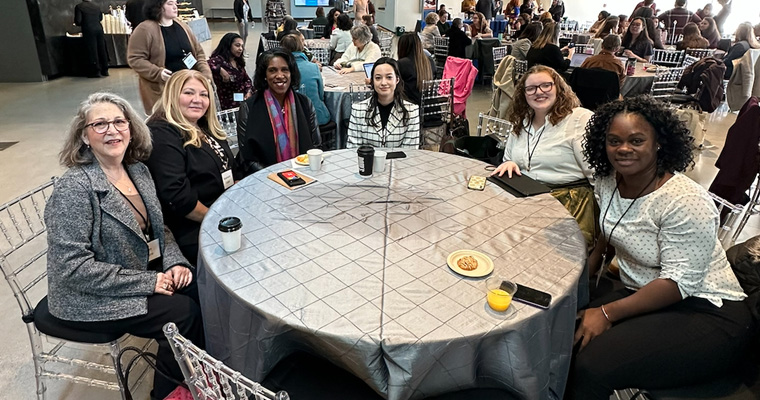 Themed, "Building an Intersectional, Inclusive and Equitable Future," the conference featured dynamic speakers and breakout sessions focused on the long-term effects of the COVID-19 pandemic, reproductive justice, gun violence, economic security, climate justice, and early care and education. A specialized political leadership and advocacy track for young people ages 14-22 provided resources to young women to bolster their leadership development was offered by IGNITE and the Massachusetts Commission on the Status of Women.
"The conference brings hundreds of women together who are changing the world one city, one town, one state at a time," said Dr. Ingrid Tucker, chair of the center's External Advisory Board.
Attendees were encouraged to connect with one another and share their vision and best practices for social justice and policy change.
"What's important is building an intersectional and inclusive and equitable future," Center Director Dr. Laurie Nsiah-Jefferson said. "Without respecting and acting on these concepts we can't build effective policies that address the critical social and political issues challenging our country and our region. We have racism, sexism, ableism, and many other isms, and you know what, we need to do more about it."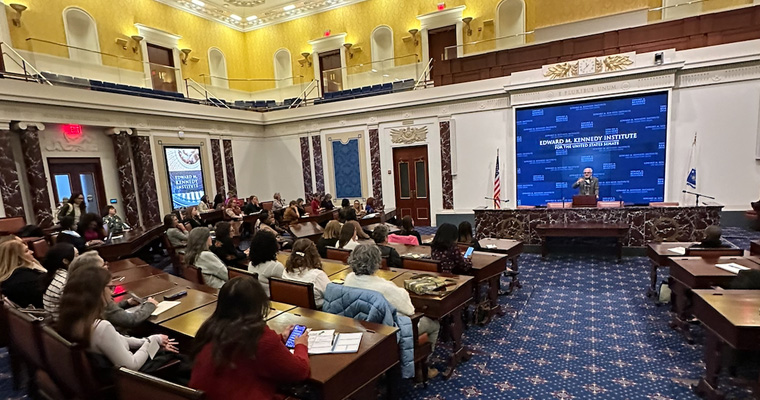 In welcoming remarks, Chancellor Marcelo Suárez-Orozco spoke of how women continue to demonstrate their extraordinary capacities to change the world—and how our world needs changing.
"If we ignore, undermine, or in any way not nourish the extraordinary contributions of women, we miss massively on the urgent need to make progress on the existential threats we now face as a species," he said.
He emphasized the extraordinary progress women have made as leaders in recent decades, and despite countless challenges, achieving recognition for their accomplishments as scholars, advocates, entrepreneurs, policy makers, and so many other leadership roles.
"Things are better for women, but most importantly, things are better because of women," Suárez-Orozco said.
U.S. Attorney for Massachusetts Rachael Rollins spoke of being the first woman elected to district attorney in Suffolk County, the first woman of color district attorney in Massachusetts, and the first Black woman to be a U.S. Attorney in the state.
"This is not to brag but because it's 2022 and we need to be very disappointed that we are still shattering glass ceilings, so that is important to hear," Rollins said.
She also emphasized the importance of self-care, which attendees agreed isn't spoken about enough.
"When you shatter a glass ceiling, it sounds great, but you are the head that bleeds," Rollins said. "Many of you I am sure have shattered glass ceilings yourself. You need to make sure you're talking care of yourself."
The conference celebrated recent election wins. Democratic women rolled to victory on November 8 in Massachusetts, capturing five out of six of the state's constitutional offices, including the governor's office.
"We're excited to see more women, LGBTQ+ individuals, and people of color striving to transform the political landscape across the nation and here in New England," Nsiah-Jefferson said.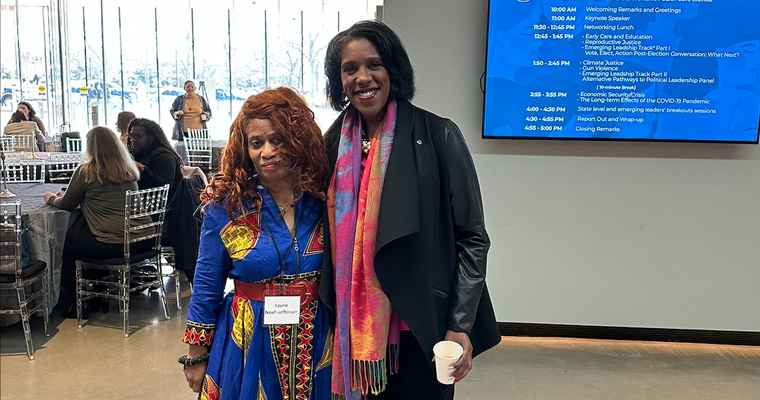 Nsiah-Jefferson reminded attendees that there is still much to be done. Women are still underrepresented, especially in top-level positions. And since the last conference in 2020, there have been substantial challenges and a range of mounting inequities generated by the COVD-19 pandemic, the overturning of Roe v. Wade, a rise in violent crimes, mass shootings, the cost-of-living crises, and severe weather caused by climate change.
"All require an approach to explore these and other issues with an antiracist intersectional lens," she said.
Speakers and session panelists also included Gayle Goldin, special advisor in the U.S. Department of Labor's Women's Bureau; Mariangely Solis Cervera, chief of Equity and Inclusion for the City of Boston; Massachusetts State Senator Cindy Friedman; State Rep. Chynah Tyler, chair of the Massachusetts Black and Latino Caucus; Rhode Island State Rep. Anastasia Williams, chair of House Labor Committee; and Celia Blue, president and CEO of the Massachusetts Women of Color Coalition.
Younger opened her remarks with some timely advice for attendees.
"If you are running for office and you lost the first time, run again. If you have introduced a bill and you are sitting with legislators, or in city council meetings, and nobody is paying attention, say it again, and again, and again, and again. And do it again, and again, and again, and that is the only way we're going to get stuff done."