Cambridge Mayor Addresses McCormack Faculty and St
Cambridge Mayor Addresses McCormack Faculty and Students on Sayed Arif Faisal and Other Issues
---
In April, Cambridge Mayor Sumbul Siddiqui visited the UMass Boston campus for a roundtable conversation hosted by McCormack's interim Dean Rita Kiki Edozie and Dr. Laurie Nsiah-Jefferson, director of the Center for Women in Politics and Public Policy (CWPPP). As mayor of the city whose police shot and killed 20-year old UMass Boston student Sayed Arif Faisal early this year, Siddiqui addressed members of the McCormack School community on where to go from here and what she is doing to respond to Faisal's unjust killing.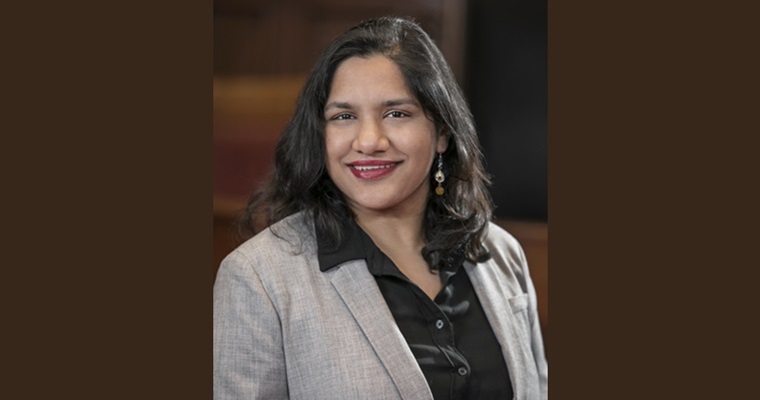 While experiencing a mental health crisis in Cambridge, police shot and killed Faisal on January 4, 2023. Outcries of support from the area soon followed, including a rally organized at Somerville High School, protests on the steps of Cambridge City Hall, and national news coverage. In a formal statement by Mayor Siddiqui, she said, "I hear you and your demands for accountability and change. I understand it feels as though the city you've called 'home' has failed you; insofar as I'm able to repair this break, please know I am committed to doing so."
During her roundtable event with members of the McCormack community, Dean Edozie asked Mayor Siddiqui to comment on the tragedy in light of a substantial increase in social, emotional, and mental distress reported by college students in recent years. Siddiqui said that "Faisal's death is a disgrace. No one should be killed while experiencing a mental health crisis." In the aftermath of the incident, Siddiqui says she had a lot of learning to do as mayor around policy options following such a situation.
There's been a growing list of demands for accountability from Cambridge residents and beyond, she explained, but she has an obligation to comply with procedures, such as cooperating with the Middlesex District Attorney's Office's investigation. "That's been really frustrating for me, and I wish it was a little bit more clear for the public, too," she said. "But that doesn't mean we can't do the work now, and my colleagues and I are trying to figure out what to do now so that this never happens again." Having an insider perspective and, therefore, bias, Mayor Siddiqui called for a third-party review of Cambridge policies to come up with recommendations. Some options include implementing body cameras, moving toward less lethal intervention mechanisms, and, significantly, establishing a community safety department. "The police aren't the solution for all situations, and I think we have to get people more comfortable with that," Siddiqui remarked.
For each of these potential solutions, Siddiqui emphasizes a collaborative, community-based approach, calling it an "all-hands-on-deck situation." A grounding framework is greater attention to mental health, especially regarding destigmatizing mental health and having the appropriate measures and tools to respond to situations of mental health crisis. Siddiqui highlighted the need for greater mental health awareness and interventions for students in particular, who face high levels of stress. This is especially true, she commented, for communities in which mental health is stigmatized and open conversations about it are discouraged.
For Siddiqui, community outreach is an important first step. "It's very hard for us to talk about mental health," Siddiqui commented, so going into the community and having conversations with families and students has been one priority. Another has been boosting the Community Behavioral Health Center's 24/7 help line, which is already being used by many young people. Siddiqui has also worked to implement more mental health first aid training in schools so that educators are better equipped to respond to mental health crises. At the same time, she's turned that training toward the community, inviting any Cambridge resident in to strengthen their understanding of and tools for responding to issues of mental health.
"It requires a cultural shift," Siddiqui admitted, and she intends to take measurable steps to respond while the official investigation is ongoing. Dean Edozie highlighted an area for potential partnership between the Mayor's Office and UMass Boston, especially the McCormack School's Center for Women in Politics and Public Policy and Edward J. Collins, Jr. Center for Public Management: increased collaboration on mental health issues in the name and legacy of Faisal. Recently, UMass Boston Chancellor Marcelo Suárez-Orozco created an endowed scholarship in Faisal's name.
In addition to this discussion of Faisal, the McCormack roundtable also highlighted Mayor Siddiqui's accomplishments as the first Muslim to be elected mayor in the Commonwealth of Massachusetts. As she commented, "There's no how-to guide. As a woman and a woman of color, you have to work three times as hard." Siddiqui brings with her to the UMass Boston campus a wealth of experience and accomplishments for current students and faculty to draw from.
Born in ­­Karachi, Pakistan, Siddiqui and her family immigrated to the United States at a young age. Here, she grew up in Cambridge affordable housing and attended Cambridge Public Schools. She went on to attend Brown University to study public policy and earned her JD from Northwestern Pritzker School of Law. Following a stint as a legal aid attorney with Northeast Legal Aid, Siddiqui was elected to Cambridge City Council, for which she's served three terms, and became Mayor of Cambridge in January 2020. As Dr. Nsiah-Jefferson summarized in her opening remarks, Siddiqui's political career is marked by her support for local businesses, investment in Cambridge public schools, dedication to equity and diversity in Cambridge, and the creation of equitable education opportunities for Cambridge students. Last year, she created an Early College program in collaboration with Lesley University to provide students at Cambridge Rindge and Latin School the opportunity to earn college credits for free while completing their high school classes.
The mayor discussed using her background as a Cambridge resident and her culture as a South Asian and Muslim woman to connect with her constituents. "A big part of my strength is my ability to connect with the diverse constituencies we have in Cambridge," Siddiqui said. Part of this means bringing City Hall to them rather than just inviting them to City Hall. As she explained, not everyone has the option to come to City Hall and give public comments on Monday nights or attend the School Committee on Tuesday nights. "A goal for me is to make City Hall and government much more accessible to everyone," she said.
During her time as mayor, Siddiqui has made several efforts to support Cambridge's diverse population, about 30% of whom are people of color and almost 20% of whom are South Asian. Small changes here and there have helped her meet her constituents' requests while honoring her heritage. One example she shared is working to expedite requests for halal food options for Muslim students at Cambridge Public Schools. Another was to implement sacred spaces in schools for any student who needs to pray, meditate, or take time away, making Cambridge Public Schools the first school district in New England to do so. "I hear from the community, and I am able to convene a group together and uplift their voices," she shared.
On top of her work in Cambridge, Siddiqui is no stranger to the McCormack School. Mayor Siddiqui joined the cohort of Distinguished Public Service Fellows with the Center for Women in Politics and Public Policy this year, a role she will hold for two years. In that role, Siddiqui will serve as a mentor to the community and a role model for people interested in politics and public policy, especially women.
"It's an honor to be part of the UMass community," Siddiqui said. "The students from UMass have such strong learning orientation, and they are so willing to engage. I'm really excited to help usher in the next generation of women of color in public leadership." She invites conversations with students and opportunities for them to shadow her to build more relationships and show them the inner workings of public leadership. Overall, she wants to remind women not to underestimate the power they have and the impact they can make. "We need to do a better job of saying what being in these roles and being in public leadership actually means, and you can expect me to really push on that," Siddiqui promised.
Mayor Siddiqui is also championing one of the nation's first guaranteed income programs in Cambridge, Cambridge RISE, with support from the Collins Center at McCormack. Mayor Siddiqui works closely with Mike Ward, director of the Collins Center, who offers recommendations with his team to assist the city of Cambridge through a charter review process.
Following the roundtable event, Mayor Siddiqui stuck around for an interview with Dean Edozie and Professor Nsiah-Jefferson. That interview was broadcast in late May for McCormack Speaks @ WUMB Radio, which will stream later this summer.