Gerontology Department Receives Massachusetts Heal
Gerontology Department Receives Massachusetts Health and Human Services Pilot Grant: Program Director Ellen Birchander to Lead Project
---
The Massachusetts Executive Office of Health and Human Services awarded UMass Boston Gerontology a $410,000 grant to pilot Pathways to Building an Aging Services Workforce. The new program will offer training and continued education to current undergraduate students at UMass Boston and workers in the aging services field in the Commonwealth. Ellen Birchander, who will lead the program, said, "The pilot offers a process by which we could engage UMass students who may have a passion for working with older adults and provide the skills they need to actually get a job when they graduate." It will operate primarily to provide "hands-on classroom knowledge paired with a paid work experience in an Aging Services Access Point in the Commonwealth." Interim Dean Rita Kiki Edozie applauded the department for attaining the grant, which she said will have tremendous impact on the advancement of McCormack's student success.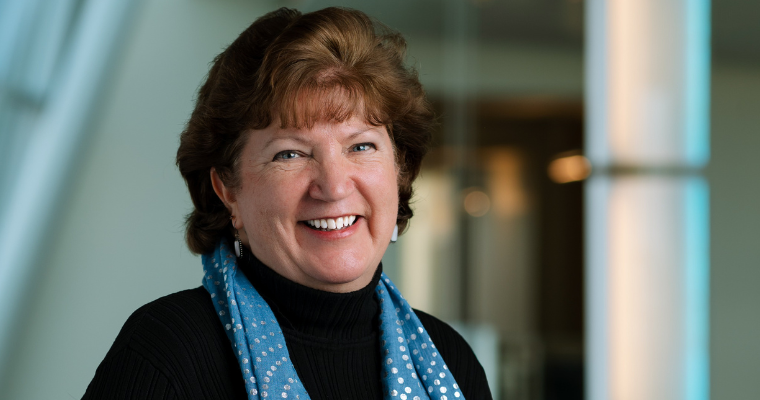 Birchander, who is Senior Lecturer and Graduate Program Director of the McCormack School's Management of Aging Services master's program in the Department of Gerontology, proposed the program in collaboration with Dr. Jan Mutchler, Director of the Gerontology Institute. She sees it as a two-pronged response to a critical moment in the field of aging services. "In the Commonwealth of Massachusetts's Aging Services Access Point network, there is a severe lack of care management. This pilot was designed to develop interest, skills, and a passion for working with older adults in this field," she explained.
Through a student internship program and professional development and continued education program, the Pathways to Building an Aging Services Workforce pilot will offer two cohorts of 12 UMass Boston students—one running from summer to fall and the other running from spring to summer—a paid internship with one of four collaborating Boston-area Aging Service Access Points: Boston Senior Home Care, Central Boston Elder Services, Ethos, and Mystic Valley Elder Services. Students will receive on-campus training with the intention of becoming qualified for employment in the aging services field upon graduation.
Meanwhile, two employees at each of these four organizations who are highly motivated and want to make a difference in the field will be offered a continued education professional development program consisting of two courses in McCormack's Management of Aging Services master's program free of cost.
The grant that supports the Pathways program is one of 85 awarded, out of more than 470 applicants, by the Commonwealth, which invested $46 million to support workforce recruitment, retention, and training in home- and community-based human services. This investment marks a commitment to improving human services in the Commonwealth, which has experienced a shortage of workers among an increasingly diverse older population. Birchander explained that the statistics and demographics of our aging populations are rapidly changing, and older adults find themselves experiencing issues of ageism and age-related biases that are compounded with other marginalization, such as racism, sexism, ableism, and homophobia and transphobia.
"As people of color, people who live with disabilities, and people who are LGBTQ+ get older, life gets harder because everything is compounded with ageism and stereotypes," she said. This pilot program offers one way to improve the lives of older adults in the Commonwealth by training a new leadership field that reflects the population it serves. As Birchander noted, "We really need to make an effort to change the way we work with older adults."
UMass Boston is particularly suited to serving this population well because of its diverse student body, according to Birchander. "When you look at the population of undergraduate students at UMass, what a perfect place to find students who have a passion for working with older adults and give them opportunities to become leaders," she explained. The students at UMass will reflect the older adult population in Boston and in surrounding communities. In that case, the program hopes to pique interest among students of color who can offer cultural support for the older adult population they will come to serve. "By bringing in new students who care about the population and providing opportunities for them to grow, learn, and change the field, we have an opportunity to make a difference," Birchander commented.
The pilot program stems from UMass Boston Gerontology's commitment to applied learning experiences for its students. For instance, the online Management of Aging Services master's program, which Birchander directs, is very applied, rather than theoretical, giving students the hands-on skills and knowledge they need to be successful leaders in the field of aging. For students graduating from undergraduate programs and entering the workforce, Birchander said, "It is essential to provide a strong knowledge base and skillset so that students can get jobs and succeed when they get out of school." This internship program offers students a chance to grow in their fields from the get-go through paid internship experiences, creating a logical and intentional balance of academic and professional training that will set students up for success upon entering the field.
As part of the professional development training for current employees of the four Aging Services Access Point Partners in the greater Boston area with which the Department collaborates on this program, those employees will develop leadership skills through two courses in the Management of Aging Services master's program, funded through the grant. Birchander notes that many positions in the aging services field are not well-paid. Offering funded training will help to reduce the hurdle for passionate people who want to be leaders in the field without having to put out an initial expense. This opportunity also opens the door to these current employees to continue with the master's program through organizational funding, easing the burden of going back to school after time spent in their career.
As the pilot gets started this semester, Birchander hopes for good success amid two major challenges: the viability of funneling new people who are committed into the field of aging and the access to resources to support those people. "If we can offer options for students to take this internship program, and if it works for the Aging Services Access Points," Birchander said, "it's my hope that we'll collaborate to find resources" to sustain the project beyond the pilot.
Doing so will be an important step in responding to the shortage of workers in home- and community-based services, as the program seeks to train a new generation of leaders in the aging services field who can best serve their diverse, aging communities. Birchander commented, "This pilot brings our school into the community and bridges the gap between academics and theory. [It highlights] the importance of the interaction between the university, students, faculty, the community organizations, and the people being served. It's a win-win-win."