Leading Higher Education in the 21st Century: From
Leading Higher Education in the 21st Century: From McCormack to MassArt with Dr. Mary Grant
---
A "cherished alum" of the McCormack School returned to the UMass Boston campus on March 10th for a series of conversations with McCormack's interim Dean Rita Kiki Edozie. A national leader of public higher education herself, Dr. Mary K. Grant, now president of Massachusetts College of Art and Design, joined Interim Dean Edozie for an interview that will air as part of McCormack Speaks @ WUMB Radio's third season in April and stayed for a roundtable discussion in the McCormack's Dean's Office. The hybrid event saw a wide audience of in-person and virtual attendees who engaged in a Q&A-style conversation with Dr. Grant. The roundtable discussion revisited some topics from her earlier interview with Dean Edozie while inviting new questions from audience members.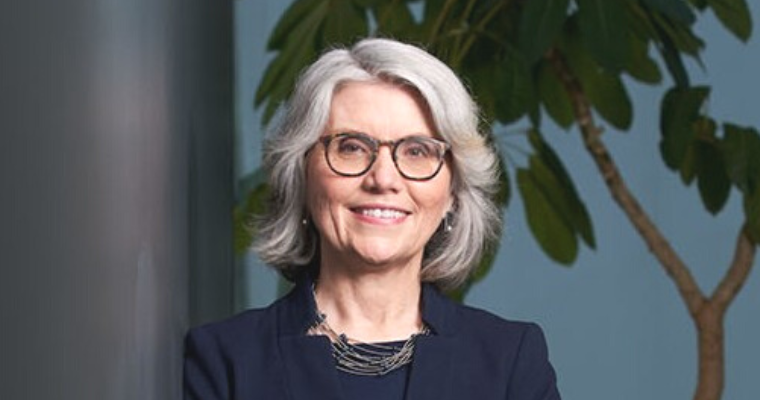 Image By: Mary Grant
Throughout the ensuing dialogue, Grant returned to her roots at McCormack, where she was part of the first cohort of students in then-McCormack Institute's Master of Science in Public Affairs program from 1984 to 1986. Having adopted the program from Boston State College in the wake of its merge with UMass Boston, the McCormack Institute secured the master's program and admitted its first cohort of 17 members, most of whom were practitioners working in nonprofit government sectors at the time. As Grant described, she and the other members of her cohort, which included only five women, co-created the program alongside McCormack entrepreneurs like Edmund Beard and Murray Frank.
Grant recalls her time on the top floors of the Healey Library fondly and with deep appreciation of the direction it gave her career. She remarked, "We were able to really give feedback as to what was happening, what we thought should be changed, and there was an openness within the institute to make those changes. The students were very much at the heart of it."
After receiving her master's degree from the McCormack Institute, Grant stuck around UMass Boston to become a research associate and later the director of the Center for Social Policy at McCormack before becoming Assistant Vice Chancellor of Administration and Finance and Human Resources. Since then, Dr. Grant has held several leadership roles in higher education institutions: She was chief operating officer and then chief academic officer and deputy CEO for UMass Online, president of the Massachusetts College of Liberal Arts, chancellor of the University of North Carolina at Asheville, and president/CEO at the Edward M. Kennedy Institute for the United States Senate before becoming the current president of MassArt. She is also vice chair of the Board of Directors for the Norman Rockwell Museum, the board chair of Campus Compact, and has served on the search committee for the new Commissioner of Higher Education for Massachusetts.
Grant is quick to acknowledge that she did not accomplish any of these achievements alone. Dean Edozie's and Dr. Grant's conversation drew attention to the many leaders in higher education who helped Grant along the way, many of whom were—importantly for her—women. For example, she remembers the legacy that former Chancellor Sherry Penney left for the UMass Boston campus and, in particular, for Grant. Grant recalled that Chancellor Penney was a mentor to her who, while breaking glass ceilings herself, brought along with her women leaders such as Grant. "She gave me this opportunity to step into administrative roles and bring to bear the things I had learned from public policy work," she said.
As Grant commented, "Mentorship and coaching along the way is critical. If you don't see somebody in a role you aspire to, it's hard to imagine it." Dr. Grant gives credit to those women leaders who were mentors and role models for her own career, like Chancellor Penney and Jean MacCormack, who was Vice Chancellor of Administration and Finance while Grant was Assistant Vice Chancellor. "When someone taps you on the shoulder and says, 'You should think about this,'" Grant suggested, "listen to those voices." Doing so in her own life has guided Dr. Grant's career and continues to inform her work with students at the various institutions for which she's served in leadership roles. She advised, "Everywhere you go, find someone and get to know them, and then support one another. Have each other's back."
Dr. Grant is a model leader for many students at the McCormack School and beyond who seek leadership opportunities. Dean Edozie noted that Grant has been a champion in cultivating civic engagement and fostering access, diversity, equity, and inclusion across higher education . For Grant, modeling the mentorship she received here early in her career comes naturally. "The McCormack Institute made such a difference in my life," she said. "I had so many incredible mentors here who shaped my life and the lives of so many others. It is so awesome to see those seedlings here today."